There's no denying that Frozen is probably one of the most popular films in Disney history. A year after the first release, the film is still drawing huge crowds to anything that mentions "Let it Go". It was no surprise that Walt Disney World decided to get frosty when it came to Christmas. Wednesday night marked the official kickoff to the holiday season, as Cinderella Castle was lit for the first time. Normally, Cinderella and Fairy Godmother would come out and do it with a bit of "bippidity, boppidity", but this year, it took something a little more powerful.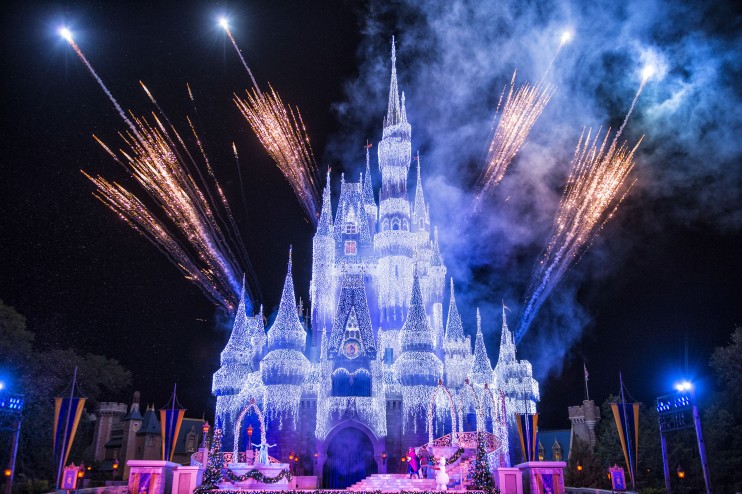 The all new show "A Frozen Holiday Wish" sees the cast of Frozen, including Anna, Elsa, Kristoff and Olaf, visit an all new kingdom where it doesn't snow, or have ice. The gang decides that things would be so much better if it did. So Elsa, performs a spell and turns the castle into a sparkling masterpiece, complete with shimmering "ice".
The effect is done with 200,000 shimmering white LED lights, that glisten and sparkle. The castle is just one new feature to the holidays, the other likes warm hugs.
For the first time in forever…okay ever…Olaf makes his appearance as a live action walk around character. The character is very tall, but features disjointed body parts that wiggle when he walks. It adds to the feel of the character. However, the fact that he's so tall does take a little away.
The big show is in fact the ice on the castle. So how does the cast explain away the fact that they are in Cinderella Castle and not in Arendelle? Well, they do say that they are in another Kingdom, and Elsa does show some reservations about covering another Princess's castle in ice…but after a little persuasion from the crowd, she goes along with it.
The show is cute, and plays the Frozen angle just enough. It would have been nice to see Cinderella come into play and have her give her blessing.
Video-See A Frozen Holiday Wish at Magic Kingdom Courtesy of Inside the Magic

A Frozen Holiday Wish happens nightly at Magic Kingdom right at dusk, and will run from now until January.
Stay tuned for more from Walt Disney World, and be sure to get social with us on Facebook, and follow along with us on Twitter @BehindThrills for the latest updates!
For more information about Walt Disney World, including tickets, visit the official website by clicking here!