Orlando is already known as the theme park capital of the world, but it looks like it is fast becoming the thrill capital as well with two record breaking attractions announced this year. The best part, they're just down the road from each other! Unicorp announced in a press conference today that they will be constructing an all new entertainment complex, right near an already under construction entertainment complex. At the center is the world's tallest Starflyer swing ride.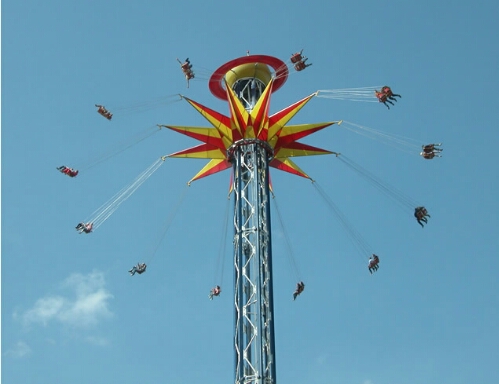 The all new project will take over the current home of Goodings Plaza on International Drive in Orlando. That location is currently the home to Kings Bowl, and directly across from I Drive 360.
Vue at 360 will feature several new dining and entertainment options, including McFadden's Irish Pub, and others to be announced.
The centerpiece, however, will be a 420 foot tall swing ride called Starflyer. Built by Australia based Funtime Group, the Starflyer will be the tallest in the world, and the second in Orlando, with the smaller Starflyer just down the road at Magical Midway.
Unicorp is also responsible for the huge I-Drive 360 project, which will see the opening of the massive 400 foot Orlando Eye, which will fall just short of the 420 foot Starflyer. The construction on the project is expected to last about 18 months, with the Starflyer opening sometime in 2016.
Earlier this year, the nearby Skyplex was announced, which will hold the world's largest coaster at 570 feet tall.
Stay tuned for more big announcements as our IAAPA coverage continues this week. Be sure to get social with us on Facebook and be sure to follow along with us on Twitter @BehindThrills for the latest updates!