In the heart of downtown Chicago this Halloween season is a unique haunted attraction. Residing on an actual barge on Lake Michigan, The Fear Haunted House at Navy Pier Presents Zombie Containment is a highly interactive, scary, and funny can't-miss experience.  There is truly nothing like it in the Chicagoland area. While not intended to be the most intense haunted attraction, Zombie Containment is an immersive, story-driven haunt that is guaranteed to entertain and have you both laughing and screaming.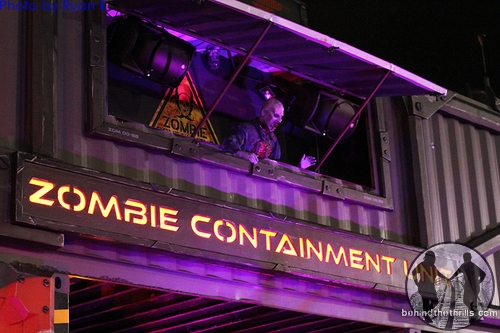 Zombie Containment was designed and built by John LaFlamboy and his production company Zombie Army Productions, the devious minds behind Statesville Haunted Prison, which we reviewed earlier this season(click here).  Just like Statesville, the passion, technical expertise, and professional showmanship embodied by LaFlamboy and his crew permeates every facet of this haunted attraction. The story of this attraction revolves around Merikorp® Industries and their role in dealing with the zombie outbreak. Per their site(click here), "Merikorp® is opening its Zombie Containment Research Facilities for public tours…You will be able to see, firsthand, how the undead are being held, studied and disposed of." And as one would expect, things don't go entirely to plan during your visit.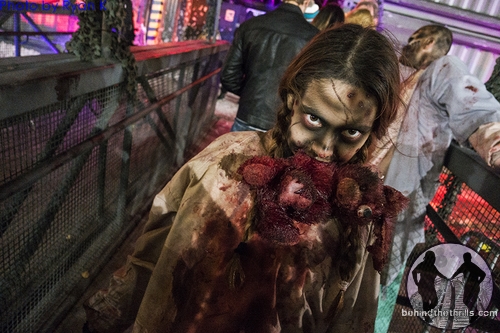 This entire haunt is only 4,000 sq ft, and resides on a barge that is only 131 ft x 43 ft. To say that they squeeze every inch out of that space is a gross understatement. Built into cargo shipping containers, Zombie Containment is designed to be assembled or taken down in a single day. The backstage area sits both in between and above the containers, and every room in the haunt is accessible quickly and easily from this staging area. Every department you'd find at a larger haunts is still here, including make-up, wardrobe, and audio, but on a smaller, more compressed scale. It's truly impressive how well the haunt has been constructed, from an operations standpoint, given the small amount of space they have to work with.
Conceptually, the attraction was built around offering something not available elsewhere.  Physically placing the attraction on water was one way, but "…I wanted it to be something different than what anyone else has done. So I started with the first step, which is this is going to be comedy horror…Comedy horror's a great film genre that we love, so let's do a comedy horror haunted house," John told us, adding "I know of some haunted houses that have funny in it, but this is funny…that's also scary." And the mixture works. The demographic at Navy Pier consists more of tourists than hardcore haunt fanatics, and by focusing more on the laughs than the scares, Zombie Containment is accessible to all visitors, and is very successful. "We [showed] it at Riot Fest, and it was an out of the park success. The Huffington Post did a 15 Riot Fest Scenes You Won't Find At Any Other Music Festival, and Zombie Army was three out of the 15 things."
Hearing about how this haunt was built, and knowing how haunts of this size at fairs and other venues are generally put together more than a little cheaply, expectations were tempered going in. However, the set design and environments easily shatter any preconceived ideas on what to expect.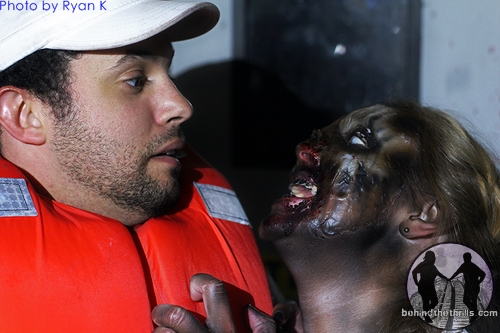 There isn't a reliance here on dark rooms, strobe lights, or cheap Halloween decorations. Within this attraction's walls are fully fleshed out environments, with tightly controlled lighting to set proper tone, full animatronics, videos, and other visual and special effects on the same level as larger haunts. Even the sections between the containers have signs, control booths, and other touches to create a seamless, living world. One particular highlight was the perfectly realized freezer container, down to faux frost, dangling icicles, and even blowing air as visitors enter to simulate coldness; something that a lot of other haunts this year didn't do with their own freezer sections. It's a small touch, but goes along way to sell the illusion. There's always something to look at, which is perfect for the actors who are looking to terrify visitors.
While there is a comedic slant to the house, the scares are still effective and varied. And just like Statesville Haunted Prison, they are layered to deliver unique frights. From the inherent uneasiness of being on water, to capitalizing on psychological components of fears, Zombie Containment delivers a rich tapestry of terror to startle and frighten visitors in between laughs.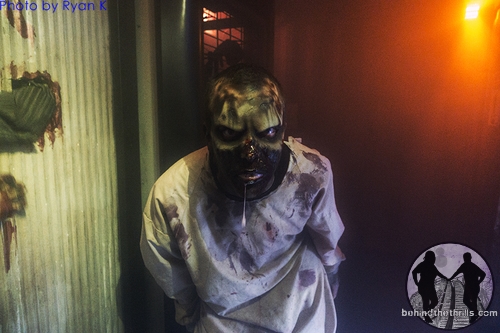 There are around 35 actors on an average night, and grow to 55 on busier nights. Being in downtown Chicago, there is a large pool of improv and comedy actors to draw from, and the quality shows in the house. There are a number of scenes that play out throughout the attraction, and the actors are all spot on. The Merikorp employees are believable, keep energy levels high, and exhibit great improv skills in both comedic and scary moments. The zombies are aggressive, up close, and frightening. The make-up effects are gorgeous, and feature some of the best seen by us this season. It's also apparent that the visitor demographic was taken into consideration when developing the characters. While favoring movement over language is something that Zombie Army Productions instills in its scare actors in general, it's of particular importance here, so that non-English speaking tourists still understand the story. The body language, expressions, and movements used by the actors here are very clear, and even without words it's easy to follow along. The actors' scenes also serve as flow control for patrons, and it's done wonderfully. At no point were other groups encountered, and there were no problems with actors resetting or being out of place during a scene.
Slideshow-Check out even more pictures of The Fear Haunted House
The Fear Haunted House at Navy Pier Presents Zombie Containment is an extremely well put together haunt, both on a story and operational level. The experience here is on par with any larger haunt, and both casual and avid haunt goers will be entertained. The amazing sets, engrossing story, and stellar cast and crew create an immersive, expertly crafted, thrilling attraction that is a must see for haunt fans. There truly is nothing else like it around.
Stay tuned for more gory goodness, and be sure to get social with us on Facebook  and follow along with us on Twitter @BehindThrills  for the latest updates!
For more information about The Fear Haunted House at Navy Pier Presents Zombie Containment, and to receive updates for their next season,visit the official website by clicking here!