Halloween just ended, you still have tons of candy and Christmas is already knocking. Don't resist it, just LET IT GO! Holidays at Walt Disney World are probably the most beautiful time of year to visit the parks, and this weekend kicked off the annual "Mickey's Very Merry Christmas Party". This year's party brings some new surprises, family memories and of course, Frozen fun. Mickey's Very Merry is a great way to kick start the holidays and get in the Christmas spirit, and we were there to make the season bright! We'll take a look at all the fun, including all the new happenings this year!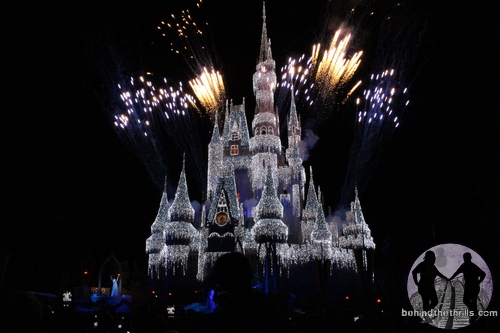 Probably the highlight and definitely a great kick off is the lighting of Cinderella Castle. In the past, it's been up to Fairy Godmother to help Cinderella make her wish of a "winter wonderland" come true, and cover it with sparkling icicles. This year Cinderella is gone as some out of town residents decided to take over. We're only talking about those Frozen friends from Arendelle.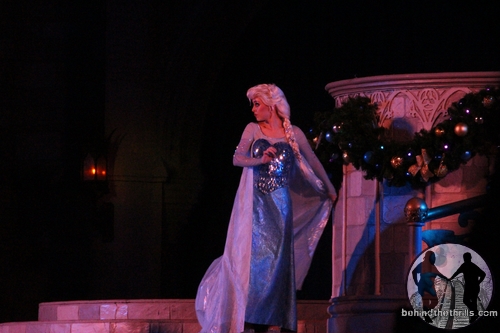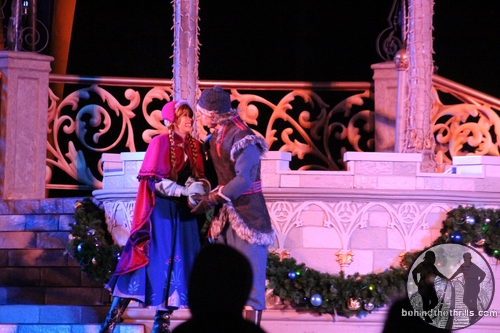 The all new show, A Frozen Holiday Wish brings the cast of the hit animated film Frozen to life. This is the first (of what we are sure will be many) appearance of Olaf as a walk around character. The castle show, which has been traditionally the kickoff for Very Merry, is put to great use as a showcase for Frozen.
Video-LET IT GO! A Frozen Holiday Wish

Anna, Elsa, Kristoff and of course Olaf all come out to greet "townsfolk" (that's us) of this Magical Kingdom. Anna and Kristoff miss the ice and snow of home, so it's up to Elsa to fix all that. With a little help from the audience, she builds it up, let's it go and covers the castle in thousands of sparkling icicles. It's a great moment that brings plenty of awe from the audience. Our only complaint is that Cinderella really needed to be here. After all, it IS her castle, and it would have added a great touch to the whole story.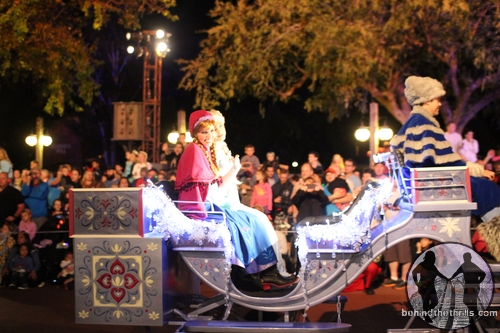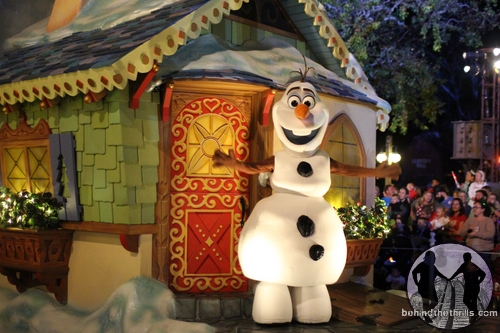 Also new this year is some huge additions to Mickey's Once Upon a Christmas Parade. The annual parade isn't included for day guests, but Very Merry attendees get a special holiday parade just for them. While the parade has all of your favorites, this year Frozen takes over with all of your friends like Anna, Elsa, Olaf and Kristoff. Olaf appears in both the castle show and the parade as a real live character. The all new costume is very interesting, and will drive the kids crazy.
Video-Do you want to build a snowman? Kind of hard in a parade!

The other great new addition to this year's parade is Wreck-Ralph and Venelope Von Schweet. They are both in the "candy" portion of the parade. They made their debut earlier this year in the "Mickey's Not So Scary-Boo to You" parade.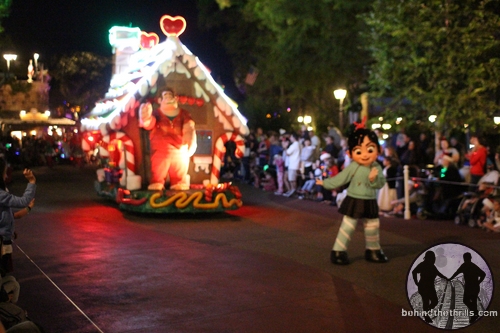 Quick joke-Why did the Soldier flush the toilet? Because it was his DUTY! Ralph and Venelope are perfect for holidays, but we only hope that we can see them more than at the occasional parade.
Video-Check out Wreck it Ralph and Venelope!

Very Merry is full of great shows, in fact they are shows that you can't find anywhere else during the year. This year you can see Mickey, Minnie, Goofy and Donald as they get into the holiday spirit with "Celebrate the Seasons". The gang is looking to have fun this holiday season, and they bring out all the stops with a huge show that features tons of your favorite holiday songs, as well as dancing, singing and reindeer.
Video-Celebrate the Seasons at Magic Kingdom

The future is also full of festive holiday cheer as Stitch, Buzz Lightyear and Mike Wazowski take to the stage in a search for Santa in A Totally Tomorrowland Christmas. The characters and music are extremely cute, and put a futuristic fun spin on classic songs. Our favorite is the Buzz Lightyear song, but Stitch is pretty great as Santa as well.
Video-Join Stitch, Buzz and Mike in A Totally Tomorrowland Christmas

The Diamond Horseshoe Saloon has been a great place to meet characters without standing in line for past holiday parties. Very Merry is no exception as they throw a bit of a "Hootenanny" with some furry (and feathered) friends.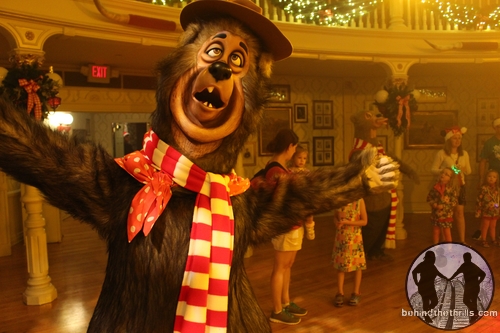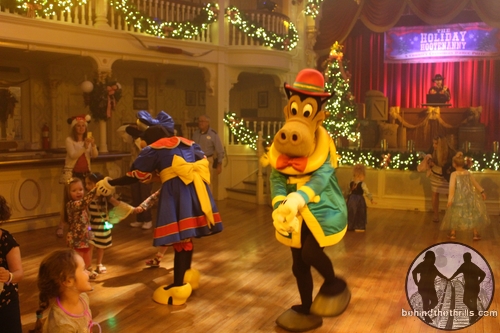 The Holiday Hootenanny is a fun mixer with a live DJ and several Disney characters. The country theme brings out several of the more rare characters this year with Clarabelle Cow, Clara Cluck and Horace Horsecollar. The other characters also include The Country Bears, straight from the Jamboree. The characters pose for pictures, dance with the crowd and there's usually not much of a line. The interaction here is a ton of fun, and gets guests as close as you care to be with the characters.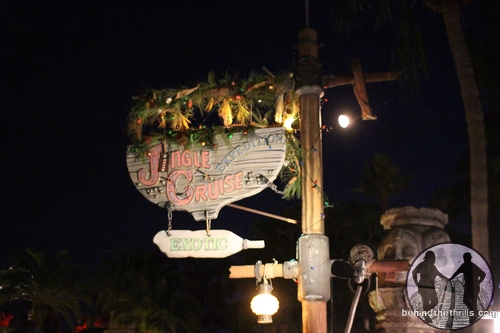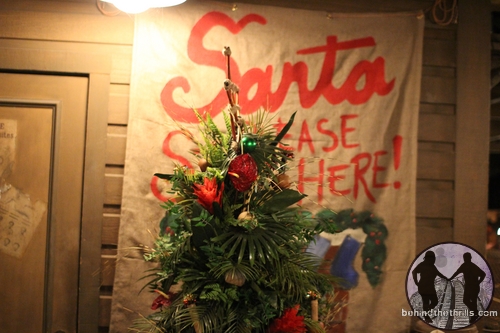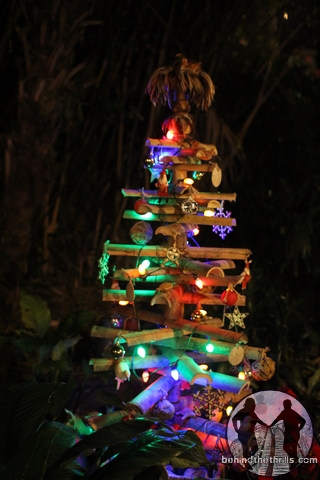 Returning this year is The Jingle Cruise. The standard Jungle Cruise made it's debut last year to some yawns, and complaints, but this year it's back and better than before. The story goes that the Skippers on the tour felt homesick during the holidays, so they went in search for some decorations, which they found in unopened crates. They asked their families for more decorations to help get in the spirit, but the plane carrying the decorations and gifts were scattered all over the jungles, and taken away by the animals and monkeys. The result is a Yuletide cruise, full of silly holiday jokes and Christmas cheer.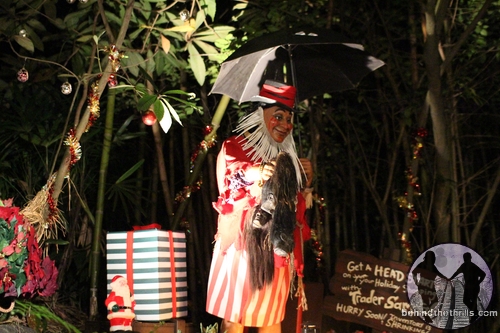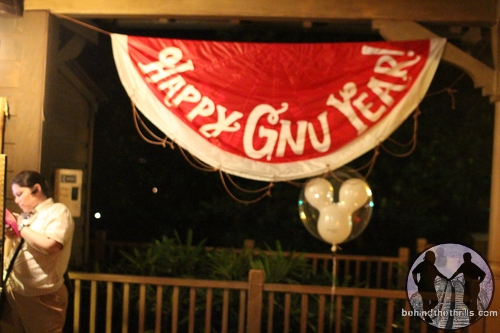 On the surface, it's the same old Jungle Cruise, but with the added Christmas flair, it's definitely a blast. The decorations add a nice touch, especially incorporating the jungle flair in with traditional Christmas. It's a great little bit of fun, that didn't take much effort on the part of the park, and should hopefully lend to even more holiday layovers of other attractions (cough cough…Haunted Mansion).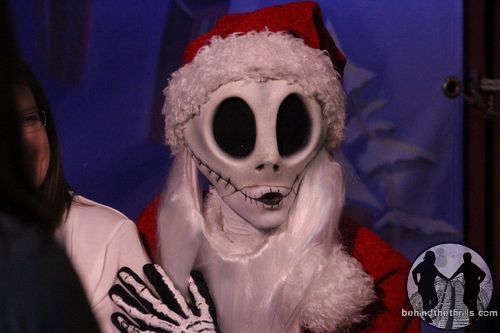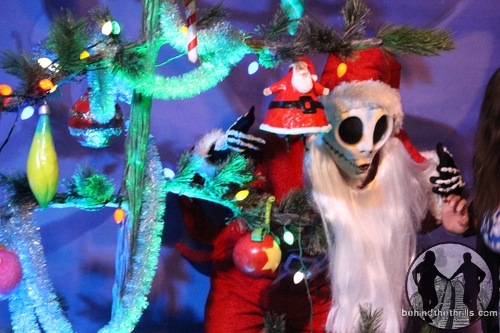 From new shows and new fun, Very Merry also has brought one of the most sought after characters to Very Merry, Jack Skellington. The King of Halloween made his debut last year to huge crowds, and long lines. This year the designers bring out the bone man for Christmas, as Sandy Claws. Why, he doesn't have claws at all! He's a great new meet and greet that adds a little spooky to the Christmas season.
Video-Meet Sandy Claws, Jack Skellington at Mickey's Very Merry Christmas Party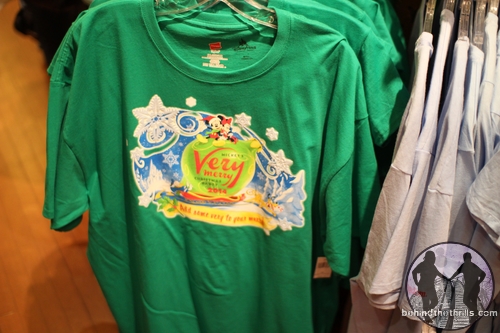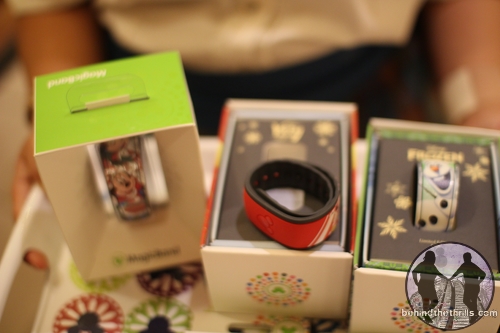 It wouldn't be a special Disney event without very special Disney merchandise. This year is no exception as the park has rolled out tons of very special items, including Magic Bands. The park has released not one, but two very limited Magic Bands. One is specifically from Mickey's Very Merry Christmas Party, with Mickey and Minnie front and center, the other is from Frozen and features Olaf! There are also tons of new shirts, ornaments and of course, pins.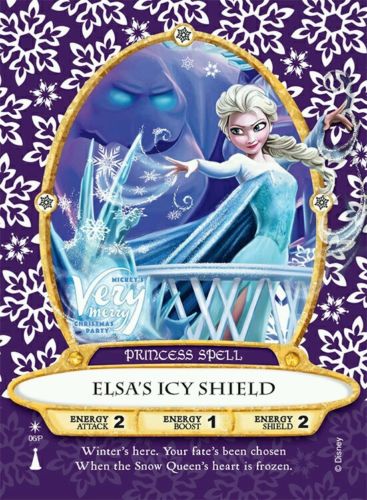 For the past few years the park has also released an exclusive Sorcerers of the Magic Kingdom card just for the party. This year it features the Frozen powers of Elsa. If you're a collector, the only way to get the card is at the party. However, there are a slew on Ebay, which may make it a little easier to get the collector's card.
Slideshow-Check out hundreds of pictures from Mickey's Very Merry Christmas Party

Mickey's Very Merry Christmas Party is happening on select nights from now until December 19th. Advance tickets are recommended, as the event has been selling out almost every night this year. Those who purchase Very Merry tickets can get into the park as early as 4 p.m. which gives a great chance to get some rides in, and see the daytime fun before the party begins.
Stay tuned for more from Disney, and be sure to get social with us on Facebook, and follow along with us on Twitter @BehindThrills for the latest updates!
For more information about Mickey's Very Merry Christmas Party, including tickets, visit the official website by clicking here!