It's a first of its' kind deal, but NASCAR and Whitewater have joined forces to bring several new racing themed attractions to waterparks worldwide. The licensing deal signed with Whitewater and NASCAR will allow waterparks that use Whitewater brand slides to use the NASCAR logo and theme. There is an endless list of possibilities on themeing and racing, and so far there are two new concepts. What could we expect to see in the future with Whitewater and NASCAR?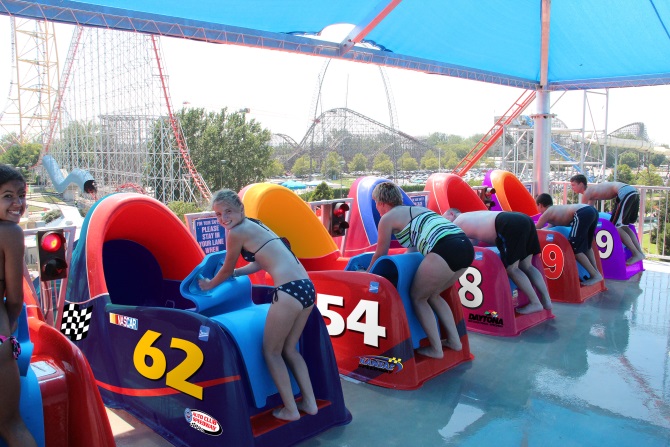 NASCAR is one of the world's most reknown sporting brands, with the company representing the top racing circuit in the United States. Now, with a licensing partnership with Whitewater slides, the brand could go into areas never thought of before.
"This is the first branding deal of its kind in the waterpark industry and we're super thrilled to have entered into an agreement with this high-profile American company," said WhiteWater founder and CEO Geoff Chutter. "Creating an experience around the NASCAR theme will certainly add to the WOW experience for our guests."
"As one of the most thrilling and exciting sports in the world, we look forward to working with the premier waterpark company in the business to explore this unique integration with the NASCAR brand," said Blake Davidson, Vice President of Licensing and Consumer Products at NASCAR. "We select our licensees very carefully, and WhiteWater, with its global reach and emphasis on innovation, proved to be a great fit for our company."
So far there are two major attractions bearing the NASCAR name, one of which is a mat racer slide, with numbers of some of the most famous drivers on the entry boxes. While mat racers are not a new concept, actually putting waterpark guests in the "drivers" seat in a race to the splashdown is a unique new spin.
Another concept that was released calls for a kids Aqua Play area. Huge checkered flags, a giant race helmet dumping water and even a new bear mascot all make for a fun water play experience.
NASCAR already has a presence in Cedar Fair parks with Intimidator, and Intimidator 305 at Carowinds and Kings Dominion. It's entirely possible that those two parks could get NASCAR themed water areas to match their coasters.
But what about other attractions? Is it possible to see an entire NASCAR themed waterpark? Besides the obvious mat racer slides, could we see other parts of racing incorporated? Perhaps a slide where riders "draft" behind each other to gain speed, or mix NASCAR with the world of drift racing with a lazy river.
Stay tuned for more from WhiteWater and be sure to get social with us on Facebook, and follow along with us on Twitter @BehindThrills for the latest updates!