Growing up in Northern Illinois, one of the traditions when October rolled around was visiting the local Jaycees' haunted house. Some of my earliest memories are of visiting our local chapter's house and getting terrified at the monsters and ghouls that lurked inside. I was too young to understand at the time, but one of the best parts of those houses was that they were not-for-profit, using volunteers to build and operate them, and donating the proceeds to much needed area charities. And while the haunt industry overall has boomed over the past decade, a lot of the not-for-profit haunts have unfortunately fallen to the wayside. So it's great to see that not only has one managed to thrive and grow today, but also be considered on par with the top pro haunts in the area.  Niles Haunted House Scream Park, in Niles, MI, has carved a space for itself between the single standalone haunt and the theme park Halloween attraction to become a must-visit destination in the Midwest during the Fall.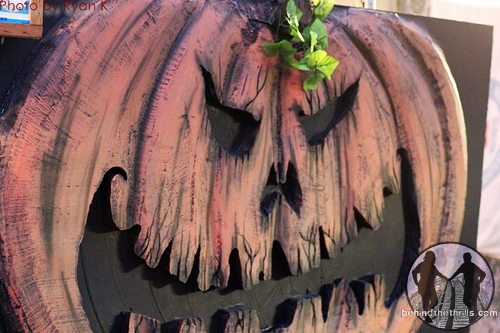 Niles Haunted House, operated by Pete Karlowicz and Joe Leach, first opened its doors in 1980, and quickly began growing. It got so big, that in 1998, the attraction moved to a 44 acre location to help alleviate the growing parking problem. After visiting the haunt, Leonard Pickel suggested that they consider offering multiple attractions, and the idea took root. A non-haunted hay ride was started, and eventually the back section of the attraction split off into its own attraction, Field of Screams. Since then, the scream park has continued to expand, and now features three indoor haunted houses, an outdoor haunted maze, a haunted hayride, multiple shows, midway games, live music, and other entertainment. The attraction as a whole has the feel of a theme park, but with a spooky overlay and Midwest charm; and it works well. Niles Haunted House is family friendly, and the various haunts within have different levels of intensity. There really is something for everyone here.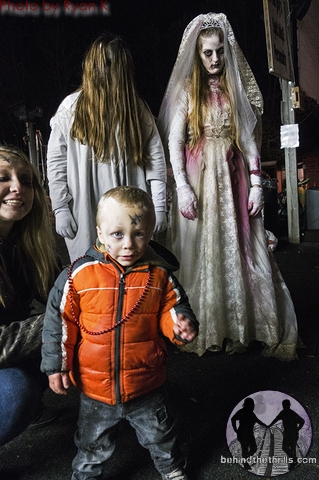 The attractions themselves are extraordinary. The houses are designed exceedingly well, and blend both classic haunted house style scares with modern techniques, immersive environments, and a dash of funhouse gags. Visitors don't know what to expect when walking through, and the simplest scares in the house got some of the biggest screams. Beyond that, the houses do things that you don't see in other attractions. While most 3D haunts in the area use a clown/circus theme, here visitors find themselves in an ancient mummy's crypt in Tomb of the Undead 3D. And instead of relying on disorienting colors and bright walls with more minimal props, here there are detailed environments, and large props and set pieces sit front and center in the rooms. Combined with the 3D effect, it creates a unique walkthrough experience not found in other haunts.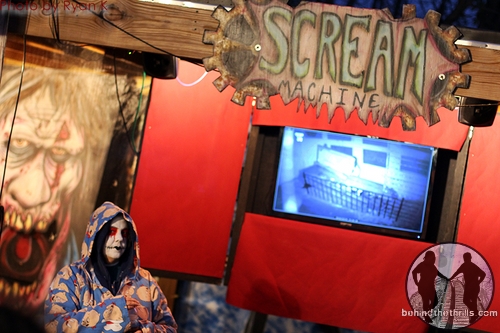 The most remarkable design elements are in the largest of the indoor haunts, Niles Haunted House: Misfit Monster Mansion. This house uses gags found in larger haunts like drop away floors, bottomless pits, vortex tunnels, and claustrophobia walls, but also pulls in funhouse gags like spinning and moving floors, and other little interactive set pieces. The sets are detailed and immersive, and there are a couple places where visitors will get lost. Twice in the house, we had to be shown the way out of the room, as the exit was well concealed through effective lighting and set dressing. It also means that that actors get plenty of time to interact with guests and scare them senseless. The layout of the houses around each other on the property is also brilliant, and results in sets that people walk through in one house being visible and serving as larger environments for another house. The cemetery that sits outside of the paths in Misfit Monster Mansion to add ambience is actually a path in Field of Screams. It's a great example of just how expertly everything is crafted, and how much forethought and planning goes into the event.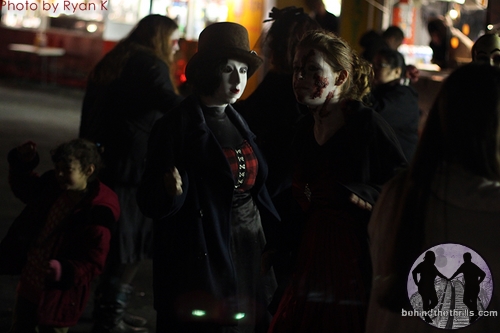 But most impressive is that in both Niles Haunted House and Field of Screams there are multiple paths. Misfit Monster Mansion has over 100 different combinations of paths you can take through the house, and visitors will see different parts of the mansion and run across different monsters each time they go through. That many options in a single house is almost unheard of, and it made subsequent walkthroughs just as exciting as the first. Additionally, a personal favorite was the finale of the house, where visitors find themselves in the middle of a three chainsaw ambush. There was nowhere to run, and it got some huge screams. The haunts are also unexpectedly long, with Field of Screams alone taking anywhere between 20 minutes to two hours to navigate, depending on how quickly visitors can make their way through the maze.  And with the exception of the maze components themselves, flow control is handled extremely well in the houses. We never ran across other groups when not intentional in the houses, which resulted in always seeing the scares in the scenes, and never passing through during a reset.
Niles Haunted House Scream Park has an average of 155 to 200 volunteers working the event each night, including the attractions themselves, operations, and the various shows and midway games. None of the houses feel empty though, and there are never any dead areas in the houses; there's always someone hiding around the next corner. And even the guests can get in on the scares. There are booths in the Midway area where guests can set off scares in the houses to frighten other visitors, or even launch corn husks at a plexiglass-like window to try and scare guests as they wind their way through Field of Screams.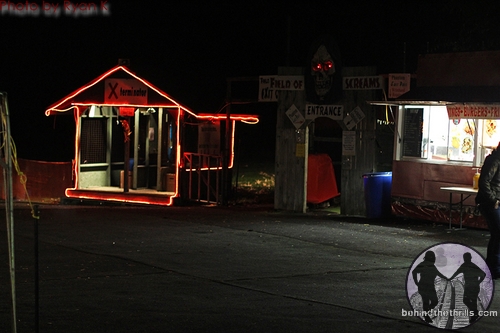 Beyond the visitor experience, the operations side is just as impressive. The attractions are almost completely disassembled and refreshed every year, with between 90-95% being re-themed or otherwise changed each season. Most everything is built in-house, including making their own LED lights and concocting their own fog juice. Popular gags in the houses are also phased out and back in every few years as well to help keep the experience fresh each season. Over 700 volunteers raising money for their different organizations will filter in and out over the course of the season. As such, every person is given very extensive safety training, even if only working one night. Niles Haunted House is known as a very safe haunt; to the point that they are invited to give lectures at tradeshows on event safety. Actor training is also given, including understanding your character and knowing how to handle different situations that may come up. The Midway Roamers have additional training on interacting with guests, to provide a fun but safe experience for visitors while hanging out in the Midway area. Additionally, each attraction has its own manager to help keep things moving and resolve issues.
The innovation and passion present in building the event also extends to their marketing efforts. Besides the traditional channels of radio, tv, print, and billboards, Niles Haunted House also attends festivals, parades, and other community events to talk to their market base and build relationships. And under the direction of Marketing Director Aaron Smith, they take full advantage of social media channels, too. They actively promote visitors taking pictures and videos with the scare actors outside of the attractions, and posting them on social media channels with the hashtag #monsterselfie. The monsters will even occasionally come together and dance in the Midway for visitors to shoot and post. The main icons of the event all have their own Facebook pages, and visitors can interact with them on-line. All of this creates strong customer engagement, and due to these efforts, Niles Haunted House has seen steady growth. Since 1980, they've had about 1.6 million visitors, and achieve a growth rate of 100,000 people every one to two years.  Their record for visitors in one night is about 13,000 people. Being not-for-profit, this large influx of people enables Niles Haunted House Scream Park to be a huge positive impact for the organizations raising money with them, from large groups like Make-A-Wish Foundation to scholarships for local area high school students. Last year, they were able to raise more than $82,000, and have raised over $1.3 million over the last 18 years.
Niles Haunted House Scream Park is an absolutely fantastic way to spend an evening with friends and family. Everyone who volunteers is there because of their passion for helping others and Halloween, and as a result, there is a warm, family mentality that permeates the event. There are even volunteer families that have been helping out for over four generations. That passion and dedication extends itself to every corner of the event. The attractions are scary and technically innovative, the shows are entertaining, and everything goes to help people in need. It also takes me back to my own memories as a child, and I'm glad to see that there are still places like Niles Haunted House Scream Park giving those memories to the next generation of haunt fanatics.
Slideshow-Check out even more pictures from Niles Haunted House Scream Park

While the normal season is over, Niles Haunted House is running a special, one night Blackout event tonight, November 8. Three of the attractions will be open, and each group will get one glow stick to light their way through the inky blackness inside each house.
Stay tuned for more gory goodness, and be sure to get social with us on Facebook and follow along with us on Twitter @BehindThrills for the latest updates!
Don't miss your last chance to experience this event this year! For more information, or to buy tickets, visit the official website by clicking here!