It's the ride that Six Flags needs…not that one it deserves. Justice League Battle for Metropolis will hit several Six Flags parks in 2015, and it's hitting it with the main man at the controls. Sally Dark Ride unveiled the all new animatronic figures for both the Joker and Cyborg. The two figures are just a small part of the groundbreaking new ride coming next year!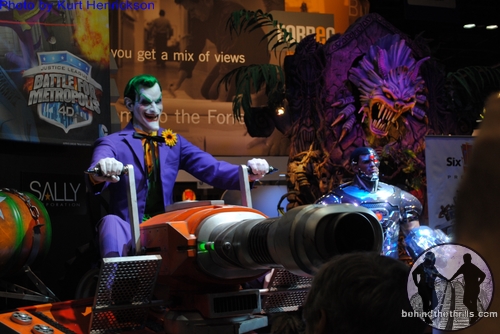 The Battle for Metropolis is unlike any Sally Dark Ride they've ever done. The attraction will feature several different levels of interaction, as well as unique game play, and of course animatronics from some of your favorite heroes…and more importantly, villains.
The look of the Joker is ripped straight from the comics (and from some of the shows), which is very important. The voice of the Joker is also the voice we've all come to know and love. It's voiced by Troy Baker, who took the icon that Mark Hamill did created with his voice work, and continued it into new adventures with the clown prince.
Vide0-Have a blast with Joker from Sally Dark Rides

If the Joker is any indication of what we can expect from the ride, then guests at Six Flags are in for one of the best dark rides that they (or any park for that matter) have ever done.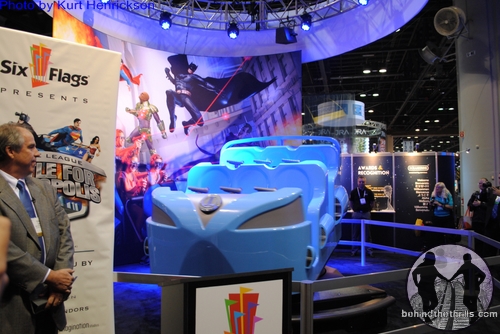 The ride vehicle was also unveiled, which is built and programmed by Oceaneering. The ride will utilize a trackless system that first made it's debut in SeaWorld Orlando's Antarctica, but it will do so much more than that attraction has.
The trackless system allows the vehicle to roam through a pre-programmed path, and because it is not on a track, it can do things that no tracked vehicle can do. Riders will go speeding around tight turns, spin uncontrollably, as well as do tricks that we haven't been told about yet. The system is just one part of many that is coming
together to make the comics jump to life.
The ride itself will be an interactive shooting game that will pit you against the villains who are trying to take over.
Slideshow-Check out even more picture from this year's IAAPA Expo!

Battle for Metropolis comes to Six Flags St. Louis and Six Flags Over Texas in 2015.
Stay tuned for more from IAAPA 2014, and be sure to get social with us on Facebook, and follow along with us on Twitter @BehindThrills for the latest updates!
For more information about Six Flags, including tickets, visit the official website by clicking here!