Why you have hands, you don't have claws at all! Walt Disney World has kidnapped the Sandy Claws, or at least has brought him out to play at Mickey's Very Merry Christmas Party. Jack Skellington from Nightmare Before Christmas has been a staple at many other Disney parks around the world, except at Walt Disney World. This year Disney decided to bring him out and let him mingle with guests at Mickey's Very Merry Christmas Party. It adds the perfect touch to Christmas, and hopefully will be a taste of things to come.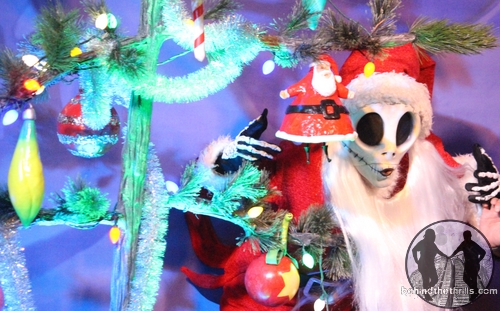 Jack Skellington is the King of Halloween, in Tim Burton's "The Nightmare Before Christmas", but he decides to give Christmas a try. The stop motion film has been a fan favorite for over 20 years, and has become a fixture in several Disney parks around the world. Disneyland in California even does a complete make over of their Haunted Mansion, turning it into "Haunted Mansion Holiday" featuring all the characters from Nightmare Before Christmas. Walt Disney World, sadly, has not jumped on the bandwagon. Slowly, however, they have started rolling out characters from the film. Last year they started with Jack and Sally. This year, Disney is trying something new with Jack as Sandy Claws.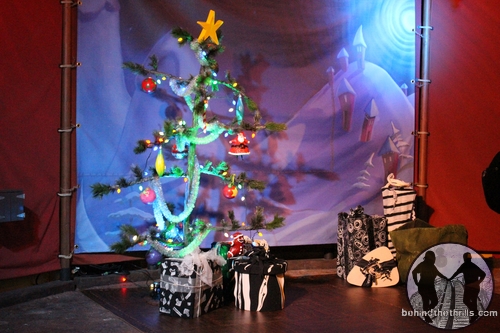 The meet and greet is located in the Storybook Circus area of the park, and gives fans the chance to see not only Jack, but a nice little scene from the film. A nice little tree, with very Burton-esque gifts wait for those daring enough to open them. The colors are a nice contrast to the area, and even Jack's Red and White fit in perfectly with the Circus theme.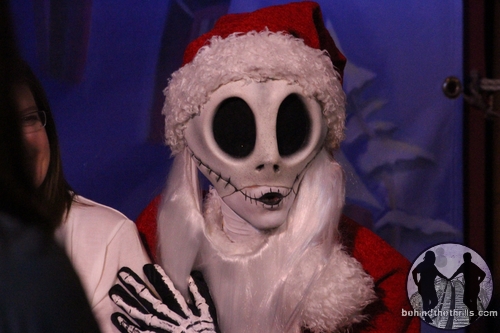 Jack himself is very interesting. While the costume makes him look a little oddly alien, it's in the acting that brings Jack to life. Jack comes bounding out of the shadows exclaiming "SCARY CHRISTMAS!" to all who who listen. Meeting Jack is also a treat, as he never breaks character and is always intrigued by your Christmas wishes.
Video-Sandy Claws Jack meets guests at Mickey's Very Merry Christmas

Jack is only available during Mickey's Very Merry Christmas Party. The wait gets very long, very quick, so he should be your first stop of the night, or your very last. He's located in Storybook Circus and is one of many characters out and about to greet guests.
Jack is so popular that it makes you wonder if the park is not testing for something else. Could we eventually see a Nightmare Before Christmas version of Haunted Mansion? It would be an amazing addition to an already amazing park during the holidays.
Slideshow-Check out even more pictures from Mickey's Very Merry Christmas Party!

Mickey's Very Merry Christmas Party runs on select nights from now until December.
Stay tuned for even more from Disney and be sure to get social with us on Facebook, and follow along with us on Twitter @BehindThrills for the latest updates!
For more information about Mickey's Very Merry Christmas Party, including tickets, visit the official website by clicking here!