At 400 feet The Orlando Eye will be the centerpiece of I-Drive 360 when it opens next spring. In fact, it will be the centerpiece in a new phase of Orlando tourism, as the wheel could become the most visible structure in Central Florida. On Thursday, The Orlando Eye unveiled one of the key pieces in the all new attraction, the ride vehicles. The air conditioned glass capsules will give riders a birds eye view of central Florida, and a first of their kind construction.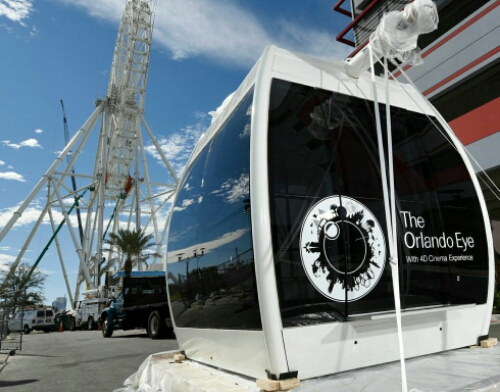 The capsules were shipped in from Northern Germany, after being assembled in Hungary and Turkey. Each one weighs about three metric tons, and uses a unique new system that keeps the vehicles level.
Instead if the standard attachment to the wheel, the Orlando Eye will use a ski-lift style system to attach the capsule to the main structure. The capsules will be topped off with a shaft, and hangar, much like ski lifts use. This will allow guests to get up and walk around the cabin.
"Construction on the Eye is moving at great speed, and once the outer wheel has been completed, it will be exciting to see the installation process of the capsules," said Orlando Eye General Manager Robin Goodchild. "Approaching  that milestone signifies just how close we are getting to our spring 2015 grand opening."
Some Orlando Eye fun facts:
·       Each capsule weights three metric tons (6,600 pounds) or as much as an Indian elephant
·       All 30 capsules will have seating, air-conditioning, lighting and audio effects to enhance the guest experience
·       Up to 450 guests can take in the 360-degree views at one time on the Eye, which include nearby theme parks, attractions, lakes, lush landscape, downtown Orlando and much more
·       Once the structure is complete, the Orlando Eye will be 400 feet tall and weigh approximately three million pounds, making it the tallest observation wheel on the U.S. East Coast
·       Each capsule has 10 panes of glass, weighing almost 1,300 pounds
Video-Get a look at construction at The Orlando Eye

The entire experience will take about 20 minutes. The Eye will be open both during the day, and late at night to give the best possible view of Orlando. It is scheduled to open I'm Spring of 2015.
Stay tuned for more from I-Drive 360, and be sure to get social with us on Facebook and follow along with us on Twitter @BehindThrills for the latest updates!
For more information about the Orlando Eye, visit the official website by clicking here!