Just a year ago the world was introduced to Polercoaster, a revolutionary new concept that would allow coasters to break new records and go as the parks dared to go. A few months later, plans were announced for the world's tallest coaster to be built in Orlando, appropriately called Skyscraper. Today, almost a year after the first announcement, we finally have an idea of what the coaster will look like in action. In a word? Stunning. US Thrill Rides and the owners of Mango Tropical Cafe released a first look at what is soon to be the world's tallest coaster.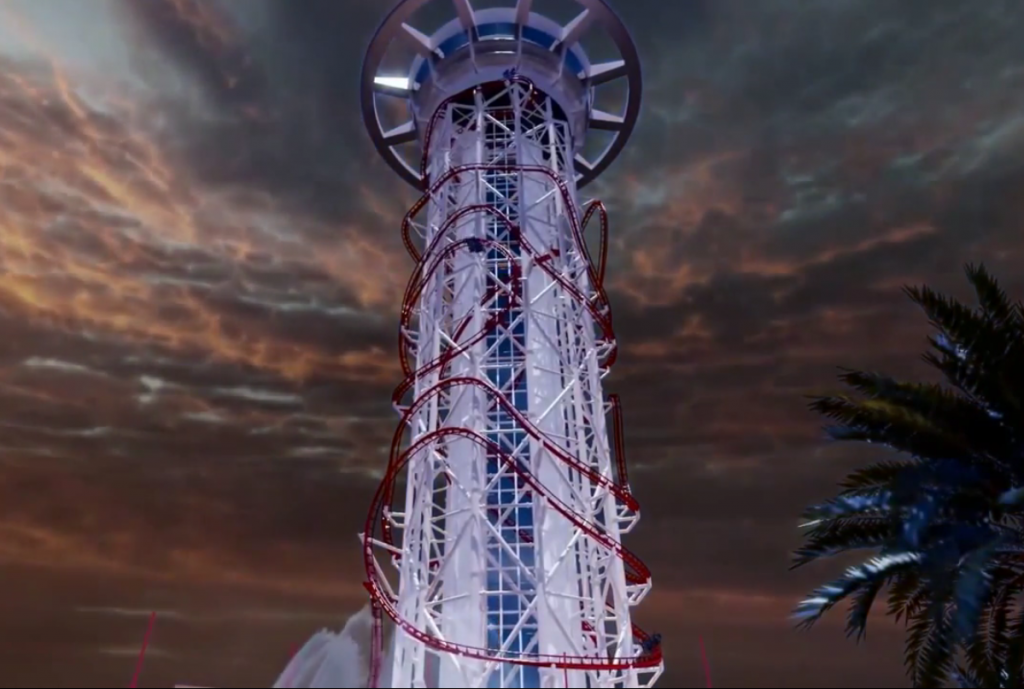 An all new video shows off the massive 570 foot tall coaster diving, twisting and diving through the course what is sure to be an amazing new ride. Skyscraper will be the centerpiece of the 495,000 square foot Skyplex which will break ground sometime in 2015 for a 2017.
Video-Go for a ride on the all new Skyscraper

The all new coaster is being built by US-Thrill Rides, and will break the record for tallest coaster by over 100 feet. The current coaster king is Kingda Ka at 456 feet, straight up and down. The coaster will also hold several other records, including tallest inversion, highest drop and the biggest cause of wet pants in Orlando.
"Skyscraper will not only take riders higher than ever before, but also introduce one thrill right after the next – there's no 'down time' on this four-minute coaster experience," said Michael Kitchen, president of US Thrill Rides. "It is an absolute cutting-edge engineering marvel that will deliver pure adrenaline unlike any roller coaster in the world today."
"We are very proud to be a part of the incredible landscape in a town where magic happens and lifetime memories are made every day of the year," said Joshua Wallack,  COO of Mango's Tropical Café. "With the addition of The Skyscraper and the amazing Skyplex, Orlando will once again cement its reputation as the attractions capital of the world and the number one vacation/convention destination. We're certain this thrilling new iconic coaster and facility will attract countless more attraction enthusiasts and visitors to the area."
We will find out even more at the annual IAAPA Expo, as it kicks off on Tuesday in Orlando.
Stay tuned for even more from Skyplex, and be sure to get social with us on Facebook, and follow along with us on Twitter @BehindThrills for the latest updates!