Food trucks are all the rage. They offer a taste of something new in one place today, and they can offer something different tomorrow at another place. Disney has taken that trend and worked it into being a permanent solution for Downtown Disney. On top of all that, construction for the all new Disney Springs is starting to pick up the pace, and bring new characters to life at the area.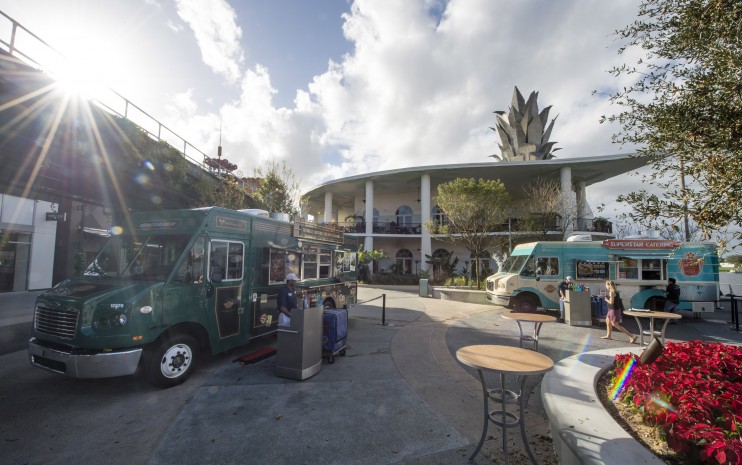 The holidays are always a busy time of year for those looking for a quick bite to eat among the holiday fun. Downtown Disney has slowly brought out four all new food trucks over the course of the year, and now they all have a permanent home at Exposition Park, tucked just past Bongo's Cuban Cafe.
Here's the line up of food trucks you can find in Exposition Park:
Namaste CafeŽ with flavors from Disney's Animal Kingdom
Superstar Catering with favorites from Disney's Hollywood Studios
Fantasy Fare with Magic Kingdom Park treats
World Showcase of Flavors with Epcot offerings
The flavors of the food trucks are great tastes from all around the Resort, and they can be had without waiting for a reservation. They will get busy however, just like everything else around Downtown Disney.
Construction around Downtown Disney seems like it has kicked into high gear, with the opening of the all new parking garage. It seems like all the focus is now on the rest of Disney Springs. While the parking garage has helped, traffic around the area is still a nightmare, due to the construction of the I-4 interchange, so plan some extra time. Meanwhile, in the Disney Springs area, more concept art has shown up with a new look to some old friends. The gang are all featured in the same style as the Mickey shorts that have been airing on Disney Channel over the past year. Recently the All Star-Music hotel food court received the same type of character makeover, adding new characters to the eatery.
Work is progressing rapidly on the all new Boathouse restaurant that will be one of the all new featured restaurants at Disney Springs. The restaurant will feature a nautical theme, with a very entertaining atmosphere. The other major new themed restaurant opened will be Morimotos, with food designed by the famed Iron Chef.
Slideshow-Check out even more from Downtown Disney 

Disney Springs will be expected to complete much of the redesign in the coming year, including the two new restaurants. The new theme will effectively double the size of the existing shopping and restaurant space
Stay tuned for more from Disney and be sure to get social with us on Facebook, and follow along with us on Twitter @BehindThrills for the latest updates!
For more information about Downtown Disney, including reservations, visit the official website by clicking here!