Orlando is full of different shows, from the theme park variety to those you might find off the beaten path. There are even some that are a tad on the different side. Such is the all new show DRIP. I had no idea what I was to experience when I saw "DRIP". Their website explains that the show is a "in your face explosion of color and movement backed by a live rock band, all in an industrial bar", which frankly isn't that descriptive regarding what you might see . The site also warns that "YOU WILL GET WET!" As a girl who has sat in on many a Shamu show, and barely been splashed I wasn't too worried- how crazy could it get? Boy, was I wrong.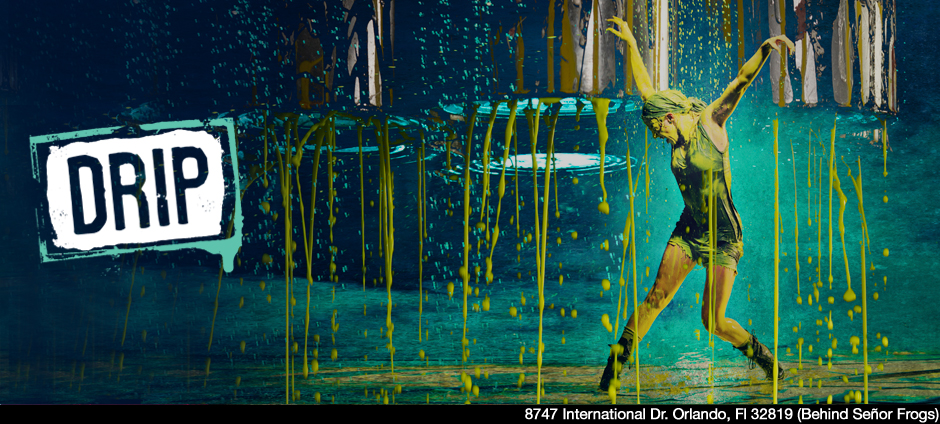 I went with several gal pals to DRIP. It took a little while to find the place- DRIP is located in the back corner of a shopping center that contains a Denny's and a Senor Frogs and across the street from a budget hotel. The hidden location itself gives the audience the sense of "this is our secret and you are invited". After being carded at the door (its 21+ venue- no crying toddlers allowed), we were ushered into a hallway where we were given white t-shirts to put on. We then went into a bar, where craft beer and wine were served and audiences could have their t shirt "tailored" for a small cost.
Suddenly rock music started and three dancers got up on the bar, dancing and spraying red, blue and yellow water everywhere. Unbeknownst to me, this was the beginning of the show. For the next hour, my friends and I witnessed an erotic, loud, modern rock ballet love story. Paint was thrown, water was splashed, sand was danced in. We witnessed a woman fall in love, be betrayed, and find herself. It was a one of a kind experience.

A few tips:
-Like it says on the website: Dress down- YOU WILL GET WET
– Make sure you wear comfy shoes- you will be standing.
– You might want to bring a change of clothes with you for after the show, since after you will want to go to dinner afterwards to discuss what you just experienced
– Take lots of pictures!
-This is not a family friendly show. At all. It's for those 21 and up, and does require an open mind
While theme park shows are amazing, and give you a glimpse at an amazing world, DRIP gives you a bit more of a look at the REAL Orlando, and what this town is all about. It pushes boundaries, and gives a glimpse into the wild nightlife that you may not find in the theme park areas. Definitely worth a look for those looking to escape the fairy tales and superheroes that parks provide when you're in town.
Stay tuned for more Orlando fun, and be sure to get social with us on Facebook, and follow along with us on Twitter @BehindThrills for the latest updates!
For more information about DRIP, including tickets and directions, visit the official website by clicking here!