Tonight all bad children get visits from Krampus! Gruß vom Krampus! Seid ihr heuer brav gewesen? Sonst krieg ihr's mit dem Krampusbesen! If your German is rusty, that's okay. People all over the world will be celebrating the evil friend of Santa tonight, as December 5th Is recognized as Krampusnaucht, or simply…Krampus night. If Santa represents all the good little boys and girls for Christmas, then Krampus is the polar opposite. While we don't celebrate Krampus as much as our European friends, he is catching on. But who is Krampus, and where can you celebrate him?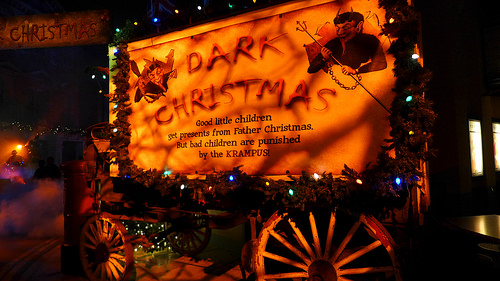 On December 6th, many parts of Europe celebrate St. Nicholas Day, which is a version of our Christmas. Good children receive gifts, but on the night before, bad children are visited by Krampus. Krampus would come visit bad children, and put them in a sack and beat them with birch branches. For the really bad children, he puts them in the sack and drags them to hell. Krampus is not a guy you want to see show up at your window.
There are huge celebrations for Krampus, however, and people love to see him running through the streets. It's a celebration that hasn't fully caught on in the United States just yet, but it is starting. While there are smaller festivals all over the states, many haunts are getting into the spirit by taking Krampus as his literal purpose, and using him to scare the hell right out of you.
Earlier this year, Halloween Horror Nights, at Universal Studios Hollywood created an entire scare zone around Krampus and his shenanigans called "Dark Christmas". The zone used our traditional images of Christmas, mixed with the darkness of European traditions for one twisted holiday.
Video-Come face to face with Krampus in Dark Christmas
While Halloween Horror Nights did an amazing job with the scare zone, the problem is that it doesn't stick around for Christmas to truly get into the spirit.
There are several other haunted attractions that are opening for the holidays that will celebrate the horned one while everyone else is laying out cookies and milk for Santa.
Dark Hour Haunted House-Plano Texas
The haunt is doing their annual "Wreck the Halls" haunted event, but on December 14th guests can come and get their pictures with Krampus. Sit on his lap, tell him what you want for Christmas and get beaten with birch sticks!
Visit the official website for more details!
NecroManor-Krampus Kristmas
The Louisiana haunt is actually scaring in the true name of Christmas, as they are opening their haunt up for charity. Krampus will be running rampant in the haunt, but they are giving back to the food bank of Northern Louisiana. Donate a non-perishable food item and take $2 dollars off of admission. The event kicks off on December 19th.
Visit the official website for more information!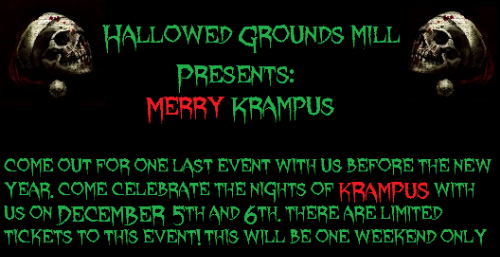 Hallowed Grounds Mill North Carolina
Celebrate Krampus as Hallowed Grounds Mill roars out of 2014 with one last hurrah. Just one weekend only, with limited admission.
More information, click here!
In addition to the haunted houses, there will be several Krampus celebrations all over the country. There will also be a ton of Christmas themed haunts, but these are just the events that celebrate our buddy Krampus.
Stay tuned for more holiday horror, as we celebrate Fear All Year!
Be sure to get social with us on Facebook and follow along with us on Twitter @BehindThrills for the latest updates!
Happy Krampusnaucht!