The holidays can be horrifying. Christmas shopping, presents, decorating, cooking…it can be a nightmare. The holidays are also a time of being warm, and cheerful, and getting close to your family. If you're a haunt fan, it can be miserable. Cheer? Bah Humbug. If you're into the darker side of Christmas, or simply don't want to wait until October to get a good fright, then you just happen to be in luck, as several haunted attractions are joining the growing trend of being open for the holidays. This year, there's more than ever before, as haunts give us a break for the holidays and open the scream gates for some Yuletide frights! We've compiled a list of several haunted attractions that are not only open for the holidays, but also have a Christmas theme.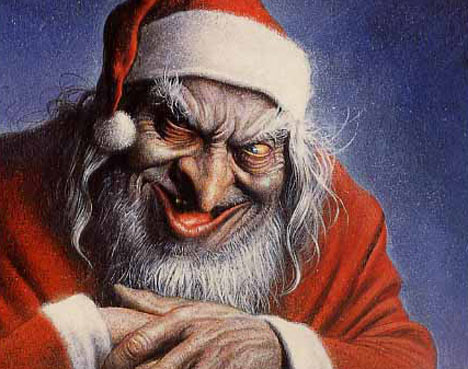 Why horror for the holidays? The answer is pretty simple, we love to be scared. It doesn't matter the reason, we love the frights no matter the season. Christmas haunts give us a little something more to the holidays, and it is a great way to spend time with the family. Nothing says love more than seeing your dearest loved ones screaming for dear life.
Legends:A Haunting at Old Town-Kissimmee Florida
Our friends over at Legends don't do Christmas. In the words of Archibald Ashdown "I give the gift that keeps on giving…all…year…long! <insert evil laugh, and spit here>" Legends offers Fear All Year, and that's a pretty good thing. You don't have to wait to get scared, but if you want to celebrate the holidays with them, they'll make…final arrangements.
Click here for official website!
Haunted Mansion Holiday-Disneyland
Okay, not technically a haunted attraction, it does mix the holidays with horror. It's a fun transformation of the Haunted Mansion at Disneyland, and a great look at The Nightmare Before Christmas. It's only around for the holidays, and the only place to see it in the U.S. is Disneyland.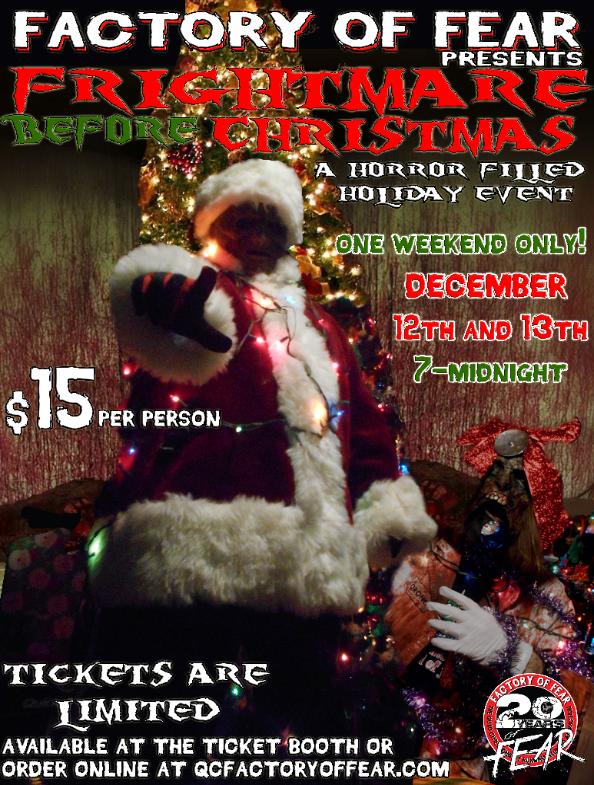 Factory of Fear:Frightmare Before Christmas-Moline, Il
This one crept up on us. It's only a one weekend event, running December 12th and 13th, and it is going to kill for the holidays.  You'll be able to experience holiday fun, with a horror twist. Bring a new, unwrapped toy in for a discount.

Moxley Manor:Nightscare Before Christmas-Bedford, TX
The elves have taken over Moxley Manor. They are overworked, underpaid, and they are pissed. They are taking it out on all the good little girls and boys who wandered too close to Santa's workshop. The event happens December 19th&20th.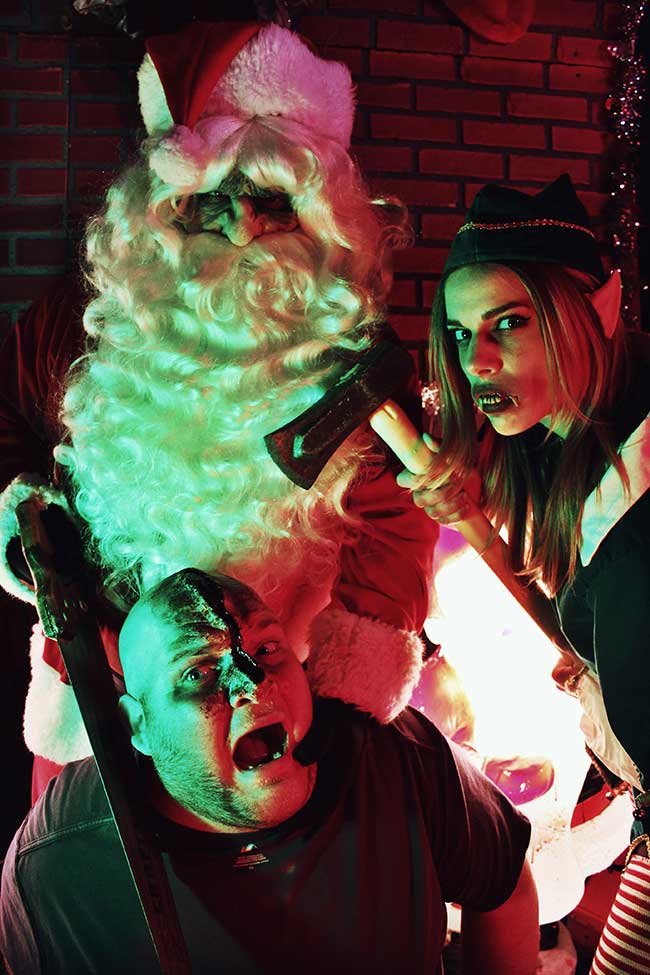 A Very Scary X-Mas:Chamber of Horrors, Hauppauge NY
December 12th, 13th, 19th and 20th will see Long Islands' first haunted Christmas event. Santa doesn't care if you're naughty or nice…he's going to kill you anyway. Maybe now you'll believe.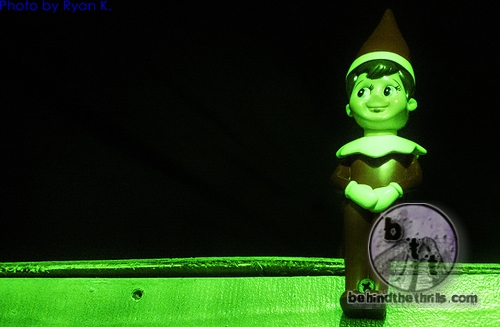 The Frightmare Before X-Mas-Lombard Commonwealth Haunted House, IL
December 13th, and 20th, this non-profit will give back to the community by taking the screams from you. We've experienced this haunt first hand (click here) and it's a ton of fun. All the proceeds go towards local charity.

Wreck the Halls:Dark Hour Haunted House-Plano, TX
December 26th, 27th and January 2nd and 3rd the Dark Hour will celebrate a "silent night". They are also celebrating the Krampus by having the jolly old…demon pose for pictures and celebrate the season on December 14th!
Santa's Slay-Brighton Asylum Passaic, NJ
Evil Jack Frost, rabid reindeer, chainsaw-wielding Santa's, demented toys, zombified elfs. O Holy Night! Brighton Asylum brings the pain with this maniacal Christmas walkthrough December 20th&27th.
Click here for more information!
Holiday Horror-The Final Fear Blasdell, NY
Never let it be said that haunts don't have a sense of irony or humor. The Final Fear is bringing four holiday themed haunted houses to…wait for it…THE MALL. The mall is full of horror around the holidays, mostly from over anxious shoppers. This year The Final Fear brings a new level of terror as they take you from your shopping, and put you right into a Christmas Nightmare.
Visit the official Facebook Page for more info!

Christmas Nightmare-The Massacre Haunted House Montgomery, IL
The weekend before Christmas will have zombie toy soldiers, demented elfs, Santa and his twisted helpers and more. Bring a new, unwrapped toy and save $5 dollars at the door. Tickets are on sale, and this event always sells out. Best part, it's all heated so you won't have to brave the cold!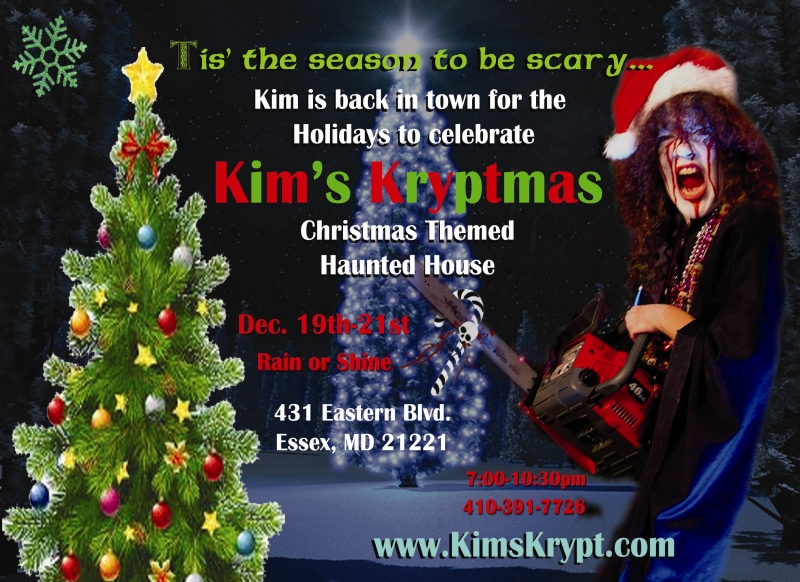 Kim's Kryptmas:Kim's Krypt Essex MD
December 19th-21st the fear comes back just once more this year as chainsaw wielding maniacs, creepy toys and more come to life.
Holiday Horrors:Scream Acres CT Kovington, KY
He sees you when you're sleeping, he knows when you're awake…he's always watching. Always. He's gone crazy and he's hunting you one…by one. Scream Acres CT brings back their holiday horror haunt for December!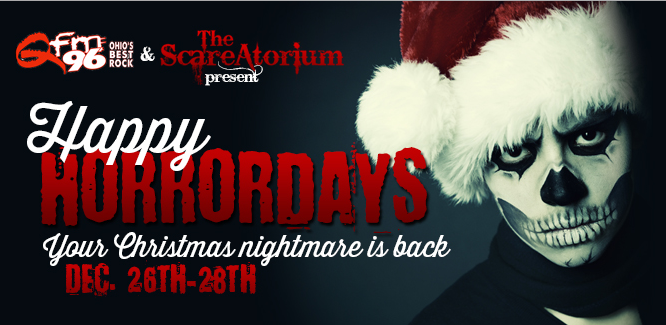 Happy HorrorDays:Scaretorium Columbus, OH
The Scaretorium is bringing back Happy Horrordays  for just a few days after Christmas! The haunted halls are decked as terror lurks everywhere!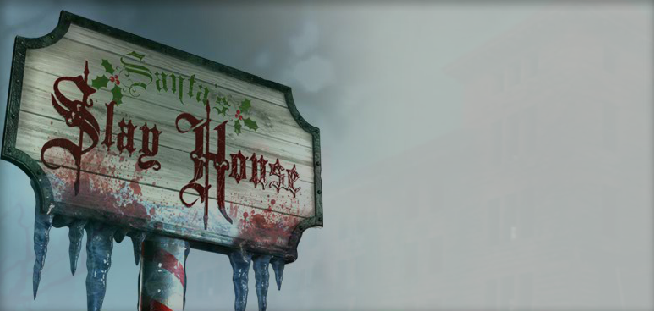 Santa's Slay House: The Sanctuary OKC Oklahoma City, OK
Santa is good, and loving. However, for every good there is an evil. Santa's evil doppleganger lurks the Sanctuary, making his new home in the haunted halls. He brings with him evil elves all bent on reloading his slay, and punishing those who are naughty.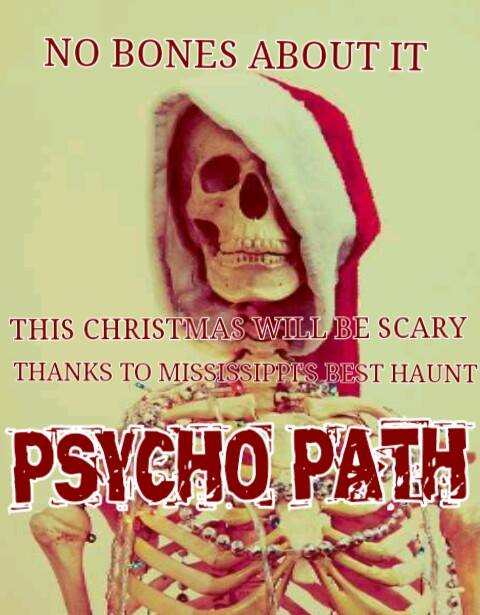 Psyco Path-Ellisville Mississippi
This is the first year that Psycho Path is doing a Christmas haunt. For five nights, beginning December 23rd. The haunt will close Christmas Eve and Day, but open for four more nights of terror after! Definitely a great haunt during haunt season, and hopefully we will hear great things about the Christmas haunt.
Krampus Kristmas:Necromanor-Bossier City, LA
We love the story of the Krampus. It's a fun tale that is celebrated in European countries, and is starting to gain steam. Krampus is the opposite of Santa. Where Santa rewards good, Krampus punishes bad. Like, really punish. He drags you to hell. December 19-22nd Krampus is loose!
Spook Trail-Quinton AL
To celebrate their 25th anniversary, SpookTrail is breaking out the Christmas cheer with a haunted attraction for the holiday season. Admission is just $5 dollars when you bring in a canned food item.
Nightmare AFTER Christmas-Macabre Haunt Antioch, IL
Sure everyone can have a Nightmare Before Christmas, but what happens when Santa is tired of all those milk and cookies? The haunt will happen for two days after Christmas, and those with canned food can save.
We might have missed a few haunts that are still doing Christmas events, if so, let us know about them!
Stay tuned for more FEAR ALL YEAR and be sure to get social with us on Facebook, and follow along with us on Twitter @BehindThrills for the latest updates!