In an unfortunate, and very strange bit of news, a man has died after falling from the all new Artegon Marketplace Sky Trail ropes course. The rope course just opened as part of the all new Artegon Marketplace Mall, formerly the Festival Bay Mall, earlier in November. The man was enjoying a day out with his daughter before the holiday, when something went wrong. Police and Emergency Services were called to the attraction, and the man was taken to the nearby Dr. Phillips Medical Center, where he was pronounced dead.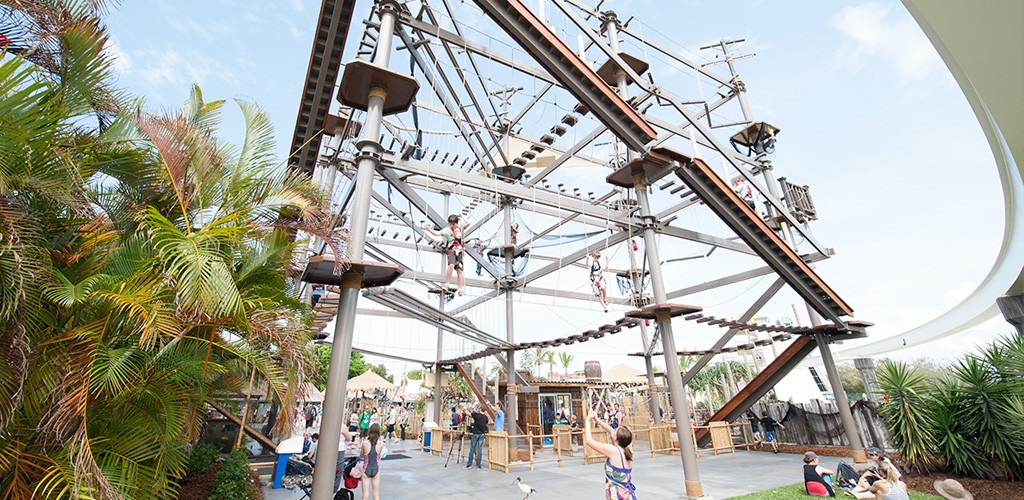 It is unclear on exactly what caused the accident, but several reports said that somehow the fastener on the harness came undone, causing 52 year old Robert Belvoir to fall from the highest point of the attraction and hit the concrete floor, some 30 feet below.
Our thoughts and prayers go out to his family.
What was the cause of the fall? While we hate to think that there was faulty equipment on a brand new attraction, we'll have to wait to find out if this was the case or it was just a freak accident. Accidents on rope courses are rare, specifically on the Sky Trail brand, which is designed and built by Ropes Courses Inc.  The company has one of (if not THE safest) records in the industry.
The official Facebook page of the attraction issued a statement on Wednesday:
kytrailartegon">Artegon Sky Trail.
The investigation is ongoing, and could change the way that the attraction does business, if it continues in that location at all. So far there has been no response from the manufacturer, but we imagine that investigations will be ongoing over the next few months.
Update 12-31-14
The family has filed a wrongful death lawsuit against several people, including the mall, Ropes Courses Inc and others, according to the Orlando Sentinel. 
That's not unexpected at all. According to the report, the daughter watched her father fall as something went wrong. The mall has reopened the ropes course, but the Sky Rail remains closed. The company, Ropes Courses Inc. has about 600 courses worldwide, with about 10 of those having Sky Rails. The company has kept the Sky Rails on all attractions closed.
The owner admitted finding an unexpected problem, telling the Sentinel:
"We were able to isolate this. It was so obvious once we figured it out, it was like `Holy crap,'" Liggett said. "It's just a weird bunch of circumstances all happened and we have got to make sure it doesn't happen again."
The company has a stellar safety record, and this is the first instance of any major injury happening on the ropes courses that was not user induced.
Stay tuned for more on this story.
Be sure to get social with us on Facebook, and follow along with us on Twitter @BehindThrills for the latest updates.