Gingerbread is an amazing warm concoction that immediately brings you to Christmas. But why? Why do we associate the sweet and spicy cookie with Christmas? And why gingerbread houses? Disney has taken these two holiday traditions to extremes over the years, but this year they take it in all new directions as Frozen takes over the gingerbread display at Walt Disney World's Contemporary Resort. It's a new take on a Christmas classic, and it's full of hidden surprises…but it's only one of many Gingerbread displays at Walt Disney World.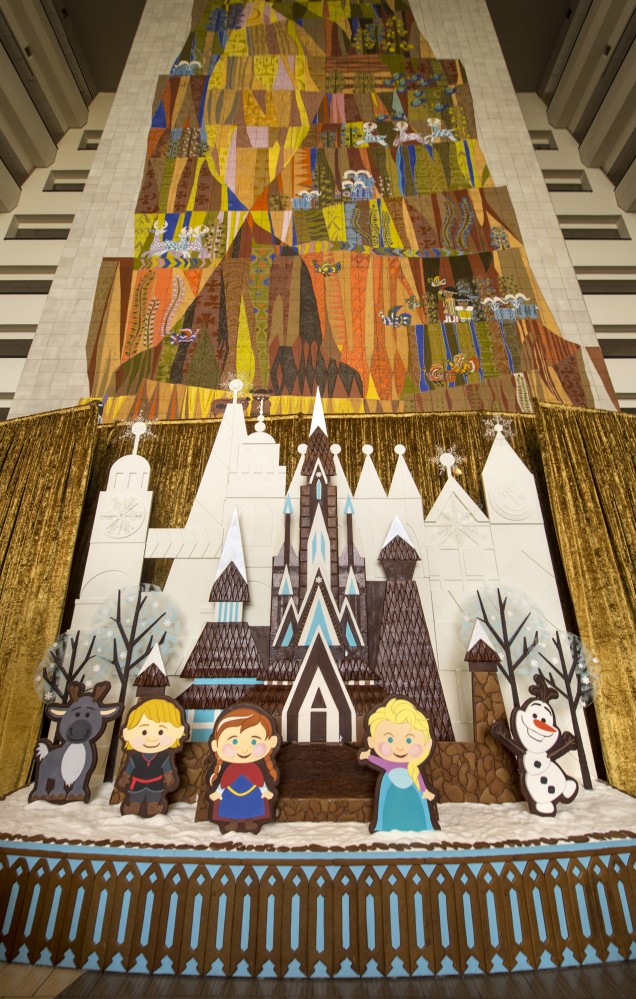 Gingerbread can be traced all the way back to the Crusades, when returning soldiers would bring back spices from the Middle East. Then it wasn't so much a cookie, but just used to spice up and preserve bread. It morphed into cookies and sweet treats, and was primarily used by monks…at first. France, Germany and England loved gingerbread most of all, and it was Nuremburg that became a popular destination for the sweet treat year round. Gingerbread houses were made popular by the story of Hansel and Gretel, in which a witch uses the sweetest treat of all to make her house and lure children in. That sweet treat was gingerbread. The gingerbread man was an English tradition that was spurred from maidens eating "husbands" out of gingerbread, in hopes that the sweetness would attract a man of their own. So, why Christmas? Queen Victoria is believed to have made the treat popular at Christmas when her and her husband Prince Albert (who was born in Germany) adopted the treat, along with the Christmas tree and the Yule Log. After that, gingerbread became synonymous with Christmas.
Disney has taken the tradition of gingerbread and amped it up a thousand-fold. Every year Walt Disney World makes huge gingerbread displays in many of their hotels. This year, the Contemporary Resort brings the world of Frozen to life with a massive gingerbread display.
Video-Watch the wizards of Christmas bring Frozen to life as gingerbread

The Frozen gingerbread display is a massive 17 feet tall, and features all the main characters from Frozen. Traditionally, Disney puts "hidden Mickey's" all over the gingerbread as a fun game. For the Frozen gingerbread, the team uses "hidden Olafs".
Here's everything that goes into the Frozen gingerbread:
423 lbs. of chocolate
514 lbs. flour
212 eggs
67 lbs. spices
35 lbs. sugar syrup
311 lbs. of honey
222 lbs. icing
1,500 gingerbread shingles
14 Hidden Olaf's
If you get a hankering for your own piece of gingerbread, don't go diving face first into Olaf. You can buy your own gingerbread, as well as a "build a snowman" kits right at the display.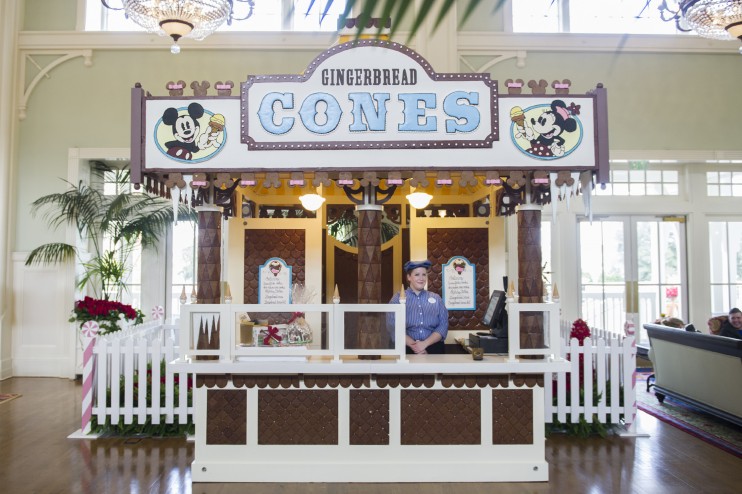 Disney's BoardWalk Inn
The fun doesn't stop there, as Disney's BoardWalk Inn brings a Jersey Shore inspired stand to life in gingerbread and chocolate. The stand sells gingerbread, ice cream, gingerbread house kits and more.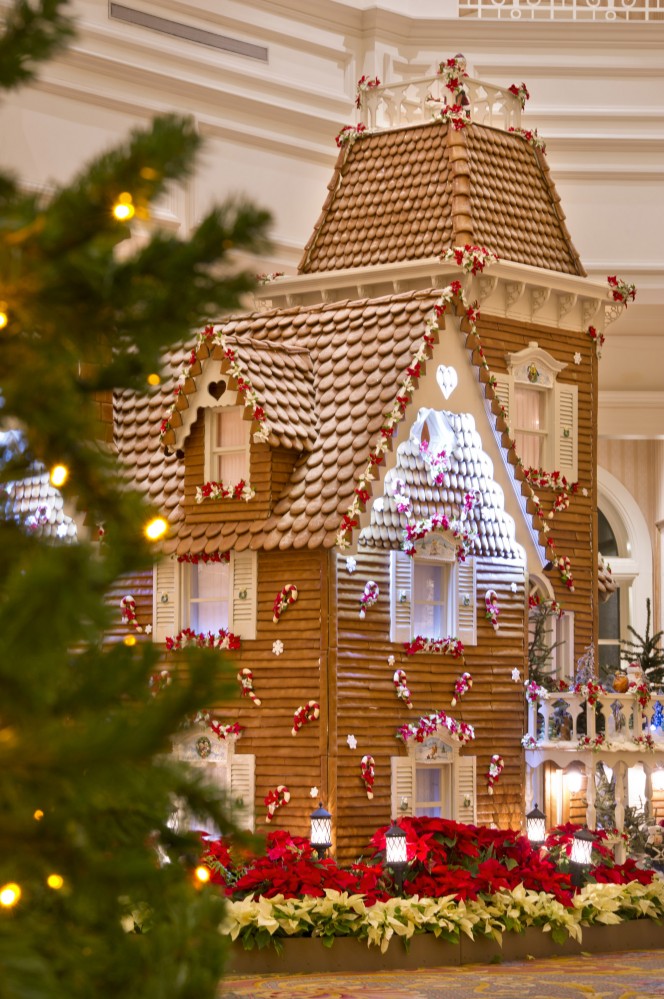 Disney's Grand Floridian 
The biggest gingerbread display is at Disney's Grand Floridian. It's so big that they have a huge shop inside of it. It's a Victorian Era house, complete with amazing decorations, toy displays…and they're mostly made of chocolate!
Here's everything that goes into making this huge display an annual tradition:
Structure Composition:
16 feet high by 17 feet wide
1,000 board feet of trim
60 sheets of plywood
40 window panes
80 square feet of retail space
100 square feet of display
10,000 pieces of gingerbread used
Gingerbread Ingredients:
700 lbs. of chocolate
1,050 lbs. honey
600 lbs. powdered sugar
35 lbs. spices
800 lbs. flour
140 pints egg whites
180 lbs. apricot glaze
Disney's Beach Club Resort
A fully detailed, life-sized carousel in the resort's lobby is created from a recipe that uses gingerbread, chocolate, and loads of sugar paste. Pastry chefs give demonstrations on select days to provide guests with tips on creating a gingerbread invention at home.
Carousel fun fact: There are seven hidden Mickey's can be found on the carousel.
Ingredient fun facts:
36 lbs. of honey
96 lbs. of bread flour
100 pints of eggs
10 lbs. of spices
10 quarts of simple syrup
100 lbs. of icing
50 lbs. of dark chocolate
10 quarts of egg whites
100 lbs. of confectioner sugar
Disney's Yacht Club Resort
The lobby of Disney's Yacht Club Resort becomes home to a delectable scene in motion: A miniature New England-style train races through a sugary rock mountain surrounded by a candy-coated model village in this don't-miss, edible display.
The Gingerbread Displays will last through the holidays at Walt Disney World Resort. If you would like to see the displays, they are free to see, and do not require a reservation.
Stay tuned for more from Walt Disney World, and be sure to get social with us on Facebook, and follow along with us on Twitter @BehindThrills for the latest updates!
For more information about the Walt Disney World Hotels, including reservations, visit the official website by clicking here!