If you're looking for a strong dose of horror this holiday season that doesn't involve fighting maddening hordes of Christmas shoppers, then you're in luck! This month, haunted attractions across the nation are opening their doors for special holiday themed haunts. We'll be looking at two haunts in the Chicago area, and in this first article we're seeing what's stirring in the dark at Lombard Commonwealth's The Frightmare Before Xmas in Lombard, IL.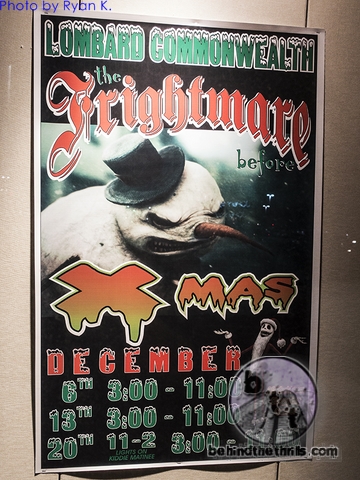 Lombard Commonwealth, formerly the Lombard Jaycees, are known for having the haunted attraction with the longest consecutive run, starting back in 1970. They are a not-for-profit haunt, and this year marks the first time they've done a Christmas-themed haunt. Jackie West, President of Lombard Commonwealth and one of the Chairmen of the Haunted House, told us about their decision to open up in December, "Our kids usually, like mid way through, get depressed, saying 'Oh we miss the house.' Last year, our theme was Happy Hellidays, and we had a [Christmas] room. So it got me thinking of doing a Christmas-themed house."
To help minimize costs, the existing layout from October was redecorated and re-propped, and the 10,000 sq foot haunt took on new life as a holiday-themed house of horrors. Here, everyone is on the naughty list. Visitors will find themselves experiencing sinister spins on Christmas traditions and twisted versions of beloved holiday films. There's even a running theme throughout the attraction around Elf on a Shelf that pays off wonderfully at the end of the haunt. Accompanying the visuals is a hard, thumping soundtrack of classic Christmas music blended with industrial riffs and beats. The culmination of the sights and sounds is a discordant mix of nostalgia and dread, revelling in equal parts your fondest Christmas memories and your darkest fears.
Inhabiting the house on an average night are an assortment of 30 – 65 merry monsters, all being played by volunteers ranging from age 9 to their early 20's. And even at a young age, their passion and professionalism shines through. As part of training, the scare actors take two classes: Haunting Dynamics Part One and Two. Part One is all about the basics, covering general haunt acting and safety training. Part Two builds on that foundation, having the kids walk through the house to identify and share possible scare tactics in each room. This empowers them with a larger tool set to with when scaring visitors, and it pays off. The scares range from a creeping dread to high intensity. Said Graham Louthan, 15, of the experience, "I get an adrenaline rush every time I scare someone. It's really fun and you just get to let loose…When you get a bunch of people who don't think you're going to scare them, and then you scare them really good; it's just really fun."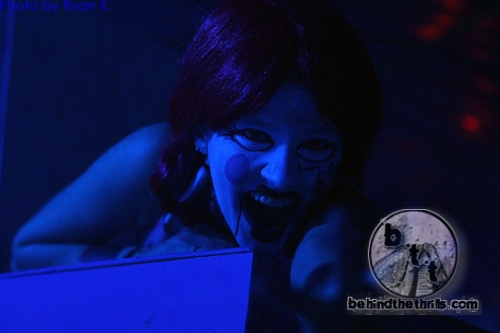 One of the really great things about this attraction is that the scare actors also have a stake in the house's content. Once the theme has been identified, the kids get to pitch their ideas for environments in the haunt, and the best ones are chosen and created. This greater involvement helps foster a stronger investment in the house, and the resulting excitement and passion is felt through the actor's performances. "We all like haunting. It's great, especially Fridays after school when you're all stressed and just want to get everything out. It's the best thing ever," Ian Ryan, 14, told us. "When people come through, and you scare them, it's just great."
But scares aren't the only thing that the Lombard Commonwealth Haunted House offers. Being not-for-profit, all profits go toward buying food and presents for needy families for Christmas. They also accept food donations, gently used coats, and unwrapped toys. There's a strong sense of dedication, hard work, and community spirit at The Frightmare Before Xmas, which fits right in with the Christmas spirit at the attraction.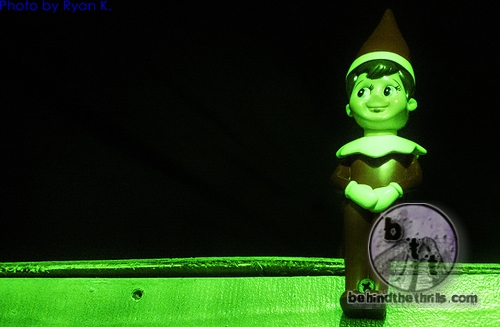 Lombard Commonwealth's The Frightmare Before Xmas is open two more nights, December 13 and December 20, from 3 – 11PM. Tickets are $10 for ages 10 & up, and $5 for ages 9 and under; cash only please. This attraction is family friendly, but is scary. For those those that want to visit but are concerned the event may be too intense for their kids, there is a less scary, free lights on Kiddie Matinee on December 20 from 11AM – 2PM. It is asked that visitors bring a food, coat, or toy donation for the Matinee.
Slideshow-Check out even more gory goodness from Lombard

If you're in the Chicagoland area and want some Macabre with your Merry Christmas, be sure to visit Lombard Commonwealth's The Frightmare Before Xmas, located at 20 Yorktown Shopping Center in Lombard. It's a fantastic way to experience some chills not caused by the cold weather and help support local families in need.
Stay tuned for more gory goodness, and be sure to get social with us on Facebook and follow along with us on Twitter @BehindThrills for the latest updates!  And don't miss our next holiday haunted house article, coming December 20!
For more information about The Frightmare before X-Mas, visit the official website by clicking here!