It's been a rough ride for SeaWorld the past few years. From accidents, to under performing stocks, and the PR nightmare that is Blackfish, it's been a really rough ride. That ride seems like its taking a new course as the company announced that CEO Jim Atchison will be stepping down from that position, effective January 15th. This comes after a wave of bad publicity over the anti-SeaWorld film Blackfish, several high profile cancellations and even a declaration of war from hacker group "Anonymous". But the question is, is this all because of Blackfish, or is Blackstone to blame?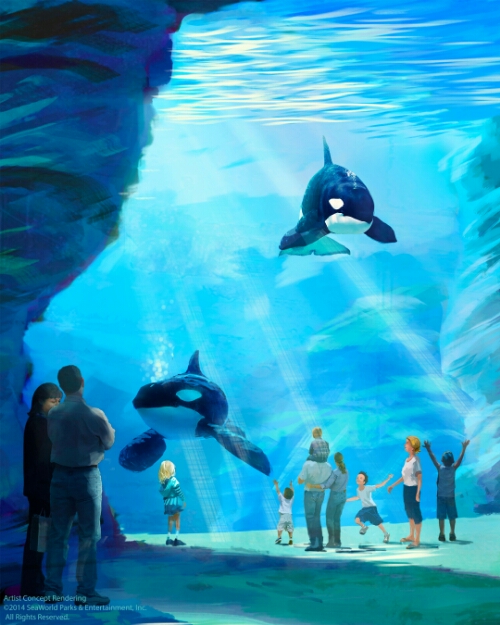 Jim Atchison has been the CEO of SeaWorld Entertainment since 2009, since the acquisition of SeaWorld by Blackstone. Blackstone bought the company after Belgian Beer company InBev bought Anheuser Busch in a takeover bid. Atchison was Chief Operating Officer of Busch Entertainment Corporation from 2007 to 2009, as Executive Vice President and General Manager ofSeaWorld® Orlando from 2003 to 2007 and as Vice President of Marketing of the same entity from 2002 to 2003. To say he's been a major part of the company for a long time is an understatement.
"It has been an honor to lead SeaWorld," said Mr. Atchison. "I am so proud of this Company and our dedicated team members. I look forward to serving as Vice Chairman and continuing to work with the Board, David, and our exceptional team to assure a smooth transition," said Mr. Atchison.
Mr. Atchison will be replaced by Chairman David F. D'Alessandro, who will serve as the Company's interim CEO until the Board of Directors selects a permanent replacement. D'Alessandro has been on the board since 2010.
Also in SeaWorld news is the addition of Ellen Tauscher, a strategic advisor at the law firm of Baker, Donelson, Bearman, Caldwell & Berkowitz, PC who previously served as a Member of Congress and as an Under Secretary of the U.S. Department of State, and Mr. William Gray, the former Co-Chief Executive Officer of Ogilvy North America of Ogilvy & Mather Inc. In short, a politician and a banker.
In addition to the removal of Mr. Atchison from CEO, the company also announced that it will be entering a restructuring period to help manage the debt, and get the company back online. As part of that restructuring the company has announced that some positions will be eliminated. While the company has not released any numbers on exactly how many will lose their jobs, analysts estimate that as many as 500 people will be cut from SeaWorld employment before the end of the year.
So what does this all mean? Why is it so important that these new people are being brought in, and the old ones being removed?
For starters, it's a sign that SeaWorld is in more financial trouble than previously expected. While cuts across the company are not unfamiliar, what is, is the swiftness in which this came down. The company will name a new CEO probably within 6-9 months. What happens from there all depends on the type of person they get into the position. If there is a person with a huge financial background, you can count on the company being liquidated and possibly parts sold off. There were rumors that surfaced earlier this year that said Comcast (the company that owns the Universal theme parks) were in talks to purchase the Orlando area parks, while other parks were rumored for others. If that happens, you're looking at a completely different SeaWorld experience.
The other thing that it means is that many of the new projects that have not started are most likely on hold. That amazing new Orca tank that was announced earlier this year for all three SeaWorld parks is most likely not going to happen under the new regime, or at least until a new CEO is announced. Will this have any effect on the other parks announced worldwide? Probably not.
So, who is to blame? Is this a victory for Blackfish? Maybe, but as much as they'd like to take credit for what is sure to be labeled "the fall of SeaWorld", the ones to blame could be more internal.
Blackstone seemed like the knights in shining armor when they came in to purchase SeaWorld parks. While they kept the entire chain of parks in tact, they essentially signed the death certificate of the parks when they took them public, offering stock in 2013.
Blackfish was destined to be a PR nightmare, as the film unfairly portrays SeaWorld in a hugely negative light. The company went public, in April of 2013, just a few months after Blackfish was released and purchased by CNN. The company was yet to face it's fiercest storm of negative publicity some six months later, but the writing was already on the walls. The stock opened strong, then quickly fell. This also came just as the economy was barely starting to recover from a massive dip that saw many parks pull back spending and ticket prices to keep revenue up. Then, to further damage the stock , Blackfish filed in March of 2014 to sell back the stock and reduce their share to just 20%. To put that into perspective, that's like Ronald McDonald saying he's a vegetarian, and meat is murder…only to still pick up a paycheck. It's irresponsible, and the way of saying that they were going to leave SeaWorld hanging to dry, while they ran away with as much money as they could. Could this all have been avoided? Sure…just look at Six Flags. They did almost the exact same thing, and had to immediately enter into restructuring, and at one point were even rumored to be bought out by Cedar Fair in 2010. Cedar Fair, who also went public after being privately owned, also faced a similar restructuring.  The point? The precedent is there, but Blackstone ignored it.
The only thing for certain now, is that big changes are on the way for SeaWorld. Hopefully they'll be great changes, and we can talk in five years about that time when SeaWorld was in serious trouble. With layoffs happening, a former senator on the board, and many claiming victory, it's looking like the SEAS ahead could be choppy.
Update
Today SeaWorld has laid off over 300 people company wide. The company operates 11 parks nationwide, with the majority being in Central Florida. From varying sources, it sounds as if the positions that were eliminated were manager and executive positions, with some creative positions.
On a personal note, we were shocked and saddened to learn that Scott Swensen from Busch Gardens Tampa had been one of the people who were let go. Scott was instrumental in the annual Howl O Scream event, and making it as gory and scary as it was. He will definitely be missed within the company, but we expect big things from him elsewhere.
It's not certain if this round of layoffs are over or not, but with any luck it is. It's never easy to find out that you're no longer employed, and even more difficult around the holidays.
Stay tuned for more from SeaWorld, and be sure to get social with us on Facebook, and follow along with us on Twitter @BehindThrills for the latest updates.
For more information about SeaWorld, including tickets, visit the official website by clicking here!
Blackstone bought to liquidate the company