It's no secret that Busch Gardens Williamsburg is adding a brand new attraction that will debut in 2015. As guests enter the park's toll plaza just off of Route 60 and Interstate 64, Apollo's Chariot is no longer the only attraction guests see first. Guests are now seeing a new attraction that has rose over Festa Italia that will debut sometime in 2015.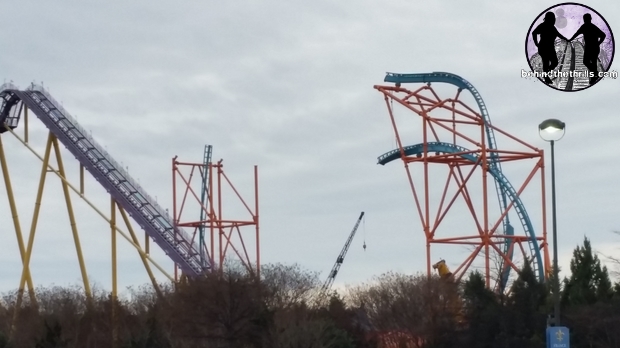 As Christmas Town at the park is getting ready to end for the year, Busch Gardens will have a lot of time to focus on the attraction, including placing the final piece of track and beginning to test the ride before riders will be permitted to ride the attraction.
The attraction hasn't even been officially announced by the park, though names like Tempesto and Diavolo have been mentioned. The new coaster will be around 157 feet tall, and will feature three inversions, according to plans discovered earlier this year. The coaster has remained fairly quiet, but with so much new track appearing, it wasn't going to stay quiet all year. Rumors have suggested that the new coaster will open in June of 2015, but we're also hearing the coaster will be ready specifically for the 40th anniversary. It's going to be a long winter, and if weather permits, the coaster should go rather quickly while the park is closed.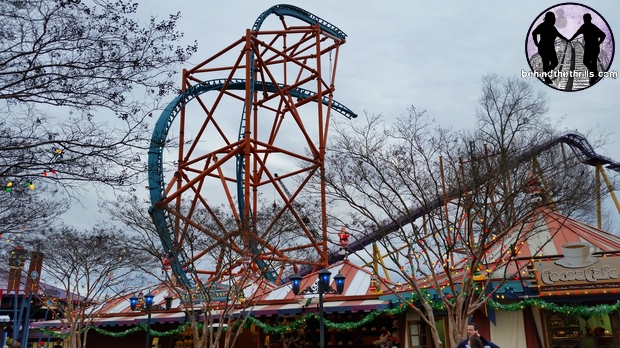 While there is still plenty to do, Busch Gardens has a good portion of the construction started for the attraction. Check out our construction update video below.
Video: Construction Update on BGW 2015 Coaster (12-28-14)

While Busch Gardens has yet to announce a name or an opening date for this attraction, 2015 will be a big year for the park. Busch Gardens Williamsburg will be celebrating it's 40th anniversary in 2015, which could mean special events, limited edition merchandise, and more.
Nothing has been announced yet on 2015 celebrations for the 40th anniversary,but if the SeaWorld celebration is any indication, we could see a huge season-long celebration, and at least some very cool throw back merchandise.
Stay tuned for more from Busch Gardens Williamsburg, and be sure to get social with us on Facebook, and follow along with us on Twitter @BehindThrills for the latest updates!
For more information about Busch Gardens Williamsburg, visit the official website by clicking here.