It has been a legendary year for Universal Orlando. Just about every aspect of the resort has had some major addition, and huge change. Universal Studios Florida opened the second phase of the Wizarding World of Harry Potter-Diagon Alley, Loews and Universal opened their fourth hotel together, and announced the plans for a fifth. To top it all off, Universal's CityWalk underwent a major renovation. On Wednesday, the first phase of the huge CityWalk expansion comes to an end as The Cowfish celebrates its' Grand Opening.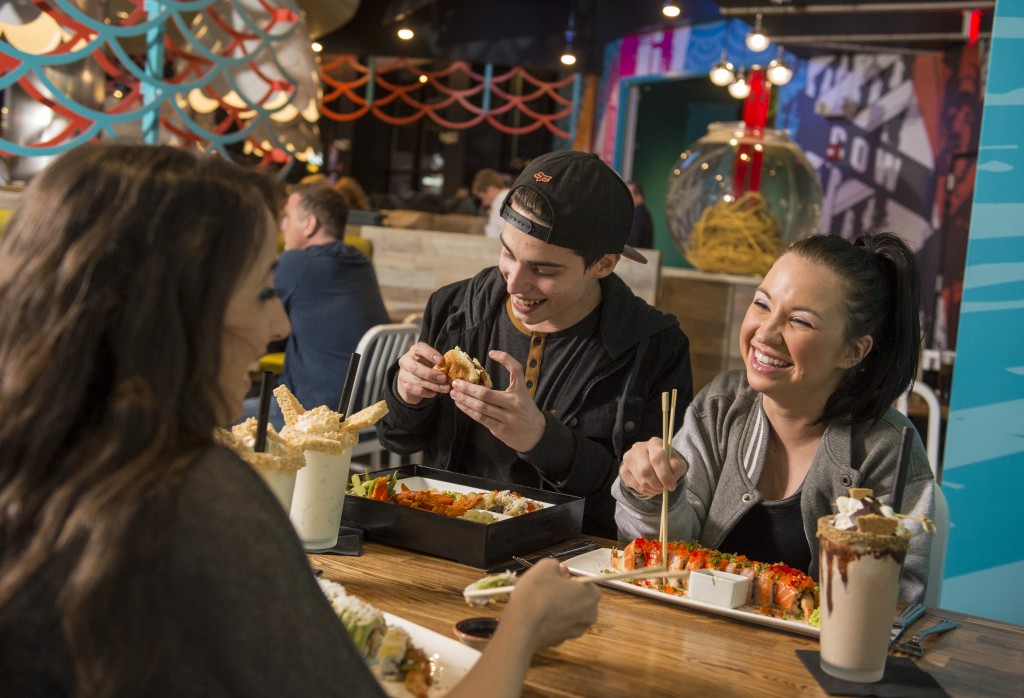 Whether you have a taste for gourmet burgers, sushi…or a mixture of both, The Cowfish is CityWalk's premiere new restaurant, offering a fusion of tastes and flavors with a three story restaurant experience that is unlike any you've ever had in Orlando.
The Cowfish started in North Carolina about five years ago when Marcus Hall was looking for a second location for his Asian Fusion restaurant, the only problem, the spot he wanted was too small. However, it was located right next to a gourmet burger restaurant owned by Alan Springate. The two started talking, and came up with a concept of mixing Burgers and Sushi. The story should end there, because the idea is just…well, honestly…it sounds horrible! However, the story goes on as the two brought this crazy idea to life in North Carolina, and it blew up. The Cowfish opened a second location, and the story gets even better. A Universal Executive and his wife were on a trip when they were stuck at the airport in North Carolina. One wanted sushi, one wanted burgers…and they found The Cowfish. The pair were so intrigued and delighted with the idea, that it just had to come to Universal Orlando. So…here it is!
Video-Take a quick tour of Cowfish Orlando

While we will have a more in depth review of Cowfish in the coming days, we were among the first to try the new restaurant when it soft opened in November.
The verdict?
Amazing. The Cowfish does something that no other Orlando restaurant does, they take two distinctly unique ends of the spectrum and merge them with such flavorful results that you honestly can't believe what you're eating.
On one end, there's the sushi, prepared with only the freshest ingredients, and made to order. On that end of the spectrum, they also offer amazing Asian-Fusion specials such as the Firecracker Roll, which is
Shrimp tempura, kani inside coated with tempura flakes, topped with yellowtail, salmon, spicy mayo, masago, tobiko and scallions.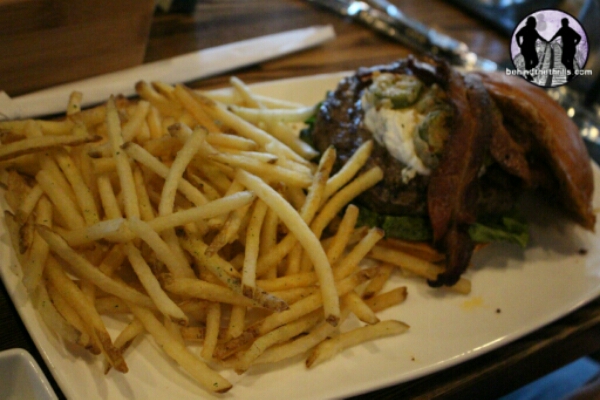 On the complete other end of the spectrum are the gourmet burgers, made with all natural ingredients. All the burgers are at least half a pound, and so amazingly juicy. The burgers range in types and ingredients, and there's a little bit of something for everyone. The burgers go from the half pound Jalapeno Popper Show Stopper, to the gut busting one pound "Cowfish has officially left the building". That monster includes a full-pound beef burger, creamy peanut butter, fried bananas, applewood bacon on a brioche bun. It does not come with its' own defibrillator!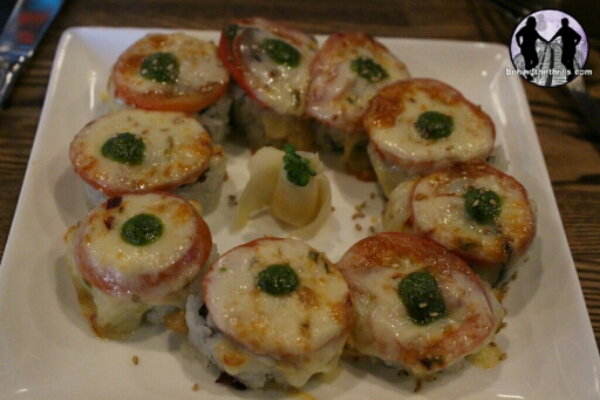 Somewhere in the middle is Bergushi. Get used to that name, because you're going to be hearing it a lot. The Cowfish takes gourmet burgers, and mixes them with sushi. While it sounds disgusting, it is seriously amazing. The meat is all cooked, but it's prepared with things like sushi wraps (which consist of rice and seaweed) and then usually flash fried. Our favorite was the Taste Explosion Roll, which is ground beef, applewood bacon, jalapeños, spicy mayo inside, coated with tempura flakes, topped with Roma tomato and pepper jack cheese, then baked and finally Drizzled with cashew cilantro pesto.
The Cowfish has tons of other options as well, and of course the handspun milkshakes are simply delicious.
If you're looking to get a little technical with your meal, while you wait, there are digital fish tanks. Guests can create a fish, in any way they choose, then add it to the tanks that are all over the restaurant. It's a fun little thing to play with, and one of the many interactive elements of Cowfish.
Slideshow-Check out even more from Cowfish Orlando
Check back in the coming days as we add even more photos, videos and tidbits from Cowfish. Be sure to get social with us on Facebook, and follow along with us on Twitter @BehindThrills for the latest updates!
For more information about Cowfish at Universal Orlando's CityWalk, visit the official website by clicking here!