Everyone has beaten the "What's new of 2015" to death, stood it up and has taken another whack at it. Well, we're standing it up once again, but this time for good reason. There's seldom a year that you can look back on say that it was truly legendary. From everything that happens in the worlds of movies, music, theme parks and yes…even news. Whether those legends be good or bad. 2015 has the potential to be one of those years, as the news is stacking up with all kinds of huge happenings, the theme park line up is going to be badass, and the movie line up, well, it can go either way. 2015 is going to be an amazing ride, good or bad, and dare we say it, legendary.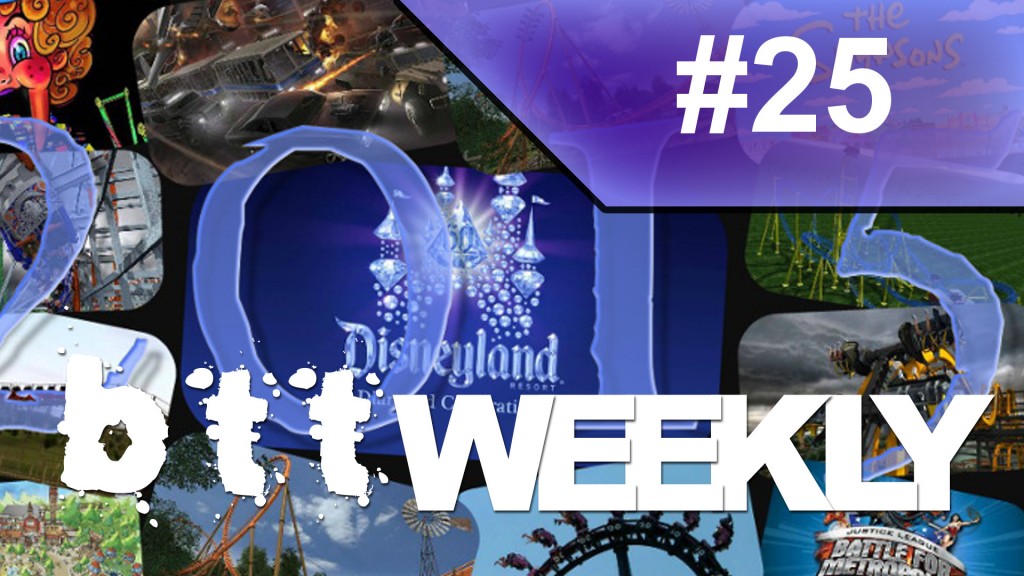 To start off the legendary year, we've brought back our weekly video series-BTT Weekly. Before we've taken you into a variety show of sorts, trying to cram as much theme park goodness as we can into one long segment. This year, however, we've taken a bit of a different approach and are doing things a little more personal, shorter, and we think a lot more manageable. Some weeks we will be in a theme park just talking, other weeks we'll be bringing you the biggest events, other weeks we'll be sitting on the toilet talking crap…okay, maybe not…or maybe so. It's going to be about five minutes, and a lot of fun.
Video-BTT Weekly #25 Happy New Year!

The theme park category is going to be a huge one this year. There is so much happening, and so many projects that probably haven't come to light yet.
Want more of a rundown? Check out our huge guide of all the new attractions coming in 2015 (click here)!
The year will kick off in a big way in just a few weeks with Wild Days at SeaWorld Orlando, in which Bindi Irwin will make an appearance. If that wasn't enough, then the very next weekend you'll get A Celebration of Harry Potter at Universal Orlando, Mardi Gras after that, then Bands Brew BBQ again at SeaWorld. Busch Gardens Tampa will kick off the year with their Food&Wine Festival and Epcot is going to build a snowman at Flower and Garden Festival. That's ON TOP OF all the new rides and attractions.
In the world of movies, how can you not help but get giddy?!? So many big films are coming out. This is truly the age of Marvel, as the studio is releasing Avengers:Age of Ultron and Ant-Man. Then in television they are rolling out a Daredevil series! A SERIES!
Jurassic World is going to dust off that tired old formula and take us back to the island, and have things go horribly wrong. The only thing is this time, it's a full fledged park, and Star Lord has trained raptors!
Terminator is back, and this time they mean business, with a full fledged reboot of sorts by changing the time line and hopefully getting the franchise back to James Cameron levels of crazy fun. Other franchises that are coming back, Fast and Furious 7. This will be the very last film of Paul Walker, who died in a car crash a few years back. To help mark the occasion, Universal is bringing out a Fast and Furious ride in Hollywood, which is said to eventually make it to Florida.
Mad Max is back in an amazing new film, Fury Road, which will have Tom Hardy step up in the titular role that Mel Gibson made famous. There will be no Tina Turner, but there will be Charlize Theron, and it will be a glorious day.
On the Disney front, the company is rolling out several all new films, including a live action Cinderella, two Pixar films and of course the Marvel take over. With all those films, there's bound to be some theme park crossover, in fact it's started already with a look at Cinderella coming to Disney's Hollywood Studios.
Let's not forget the horror genre. This year will be amazing for horror with sequels coming to some major brands like Insidious, and Halloween. Michael Myers is supposed to be back, as a script was being worked on and the brand was being rebooted. And you can't talk horror without talking Haunt Season. Halloween Horror Nights in Orlando will celebrate 25 years, which will most likely see the return of several key icons such as Jack. Howl O Scream at Busch Gardens Tampa will, for the first time ever, be without key creator Scott Swenson. Swenson was the icon for the very first Howl O Scream, and was responsible for the creation of some of the events' more memorable icons. The park still has a very capable team in place, but it will be very interesting to see how it goes without the influence of Swenson, who was very vocal in the creation of the event.
There will be an all new Poltergeist movie, which will see a reboot of the ghost story, with new characters and new actors in place. While the film universe will definitely see it's share of sequels, remakes and reboots, it will also be a great year for new original content.
Tomorrowland leads the way, based on god knows what, and starring George Clooney, directed by Brad Bird. The new Disney film looks like pure imagination set free. Plain and simple, and that's what we hope it is.
Chappie, from director Neil Blomkamp of District 9, will tell the Pinocchio like story of a robot that is brought to life and made real. It looks touching, and sounds amazing.
Pixels will take Adam Sandler (ugh) and Peter Dinklage (yay?) into a world where aliens are using video games to attack the earth. It's based on a short film, and should be flat out fun.
The movies are really just too many to mention, but you can't mention movies at all without mentioning the grand daddy of them all, Star Wars!
Can you effing believe we live in a world where there's more Star Wars films coming out? Even better, there's more Star Wars films with Luke Skywalker, Han Solo and Princess Leia!!! The expectations are high, but as long as you expect the prequels, you'll probably do okay. The films are directed by J.J. Abrams, who did the questionable Star Trek films. Those films are great, but kind of missed the box office and some of the plots of the original films. Still, it's going to be an amazing time to be alive, with more films, more toys and just more stories from a long time ago, in a galaxy far, far away.
Let's not even get started on the huge concert line ups that are happening, including the MEGA filled Bonaroo Music Festival, iHeart Radio Festivals, and god knows what else that is coming to a field, stadium or bar near you.
This could very well be the best year ever in existence, which could mean that either the bar will be set so ridiculously high that it can never be met again, or that the world will simply cease to be in January 2016. If the year is that good, then we have no problem with that, but let's hope that 2016 at least tries.
Stay tuned for more fun, and be sure to get social with us on Facebook, and follow along with us on Twitter @BehindThrills for the latest updates!