Kenneth Branagh is a pretty competent filmmaker. He has launched several great adaptations of William Shakespeare's work. He's also brought the Rainbow Road of Asgard to life in Thor, with stunning detail. His acting work includes being Gilderoy Lockhart in the Harry Potter series, and he's married to Emma Thompson (P.L. Travers and Professor Trelawny). When it comes to film, the guy has a pretty good handle on how things work. Beginning this Saturday, guests at Disney's Hollywood Studios can see just how good of a handle he gets on the all new Cinderella film, as the Walt Disney World resort brings the film and the golden carriage to an all new preview.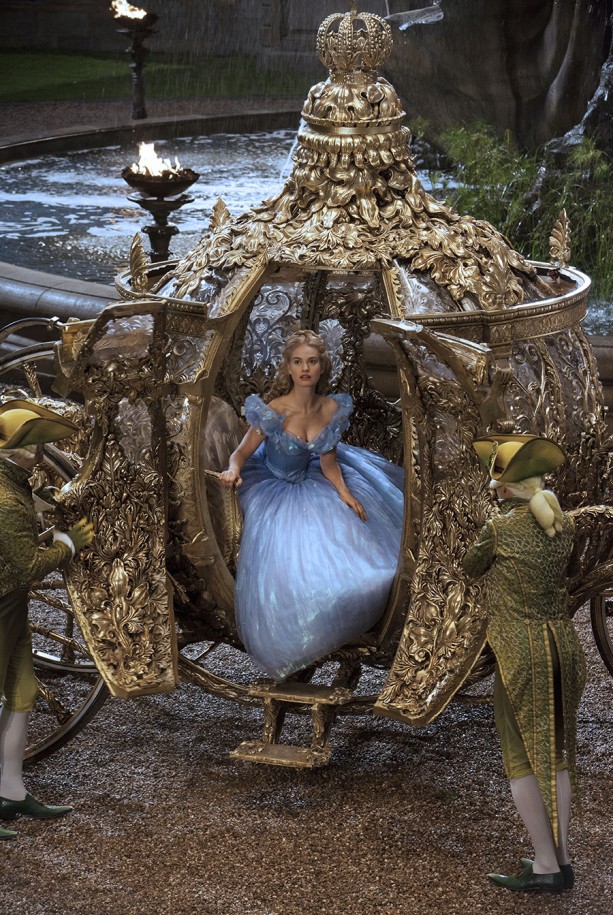 The film will be screening for a very limited time in the ABC Sound Studios. The film will open on March 13th everywhere, but you can catch an extended glimpse of the film, very early. The film stars Lily James in the title role, Richard Madden as the Prince, Oscar-winner Cate Blanchett as the infamous stepmother Lady Tremaine, and Academy Award-nominee Helena Bonham Carter as the Fairy Godmother.
If that wasn't enough, beginning February 1st, guests will be able to get a glimpse of the Golden Carriage from the film. From February 1st, until April 11th, 2015 the park will have the Golden Carriage on display in front of the theater on the Streets of America.
This is the third such preview that Disney has done at Hollywood Studios, with the first being last year's Maleficent, followed by Guardians of the Galaxy. It has been a successful marketing tool for the films, as well as a very popular addition for guests.
With the live action adaptation of the film, fans can most likely expect to see more Cinderella happenings in the parks leading up to the film, and following the release. Cinderella is a very big deal in Disney culture, and extremely popular in Walt Disney World, where her castle is the centerpiece of the entire park (and company).
Stay tuned for more from Walt Disney World, and be sure to get social with us on Facbeook, and follow along with us on Twitter @BehindThrills for the latest updates!
For more information about Walt Disney World, including tickets, visit the official website by clicking here!