It's kind of bittersweet. On one hand, the giant Sorcerer's Hat at Disney's Hollywood Studios was never meant to be there. On the other hand, we've kind of grown use to it as an icon in the park. However, you feel about it, you might want to rush out and get one more selfie with the hat before the work begins. According to WDW Magic, the removal is slated to begin January 7th.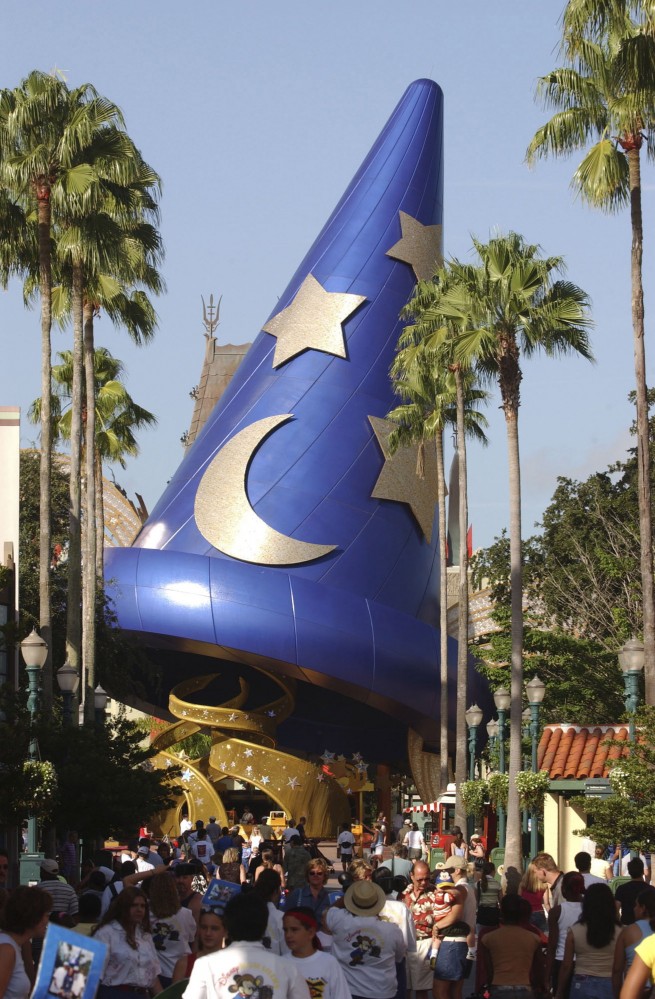 The hat was erected in 2001, where it's been until now. The hat was allegedly erected as part of a copyright issue with the Chinese Theater, which was the original icon of the park, besides the Mickey Water Tower. The hat was constructed as part of the "100 Years of Magic" celebration. Other stories say that the hat was originally supposed to go in a spot outside the park, that was cleared for a David Copperfield Restaurant that was never built. It was supposed to be double the size, and have two Ferris Wheels as the ears, with Walt Disney:One Man's Dream, underneath. That was scrapped, and it was used as a pin trading station at the center of the park, right in front of the Great Movie Ride.
What we do know is that the hat is big. REALLY BIG.
Here's some facts about the hat:
Head Measurements: The hat size is 606 7/8.

On Top of the Mouse: Mickey would have to be 350 feet tall if he were to wear this giant hat.

The Hat: The hat itself is 100 feet tall. The interior space equals nearly 60,000 cubic feet. It can hold 444,744 gallons of water. Six stars and two moons adorn the hat.

Paint Job: The hat is painted with a custom technique called "chameleon paint" which shifts color as guests move around it. Painting the hat required enough paint to cover 500 Cadillacs.

Mickey Ears: The Mickey ears feature a new special effect called "Light Ribbons," which change color and sparkle with internal pixie dust lighting.

Holding it All Together: There are 13,493 bolts that hold the hat together, 26,986 washers and 17,000 feet (or 57 football fields) of underground utility piping.
If the report is correct, the hat will begin coming down on January 7th and will no longer be used anywhere in the parks. This will come just ahead of an all new partnership with Turner Classic Movies, which will give The Great Movie Ride a bit of a facelift.
Stay tuned for more from Walt Disney World, and be sure to get social with us on Facebook, and follow along with us on Twitter @BehindThrills for the latest updates!
For more information about Disney's Hollywood Studios, including tickets, visit the official website by clicking here!