Big changes are happening at Disney's Polynesian Village for 2015. In addition to redoing the rooms, and bringing new dining choices to the hotel, Walt Disney World is bringing some amazing new rooms to life. An all new Disney Vacation Club area is also going up, which is bringing some really cool looking bungalows to the resort. Today we get a new look at some of those rooms, as well as an opening date for the first phase of the new expansion.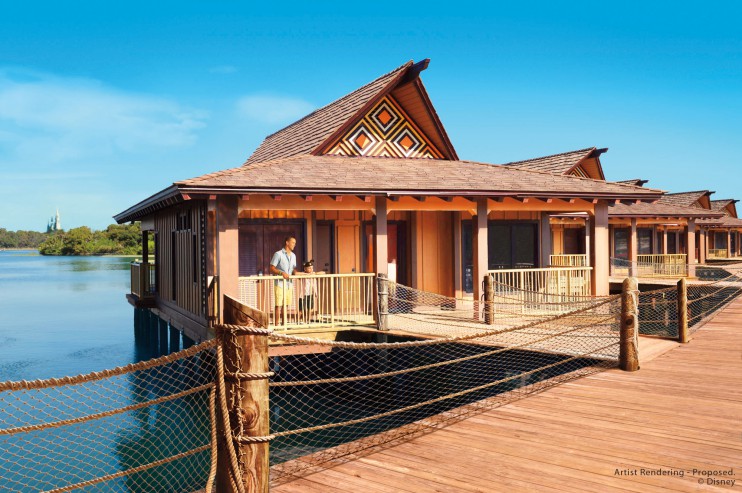 The biggest news is that the all new rooms at the Polynesian, including the Bora Bora Bungalows, will go on sale next week. Current Disney Vacation Club members can start purchasing on January 12th, while they will go on sale to the general public on February 9th. The first phase of the big expansion is expected to open April 1st.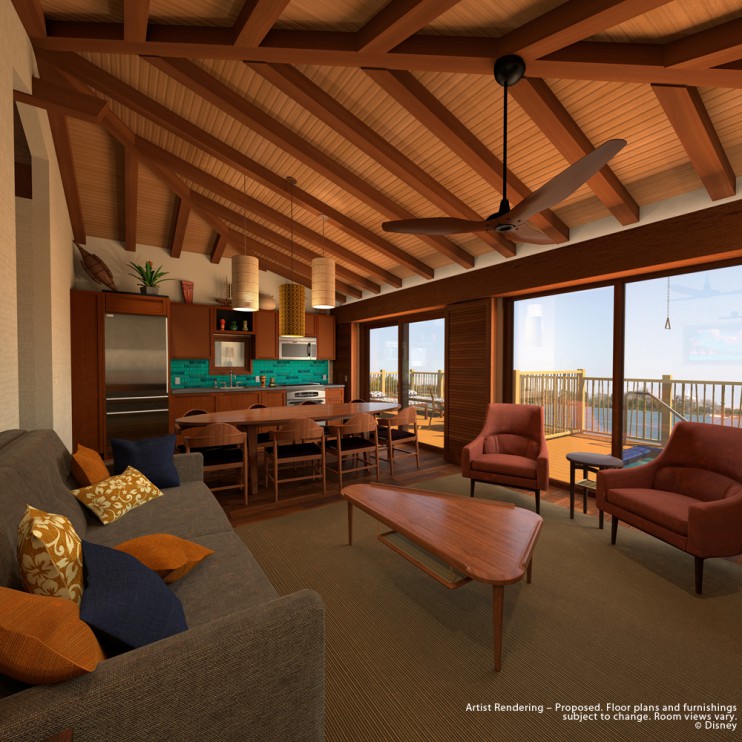 While there will be many different rooms available, it's going to be the Bora Bora Bungalows that will draw the most attention. The bungalows are designed after the world famous Tahitian resorts on the island of Bora Bora. The rooms are just feet off the water, and overlook not only the Seven Seas Lagoon, but gives a perfect glimpse at Walt Disney World, including fireworks. Can you imagine the views you'll get from there?
The Bungalows will also have a full washer and dryer, a huge living area for gatherings, two full bathrooms and a kitchen. That's not even the coolest part. Each Bungalow features a private deck, with built in speakers to hear the soundtrack to the fireworks. It even has a "plunge pool" which we're figuring means that you can jump off the decks and into the Seven Seas Lagoon.
While the bungalows are definitely going to be amazing, the new renovations are going to also include some really huge new Deluxe Studio Villas. The room will sleep five, will have two bathrooms and will also feature a pull down armoire bed, with artwork from Lilo and Stitch.
"We're looking forward to welcoming families to this enchanting new resort, located just a quick monorail ride from Magic Kingdom Park," said Ken Potrock, senior vice president and general manager of Disney Vacation Club. "At Disney's Polynesian Villas & Bungalows, both the young and young at heart will enjoy a truly unique, enhanced and memorable vacation getaway, one that combines completely new Disney elements with the iconic and beloved experiences found only at Disney's Polynesian Village Resort."
Other major renovations coming to the Polynesian is an all new kids area, theme to Lilo and Stitch and of course the one thing that Disney fans can't stop talking about, Trader Sam's Grog Grotto. It will feature themed cocktails, and small plate food choices just like Trader Sam's at Disneyland. The area is a popular spot for locals to grab a cocktail in a very fun environment.
The first phase opens on April 1st, with the rest coming later this year.
Stay tuned for more from Walt Disney World, and be sure to get social with us on Facebook, and follow along with us on Twitter @BehindThrills for the latest updates!
For more information about Walt Disney World, including tickets, visit the official website by clicking here!