It's all but over. You better get out to feel the clack of that wooden coaster one last time. Busch Gardens Tampa has announced the final day to ride Gwazi will be February 1st. The park announced late last year that they will indeed be closing the troubled coaster for good early in 2015, but hasn't released a date until now.
Whether you like or hate it, the loss of Gwazi will mean two less coasters in the world, and reduces the number of wooden coasters in Florida to two.
The wooden coaster opened in 1999 at a cost of $10 million dollars. It was the first dueling wooden coaster in Florida, and the fastest wooden coaster in the state for a time as well.
The coaster had some issues over the years, with the Tiger side of the coaster being closed for some time.
"No decisions have been made about what lies ahead for Gwazi or for the future plans of that area of Busch Gardens," said Park President Jim Dean. "But, we are always looking for ways to enhance guests' experiences, so stay tuned for more news."
The closure comes at a time when the entire SeaWorld chain is undergoing budget cuts and restructuring. Time has not been kind to the coaster, as it's condition has gotten extremely rough, even though new trains and track a few years back temporarily relieved some aches and pains.
Still, a legendary coaster (no matter the legend) deserves a great send off, and it appears that February 1st will be the day to send it off in style.
If you do not have a Busch Gardens pass, the park is offering great deals on Fun Cards, where you pay for a day and come back all year. Not only that, but guests can get entry into Adventure Island as well.
The bright side is that the coaster will not be demolished, but just sitting there. Who knows what will happen to it from there? No one really, it's just going to be closed forever.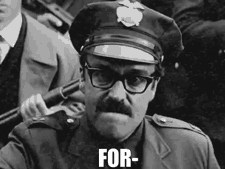 The coaster will not be running, so no maintenance will be needed on it, which is a huge cost saving measure. The other hope is that maybe one day the coaster could get a makeover, and become a hybrid coaster. The future is uncertain at this point, but riding it anytime soon won't be an option.
Stay tuned for more from Busch Gardens Tampa, and be sure to get social with us on Facebook and follow along with us on Twitter @BehindThrills for the latest updates!
For more information about Busch Gardens Tampa, including tickets, visit the official website by clicking here!