It's the dreams of many to have a fairy tale wedding at Walt Disney World. No matter if you're a princess or a prince. On Tuesday, the state of Florida lifted it's ban on same-sex weddings, and began issuing marriage licenses to couples. While Disney has offered civil unions to same-sex partners since 2007, Walt Disney World in Florida could face a huge boost as many couples chose to wait until it was legally recognized ceremony. For some it's a dream come true, and could mean the wedding of a lifetime.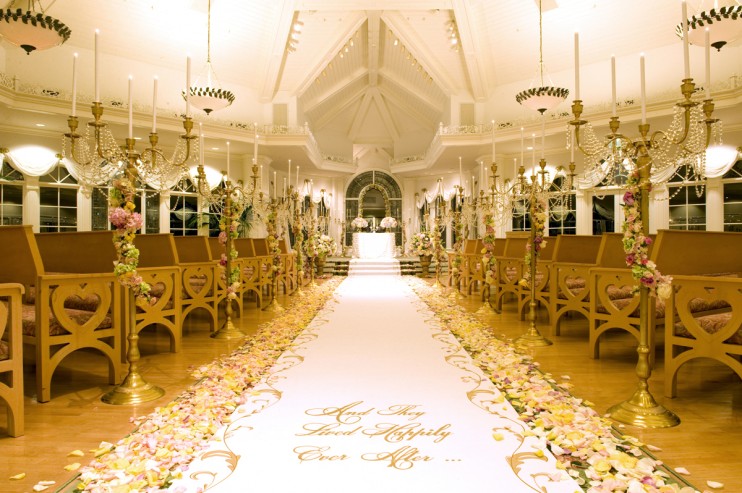 Since 1995, Walt Disney World has offered weddings at the resort to about a thousand couples yearly. The weddings were strictly limited to straight couples, but in 2007 the resort began offering commitment ceremonies to gay couples as well. It's been a business move that has benefited the resort, while giving same sex couples the fairy tale weddings that only straight couples were able to have previously.
With the ruling on Tuesday that allows gay couples to be legally married in Florida, it could mean that even more same sex couples would seek out Disney to tie the knot.
But what does this mean for those who don't feel that the weddings should happen? Could this have a negative effect on the park? Not likely, the resort covers such a broad spectrum of interests that the negative aspects will be drowned out by the positive.
"For decades Walt Disney World has been a place that welcomes families from all backgrounds." said Eric Davis, Central Florida theme park blogger, and openly gay man in a partnered relationship. "The lifting of the gay marriage ban will continue to reinforce that Disney World and Florida is the place that welcomes people from all walks of life."

"I think we will see a bigger turn out for park attendance and hotel capacity. Gays and Lesbians will plan weddings at WDW and in turn stay on property with family and friends. Which also means more money for them." said Orlando resident, Kevin C. Kevin is also openly gay, and is making plans for a Disney wedding. "The fact that it's been a dream come true to see how Disney puts a magical touch on weddings has always fascinated me, and now we may get the chance to live the magic through our own experience."
Analysts expect Disney wedding planners to get triple the inquiries from their usual, as many couples have been waiting to legally marry. If this is all shocking, it shouldn't be. Disney has offered same sex couples who worked for the company health benefits for year. The company has also stopped supporting the Boy Scouts of America on their discrimination policies on gay members, and signed a court brief in support of gay marriage. The parks from coast to coast hosts "Gay Days" (or more accurately the park let's it happen, while treating the celebration like another regular day…point is, they do not forbid it) which is a week long celebration for the gay and lesbian community.
Walt Disney World weddings offer all couples the chance to start their "happily ever after" in true fairy tale style. From choosing the backdrop of Cinderella Castle to say their nuptials, to even arriving in a carriage shaped like a pumpkin, it's a chance that most couples would jump at. The packages go anywhere from a small ceremony with just a few friends, to a massive celebration fit for royalty.
Stay tuned for even more from Walt Disney World, and be sure to get social with us on Facebook, and follow along with us on Twitter @BehindThrills for the latest updates.
For more information about the weddings at Walt Disney World, visit the official website by clicking here!