Spooky Empire has become a horror staple in Orlando. The horror mega convention has become so big that October just can't contain it. Over the past few years the good folks at Spooky Empire have brought a taste of Halloween to the middle of the year with "MAYhem". The event has grown in leaps and bounds, and includes some of the biggest names in horror,  as well as entertainment. The event has even spread into an amazing horror trade show with "Halloween Extreme". This yeat, not only is Halloween Extreme back at Mayhem, but the guests will be a little…freaky.
Spooky Empire has just announced that they will have the cast of American Horror Story Season 4-Freak Show during Mayhem!
No matter what you thought of the ending, American Horror Story Freak Show was one of the highest rated seasons of the series to date. It also featured a cast of amazing characters,  and very interesting storylines. Spooky Empire will be bringing four of the cast from the show to sign autographs and possibly more.
Mat Fraser (Paul-Seal Boy), Erika Ervin (Amazon Eve), Rose Siggins, and Ben Woolf (Meep) will be in hand on three days. Spooky Empire also loves to have huge panels and q&a sessions, so there could be a reunion of sorts in the pipeline as well.
Update
Very sad news to report that Ben Woolf, who played Meep in American Horror Story: Freakshow has died after being involved in an accident. Woolf sustained a head injury after being clipped by a sideview mirror of an SUV. Woolf was apparently Jaywalking.
His family released the following statement:
"We have been overwhelmed by the outpouring of love and support from all of the world for our beloved Ben. He touched so many hearts in his 34 years. His memory will live on within each of us and within his work."

"Thank you everyone for your love."

Also announced is screen legend Tom Skerritt,  who has been seen in countless films including Alien, and Top Gun.

Producer/Director Robert Kurtzman, has been responsible for so many nighymares, bringing films like Thirteen Ghosts, Army of Darkness and Wishmaster to life. He'll also be on hand the entire weekend.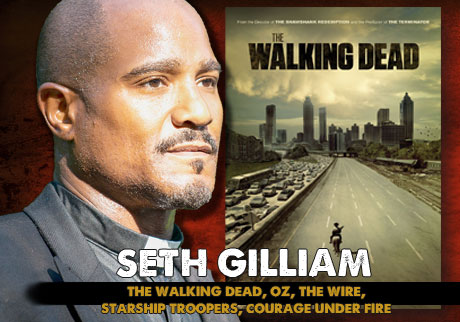 Seth Gilliam is also on the list, which could raise some eyebrows.  He's currently featured on The Walking Dead as Father Gabriel. Could his appearance at Mayhem be an indicator of his character being killed this season? Traditionally most Spooky guests on The Walking Dead have not appeared until they were killed off. It's not always the case, but most of the time it is. Let's pray for Father Gabriel.
There are several other guests confirmed, including several of the cast if the hit TV series Ink Master.
It's not quite February, so there's still more to be announced. Tickets and room reservations are now on sale, and should be booked before they sell out.
Stay tuned for more Spooky Empire action,  and be sure to get social with us on Facebook and follow along with us on Twitter @BehindThrills for the latest updates.
For more information about Spooky Empire, including tickets, visit the official website by clicking here!