2014 was a huge, huge year in theme parks with the opening of many high profile coasters, and attractions. Universal Orlando was the place to be with the opening of several high profile projects, including a revamp of CityWalk and a completely new land with the Wizarding World of Harry Potter-Diagon Alley. Other parks had huge expansions and brand new rides as well, but what will the new year hold? We're going to take a look at all the new attractions, that have been officially announced, as well as those that are under construction and coming to theme parks in 2015.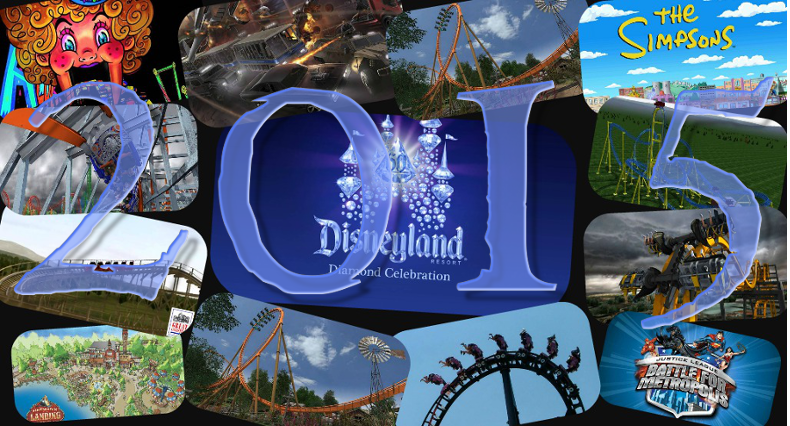 Dark rides, new festivals, coasters-it's all part of the big line up at theme parks around the country! Sure, there are tons of things happening around the world, but we'll get to those a little later. For now, what are the biggest new rides coming to a theme park near you? Let's take a look!
Alabama
Alabama Splash: The waterpark was bought by the Koch family, who owns and operates Holiday World. 2014 was a huge year, but in 2015, the classic wooden coaster, Rampage will take guests on a 55mph run and up to 120 feet, through plunges dives and turns. Official website!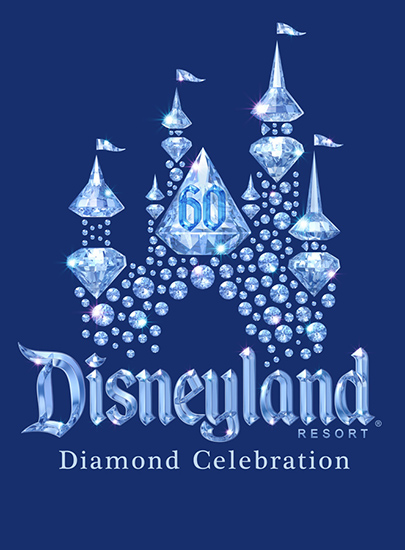 California
Disneyland Resort:Disneyland will be celebrating 60 years with a huge celebration. There's no word on exactly WHAT will be happening at the park, but there's tons of rumors. From new rides, and even huge new parades. Expect a big deal to be made about the Diamond anniversary. Official website!
Knott's Berry Farm: The park will be getting the dark ride shooter-Voyage to the Iron Reef. The all new simulator/shooting ride will feature a storyline involving steampunk sea creatures devouring the coasters at Knott's! Official website!
Universal Studios Hollywood: The major expansion continues with three all new experiences at the park in 2015. The Simpsons will invade once again as Springfield opens with a bevy of new restaurants, including Krusty Burger, and Moe's Tavern. Fast and Furious will be part of the Studio Tour with an all new simulator portion of the tour. And the Studio Tour will continue through the night as the tour takes on a new version after dark! Official website!
Six Flags Magic Mountain: The legendary Colossus was demolished to bring an all new hybrid coaster to life. Twisted Colossus will see the massive wooden coaster get twisted, as the two tracks are brought into one with twists, turns and a first of it's kind High Five element in the United States. The coaster promises to be one sick ride! Official Website!
Legoland California: Two all new attractions will be hitting the park in 2015. The first is an all new Lego Star Wars Death Star. It's a huge recreation of the Death Star from the original Star Wars film, made completely out of Lego bricks, and will be six feet across with scenes that take place on the Death Star. This includes the rescue scene as well as the trench run…now if we could only see it blow up!
The park will also open Lego Friends Heartlake City. It will be based on the popular Lego Friends line and will feature an interactive s sing along with Andrea at her tour bus, stroll through LEGO horse stables, enjoy a building activity at one of the LEGO brick tables and go for a horseback ride on the carousel in Mia's family ranch. Official Website!
Adventure City:You've never heard of it, but the little Anaheim park is getting a very unique roller coaster called Rewind Racers. The Gerstlauer coaster will go both forwards and backwards, as it zips along the track. It's a small coaster, meant for the whole family. Official Website!
Connecticut 
Quassy Amusement Park-The little park last gave us the hugely fun, Wooden Warrior. This year, the park will open an all new "Twist n Swing 360" they're calling Frantic. The new thrill ride will take riders up and over, all while swinging them around and spinning them on this huge new pendulum ride. They're also adding some kiddie bumper cars to the park. Official Website!
Florida
I-Drive 360: The all new I-Drive 360 will be a huge new entertainment district. The centerpiece will be three all new attractions, owned and operated by Merlin, the same company that owns and operates Legoland Florida. The all new attractions will be Madame Tussauds Wax Museum, SeaLife Aquarium, and the 400 foot Orlando Eye. The Orlando Eye will be the focal point of the entire area, but the other two attractions will also provide unique experiences, with a 360 degree tunnel at SeaLife and tons of wax figures like Ricky Martin and Selena Gomez at Madame Tussauds. Official Website!
Busch Gardens Tampa: The park opened up the delayed Falcon's Fury in 2014, so naturally there aren't any major plans for a huge new attraction in 2015. BUT the park is rolling out the all new Busch Gardens Food and Wine Festival. Taking a page from sister park Busch Gardens Williamsburg, the Tampa park is unveiling their own special festival full of food from around the countries they represent. The festival will also feature a live band on select nights, though that line up hasn't been announced yet. The Food and Wine Festival looks like it has replaced the Bands, Brew, and BBQ festival. Official Website!
Legoland Florida: The little park in Winter Haven is going to unveil the huge new Legoland Hotel. It's the next step in making Legoland Florida a multi-day tourist destination. The hotel will feature four unique themes, Lego models and tons of pint sized fun for the kids. The hotel is expected to open in the summer. Official website!
SeaWorld Orlando: SeaWorld has been getting a run of rotten luck, and bad publicity. That's not going to stop us from getting excited about 2015. The park has a huge line up of events, including the return of Bands, Brew, BBQ and Just for Kids. The park will also unveil an all new Christian Festival called "Praise Wave" which will feature a bevy of Christian artists, and a new Shamu Show made just for Praise Wave. On top of all that, the park will open the all new Sea Lion High, the triumphant return of Clyde and Seamore! Official Website!
Universal Orlando: We don't know what they're building, but they are building something! Islands of Adventure looks to get their first new attraction since 2010, when the park opened The Wizarding World of Harry Potter. Rumors point to King Kong coming back in dark ride form, but at this point we're still not sure. We're not even sure it will open in 2015! There's a good chance it will, but let's not count those bananas yet.
In CityWalk, it looks like the conversion is continuing with a massively huge new project that will take over for the now closed NASCAR Grille. The project is speeding along too, which tells us they're going to try and get this new project happening before Spring Break. Official Website!
Miracle Strip Amusement Park: Panama City Beach was once home to the Legendary Starliner. The coaster finally came to rest in 2007 when Cypress Gardens finally closed for good. The owners of Miracle Strip bought the coaster back in 2008, is being rebuilt by Great Coasters International, and will feature a newly designed lift hill. It's not the ORIGINAL coaster, but it's close enough for our tastes! Official Website!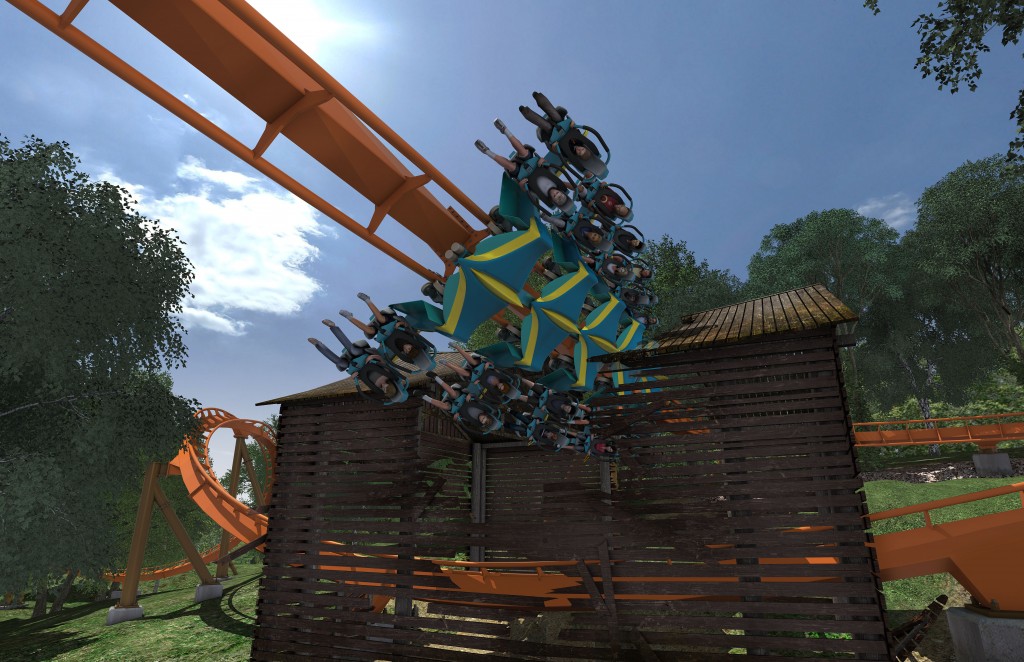 Indiana
Holiday World:Thunderbird is going to change the little park forever. The first ever launched wing coaster, Thunderbird is a huge departure from the park's regular wooden coasters. It's going to have a pretty themed queue, as well as flyovers of several rides in the park. Official Website!
Illinois
Six Flags Great America: The park is celebrating 40 seasons of fun, and though it just opened the amazing new Goliath coaster in 2014, they will be taking the park back to it's roots with several new additions, such as kiddie rides. The park hasn't released the full plans yet, but anytime a park does a big milestone celebration, it's a good time. Official Website!
Kentucky
Kentucky Kingdom:The newly revamped park opened with some of the attractions in 2014, plus a the all new Lightning Run. In 2015 they are bringing back T2 as T3 a suspended looping coaster with five gravity defying inversions. They're also opening up several other rides such as Raging Rapids, Cyclos and Skycatcher. The new rides will open with the park for the 2015 season. Official website!
Massachusettes
Six Flags New England:Wicked Cyclone! The old Cyclone was removed and redone in a hybrid fashion. The all new Wicked Cyclone will feature inversions, steep drops and high speeds. Official website!
Missouri
Silver Dollar City: The Branson Missouri theme park is getting a family friendly firefighter themed play area. Firemans Landing will feature ten family friendly attractions, including a drop tower, and more. Official Website!
Six Flags St. Louis: One of two all new Sally Dark Rides is coming to Six Flags St. Louis, with Justice League: Battle for Metropolis. The new attraction will feature tons of DC characters, and a really cool Joker animatronic. Official website!
World's of Fun: The park will be adding Splash Island for 2015. Official website!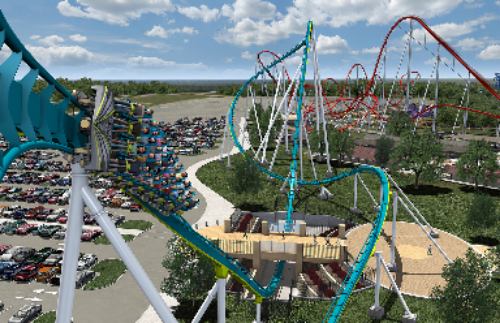 North Carolina
Carowinds:Fury 325. The tallest and fastest Giga Coaster in the world. It's an all new B&M coaster, and it's going to be amazing. The park is also getting a huge new entrance experience, as well as a new show line up, and new dining options. The park will also have a dining season pass, which will make for an amazing experience with all the new food in the park! Official Website!
Ohio
Kings Island: Planet Snoopy is expanding with two all new rides.W oodstock Gliders, a classic flying scooters ride from Larson International and Snoopy's Space Buggies from Zamperla. The new rides will be in the Planet Snoopy area. The park opened Banshee in 2014. Official website!
Cedar Point: The year of transformations is happening at Cedar Point as they transform the stand up coaster, Mantis into the sit down, floorless Rougaro. The coaster is getting new track work and a new paint job to make the transformation complete. The Breakers Hotel will also complete it's two year transformation with newer rooms, as well as an all new restaurant just outside the hotel. Official website!
Pennsylvania 
HersheyPark: Laff Trakk will be an all new indoor spinning coaster, themed to classic Laff in the dark dark rides. Got that? It's a mix of two very fun concepts, and is family friendly enough that everyone can enjoy it. It will feature a ride mascot, and some really cool effects. Official Website!
IdleWild: Daniel Tiger's Neighborhood is a very interesting concept. It's taking a trolley ride through the show inspired by Mister Roger's Neighborhood. Mr. Rogers was a big deal for me growing up, so it's very cool to see his work living on, and taking on theme park form. Official Website!
Knoebels: After taking a while to open up the classic Flying Turns, the park is going headfirst with a steel looping coaster. It will be the first, and most extreme in the park! The park is opening the all new Impulse, which will be a Zierer Coaster, with a vertical lift, and drop, as well as four inversions. The park is known for it's classic rides, and coasters. This is a huge step towards making the little amusement park not only a place for enthusiasts, but also for coaster lovers everywhere. Official website!
Tennessee
Dollywood: Hot off the all new Firechaser Express, the next step for the Pigeon Forge theme park is the all new Dream More resort. The first hotel on Dollywood Property will be a throwback to a country inn, with the comforts and build of a modern resort. It will be luxurious, but at the same time have that old fashioned charm that Dollywood guests have come to expect. It's one of the biggest things we're looking forward to in 2015! We're not certain, but it sounds like the makings of taking Dollywood from a seasonal park, into a full time resort. Official Website!
Texas
Six Flags Over Texas-One of two all new Sally Dark Rides is coming to Six Flags Over Texas, with Justice League: Battle for Metropolis. The new attraction will feature tons of DC characters, and a really cool Joker animatronic. Official website!
Six Flags Fiesta Texas: Holy flipping hell Batman! The park is building an all new 4th dimension wing coaster, which is small, compact, and will have guests flipping through the tight turns of Batman: The Ride. While we're not thrilled that they're using the Batman name for yet another coaster, it's still going to be one killer ride that will be unlike anything else in the world.
SeaWorld San Antonio: SeaWorld San Antonio is like family to us, so it's always good to see the park doing new things, and adding to the family. In 2015 the park will be adding an all new sea lion habitat, as well as an all new restaurant, and show. Sea Lion High will see the return of Clyde and Seamore to the park after closing in 2014. Official website!
ZDT Amusement Park: You've never heard of this little amusement park, unless you live in Texas. We bet you will now, as the park is opening the first wooden shuttle coaster. Switchback will take guests up a chain lift, and have them go through a normal circuit. Then they will climb to the top, and go backwards through the lift. The capacity of the coaster is improved with a switch track that allows the train to go to the station, and not have to shuttle back through the station. Official website!
Virginia
Busch Gardens Williamsburg: What coaster? There's no coaster! The park has not officially made an announcement about the mysterious coaster that is going up in the middle of the park, but that doesn't mean it's not happening. The park is building what many think is a clone of a Six Flags shuttle loop coaster. The park hasn't said a word, and just goes about working on it like they're not even there. The park will also celebrate 40 years with a huge new celebration, the details of which have also not been revealed. We're betting there will be more coming very soon. Official Website!
Kings Dominion: The park is coming off of a huge year, celebrating their 40th anniversary. The park brought back the singing mushrooms as well as several other great pieces of nostalgia. This year, the park is moving into the future by expanding their WaterWorks waterpark. The expansion will almost effectively double the size of the waterpark, and add several new slides, as well as a kids splash area. Official Website!
Utah
Lagoon: We've got to hand it to Lagoon in Utah. Not only are they building a cool new coaster, but they also officially have the coolest name of any coaster ever. Cannibal could be a nod to the history of cannibals, or it could have something to do with the freaky temple that is being built. The coaster is shrouded in secrecy, and it's really causing us to wonder just what they're hiding. There's rumors of a vertical elevator, where the coaster enters a shaft and is brought up the lift quickly. Whatever it is, it's done completely in the dark. We'll be watching this one closely! Official website!
*Note-Several Six Flags parks are getting "Super Loop" style coasters. We're not listing those, as they aren't major additions to the parks, and not coasters as the chain is trying to suggest. If you want the list of Super Loops, visit the official Six Flags website.
2015 is shaping up to be an amazing year for theme park fans, and we simply can't wait! What is your mot anticipated new attraction of 2015?
Stay tuned for more theme park fun, and be sure to get social with us on Facebook, and follow along with us on Twitter @BehindThrills for the latest updates!