I'll admit it, I wasn't a fan of the idea of The Purge. Everything is legal for 13 hours, which ensues in a bloodbath. However, the film had some great underlying messages. The second film built on that, and explored even more reasons behind the lawlessness. Then Halloween Horror Nights in both Orlando and Hollywood made very successful street experiences out of the two films. Now, the chance to purge is coming once again, will you unleash the beast?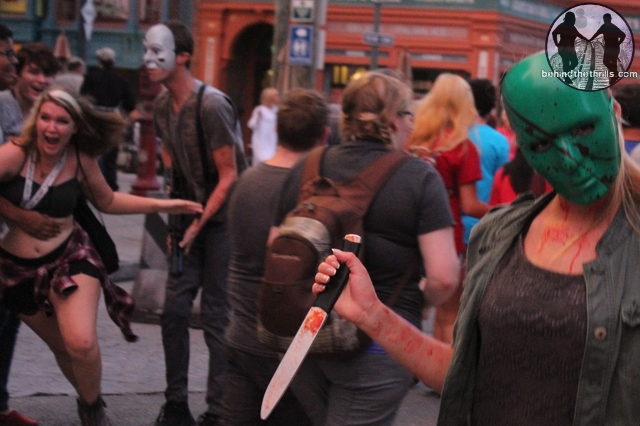 The Purge 3 will hit theaters on July 1st, 2016. The first two films cost a total of $12 million dollars to produce, and have raked in over $200 million dollars worldwide. The plot if the third film isn't known, but it's said to be a prequel of sorts, showing how the New Founding Fathers came to be and how The Purge was put into place.
With a new installment coming to theaters in 2016, it's probably a safe bet that The Purge will stay away from Halloween Horror Nights for 2015. When it does return, it will probably be in 2016, to keep the franchise fresh in everyone's minds. But how will it return?
Hollywood has done scare zones in the past two years, with Orlando going the scare zone route in 2014. The Purge has also been turned into a haunted maze, in which you try to survive.
It's possible that Halloween Horror Nights would go the maze route, and possibly make it as an extreme experience. Over the past few years, haunts have gone with more intense experiences, making those houses available for an extra fee. So far, Universal has avoided an upcharge house, but rumors suggest that one is not far away. Perhaps an extreme Purge house, where you can actually be hunted is in the cards for Universal. Maybe the park will also implement the laser tag technology that haunts like Busch Gardens Tampa and Knott's Scary Farm introduced in 2014.
We'll have to most likely wait until 2016 to see for sure.
Video-Unleash the Beast at Universal Orlando with The Purge Anarchy
Would you purge?
Stay tuned for more from Halloween Horror Nights, and be sure to get social with us on Facebook and follow along with us on Twitter @BehindThrills for the latest updates!
For more information about Halloween Horror Nights, visit the official website by clicking here!