Tin Roof is not a name that many in Florida know too well, unless they've been partying in other cities. It is, however, a musical institution in places like Nashville, Cincinnati and other cities all across the country. The Tin Roof chain also isn't synonymous with gourmet food with a flavor so unique it's like having a bar fight in your mouth. All of that changes now. Tin Roof Orlando recently opened at the all new I-Drive 360, and has brought an all new blend of flavor, music and family fun to the chain. The new restaurant boasts an all new menu, designed specifically for the Orlando location, but still retains all the fun of the classic Tin Roof locations.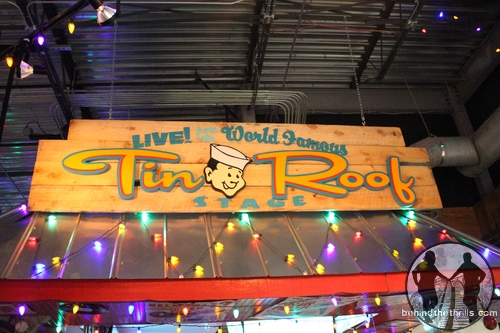 Tin Roof Orlando follows the long line of music that came before it. The whole place is built around the stage, and the music. Everywhere you look is an homage to music, and good times. The stage will be filled with not only local music (of which there are tons to choose from) but also with national acts. There have been a wide range of musical acts from all over the country at Tin Roof bars, but Orlando will offer a different setting.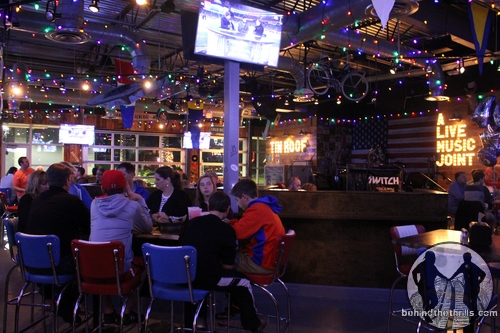 The Challenge with a place like Tin Roof Orlando is bringing a welcome family friendly atmosphere, while keeping the aesthetics and features of a bar, and live music spot. Tin Roof Orlando has done that by making almost two different distinct experiences. During the day, and early evenings the place is a great place to grab a bit to eat, while enjoying a band. After 9p.m. the venue turns 21 and up, and brings the noise to new levels. If you're worried about the atmosphere being a little too much for younger crowds, don't worry, everything on the walls and surrounding the area is family friendly, and the bar is kind of tucked out of the view from the main dining area. There's also a kids menu, of course with a flair, as well as great options for kids to try.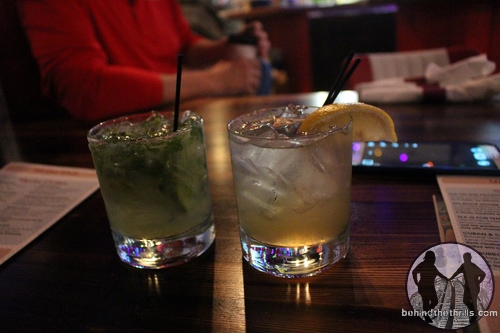 Let's get a little adult for a moment. Tin Roof is a great place to grab a cocktail, and catch either the big game, or some great music happenings. The cocktails are definitely a specialty, with a unique flair to the drinks. Our favorites include Tea is for Tennessee, which is Lemon Tea flavored Moonshine (yes, moonshine) mixed in a concoction that is very smooth, but packs a kick. The Tin Gin Mojito is also a take on a classic, using gin instead of the normal rum or vodka.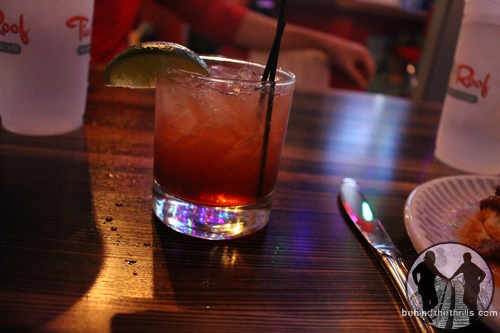 The most unique drink on the menu, and by far our favorite, has got to be the Cuban Carolina. It's the most famous soda of North Carolina, kicked to a new level. Cheerwine is a staple soda in the Carolinas. It's a black cherry soda. Tin Roof kicks it in high gear with rum. Yes, rum is good. With Cheerwine, it's even better.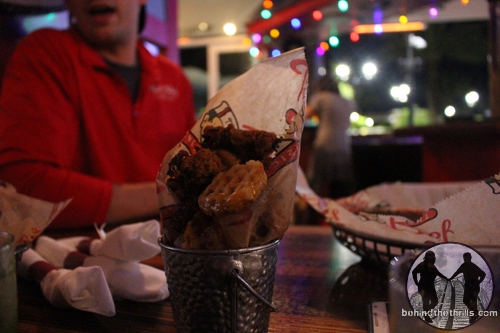 Like we said earlier, the food is what sets Tin Roof Orlando apart from the others in the chain. While others have some signature bar food, Orlando takes it to new levels with a full menu, and new flavors. From fresh fish and shrimp, to your new favorite comfort foods, the menu is literally all over the place. Appetizers, sandwiches, entrees, and desserts are all infused with something different, something you can't find anywhere else.
Our first introduction to the Tin Roof food was Chicken and Waffle nuggets. Chicken and waffles went from being somewhat of a hidden gem to very mainstream. Tin Roof makes it a gem again with the nuggets. The waffles are bite sized, while the tender chicken is battered in pancake batter and fried. It's all drizzled in a sweet and smoky syrup that adds the right flavor.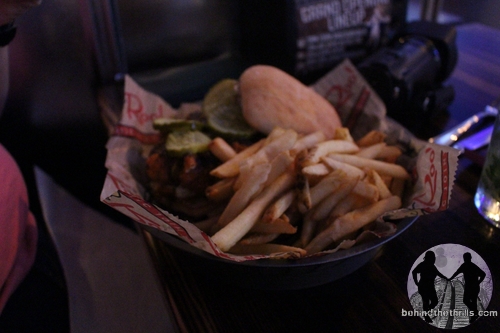 If you're looking for just a typical sandwich, the Hot Chicken Torta takes a typical chicken breast, smacks it in a buttermilk batter, gently caresses it with some cayenne and tosses it down on a Mexican style bun with ranch cole slaw. We're not big fans of slaw, but this is a great addition.
Other sandwiches include burgers with different kicks like the Frita and the Rodeo, and the Citrus infused Da Lox. Da Lox is a great chunk of Salmon.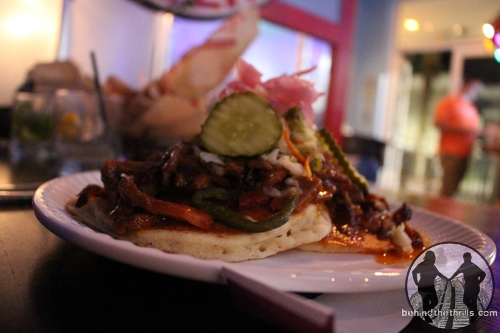 The house special, and a personal favorite is the Big Plate Menu's own, Hoe Cake Pile Up. If you've never had hoecakes, then you're not from the south. Hoe cakes are a cornmeal pancake, fried (traditionally in lard). The Tin Roof hoe cakes are a little different, they bring the heat and pile on the bbq. That's right, bbqon a pancake. Then they bring the sweet with cabbage slaw, and pickles. It's a pile up of epic proportions, and something that could lead to a challenge. The combination of sweet and spicy, mixed with that distinct hoe cake flavor makes it amazing.
There are other things on the menu as well, such as shrimp&grits, the Market Fish, O-Eye Mac&Cheese (bacon makes everything better) and more.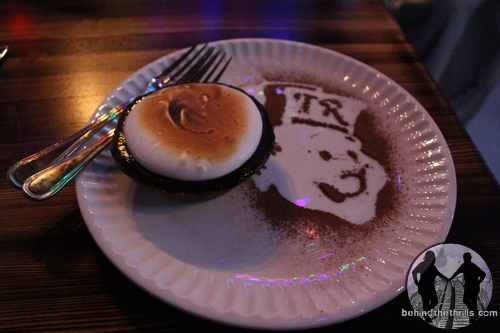 Desserts go away from your typical fare as well, as the perfect ending is also spiced up. The list is short, but it's huge on flavor, with dishes like the Key Lime Bar (with Tequila whipped cream) and the El Chango Burracho-which takes whiskey and banana bread pudding to new extremes. The signature dessert though teases your chocolate sensors and then follows up with a swift kick in the throat. The Cowhorn Pepper Smore Pie has everything your classic smore does, with graham crackers, chocolate and a marshmallow top. Just one bite, and it's every amazing campfire brought back to life. But…wait for it. As you reach for your next bite, the kick hits you right in the throat, and takes your breath away. That little kick is the cayenne that they sneak in. It's amazing, and takes you by surprise.
Video-Get your socks rocked off at the awesome flavor of Tin Roof Orlando
There's tons in store at Tin Roof Orlando. The crew has gotten the okay from the management of I-Drive 360 to have huge concerts on the lawn right outside, which will happen in the future and could make for an awesome summer concert series. The restaurant will also have their official grand opening on Saturday January 24th, from noon till 2 a.m. It's going to be filled with music, food and drink specials and of course huge amounts of fun.
Slideshow-Check out even more pictures from Tin Roof Orlando at I-Drive 360
Stay tuned for more from Tin Roof Orlando, and be sure to get social with us on Facebook, and follow along with us on Twitter @BehindThrills for the latest updates!
For more information about Tin Roof, and to see the full menu, visit the official Tin Roof Orlando website by clicking here!