What happens when metal hungry beasts from the depths of the ocean surfaces at Knott's Berry Farm? Coaster riders better look out! Knott's has released a few more details about their all new interactive family ride, as well as an official opening date for the attraction. The park has also released an all new teaser giving a never before seen glimpse at one of the huge monsters that guests will have to battle when the new attraction opens.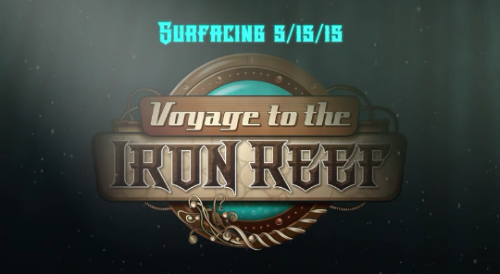 Voyage to the Iron Reef will make it's debut on May 15th, 2015! Guests will board one of several new submarine inspired cars to battle along over 600 feet of track, 11 huge scenes, special live action effects and of course 3D mechanical monsters to help save the park from the hungry beasts that have surfaced at the Boardwalk area.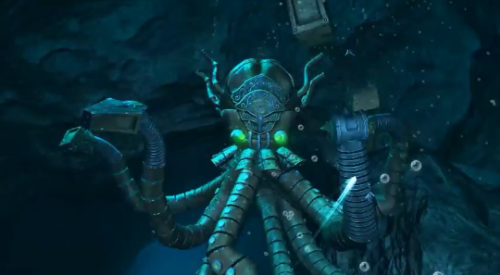 The huge mechanical octopus will be one of several new creatures that guests will have to blast with their freeze rays. Other beasts that you'll encounter include mechanical puffer fish, and more. The ride will use 3D screens to blast riders through dizzying underwater current tunnels, mechanical wreckage, and enchanting undersea forests.
The ride will be tailored to the skill and accuracy of the rider, as no two rides will be exactly the same. The ride vehicle will display the score, which will also be displayed at the unloading station. The top scoring guests will have their names entered into the "Iron Reef Hall of Fame".
The ride will open on May 15th to everyone, but there will be a special "Voyage Day" for middle school students on Thursday May 14th.
Here's the details on Voyage Day:
  At the Voyage Day Event, junior high and high school students will learn what it takes to create a 3-D and 4-D ride, as well as discover how their interests in arts, digital technology or engineering can lead to exciting careers.  School groups will have a once in a lifetime opportunity to preview the all new Voyage to the Iron Reef attraction before it opens to the public, followed by an in-depth presentation from the innovative minds of Triotech, the creative forces behind Knott's Berry Farm's new state-of-the-art ride.
Stay tuned for more from Knott's, including more huge details about Journey to the Iron Reef in the coming months!
Be sure to get social with us on Facebook and follow along with us on Twitter @BehindThrills for the latest updates!
For more information about Knott's Berry Farm, including tickets, visit the official website by clicking here!