Universal Orlando recently wrapped up their huge Celebration of Harry Potter, where thousands of fans flocked to celebrate just what Harry Potter meant to them. One of the key moments of the huge three day celebration were the wand dueling master classes. Here guests could get a look, not only on how one the favorite aspects of the films came to life, but also learn a thing or two from the man who created wand combat, Paul Harris. Fans were treated to a huge class with the person who did the very first wand combat moves on film, Evanna Lynch-who played Luna Lovegood. Evanna was on hand for the event, and showed off her wand combat prowess. We even had the chance to learn a few things on our own.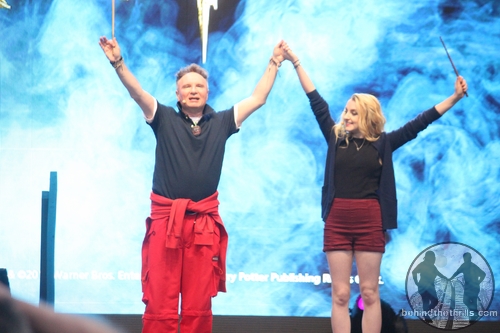 Paul Harris began as a dance choreographer on the Harry Potter films. He was later brought in to teach the cast to fight with wands, but the problem was, there was no proper way to duel with wands on screen. With that, Paul developed a series of moves with the cast, many based on the principles of dance, beginning with wand combat's own First Position.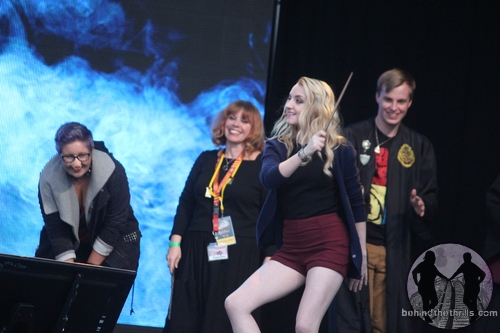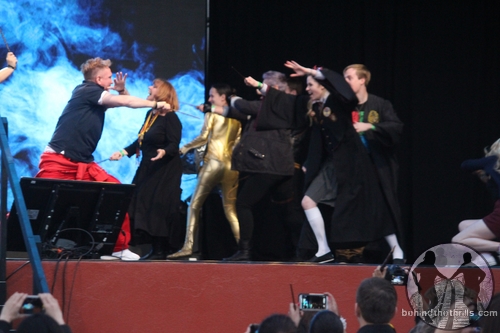 As part of the Celebration of Harry Potter weekend, Paul taught a master class to all the witches, wizards and muggles in the audience. To help, he brought out Evanna Lynch, who played Luna Lovegood. He showed the entire audience, as well as an "army" of pre-selected individuals. Together they went through all the different fighting styles and positions. Evanna added a little "flair" and style all her own.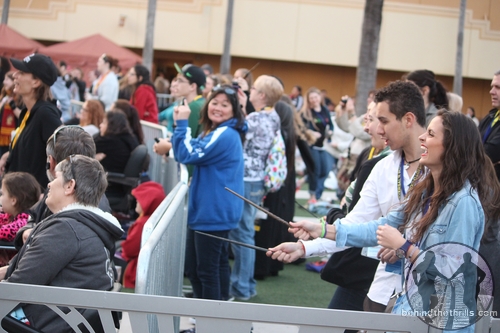 Even those in the audience were able to participate, with wands at the ready. A wand isn't necessary for wand combat, but it really helps.
The end result was an amazing battle between Evanna Lynch and Paul Harris, as well as their respective "armies".
Video-Watch Evanna Lynch and Paul Harris duel it out with Harry Potter fans

Afterwords, we were taken to a secret location to get our own instruction from Paul. Wand combat is a lot harder than it appears. There are many different positions, and spells to learn. Also, it helps if you're in fighting shape.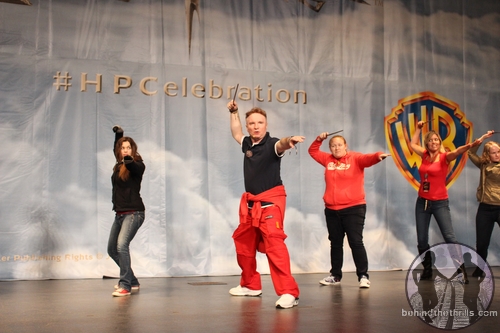 Video-Get lessons from the Wand Combat Expert with a private demonstration

The Celebration of Harry Potter has become an annual event aimed at giving fans a huge stage to celebrate one of the best selling books and movie series in history. It's also a great way for fans to relive the steps of their favorite wizard as Universal has completely recreated the Wizarding World of Harry Potter at both of their Orlando theme parks.
We fully expect the Celebration of Harry Potter to return next year, as it's a hugely popular event.
Slideshow-Check out even more pictures from A Celebration of Harry Potter at Universal Orlando
Want more Celebration of Harry Potter? Check out all of our coverage from this year's event by clicking here!
The Celebration might be over, but guests can take the same journey that Harry Potter did every day at Universal Orlando as they step into the Wizarding World of Harry Potter.
Stay tuned for more Harry Potter Celebration, and be sure to get social with us on Facebook, and follow along with us on Twitter @BehindThrills for the latest updates!
For more information about Harry Potter at Universal Orlando, including tickets, visit the official website by clicking here!