On Thursday February 26, 2015, we visited on a cloudy day the 80th annual Florida Strawberry Festival. The Florida Strawberry Festival is an annual festival that takes place in Plant City, Florida. The festival lasts 11 days, and generates an attendance of about half a million patrons from all over Central Florida and beyond. This year event tickets are $10 dollar entry tickets (We had advance purchase tickets for $8 at a Publix in Kissimmee, Florida). The festival has pig races, a big-ticket musical guests twice daily (these are extra money with prices ranging from $20 to $50 dollars), crafts and item sales, various free entertainment acts and events, and a very large midway.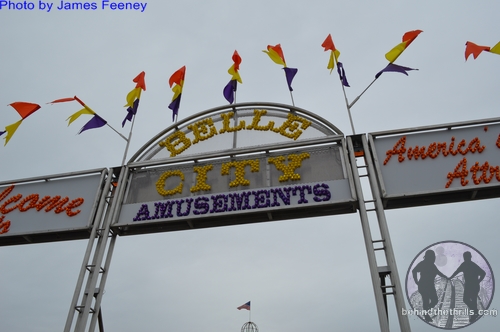 The Midway is a huge area and we saw minimum 50 attractions. We went on two 4-ticket attractions, both of which were dark rides, and I personally liked them. They had a vast selection of rides, for all ages. In their midway for children, their website lists 30 attractions for children alone. Growing up in New Jersey as I did, I have never been to a festival that had over 50 attractions, I went to Six Flags Great Adventure and that has in the ball park of 50 attractions where the festivals I went to had about 20-30 in total. Children's rides are 3 tickets each; with the other attractions 3-5 tickets each. A ticket is a dollar or you can get 20 tickets for $20 dollars. They also have for $20 dollars a wristband that allows the wearer to ride most mechanical rides for one low price. (We've gone with the tickets, as there were two rides that piqued our interest.)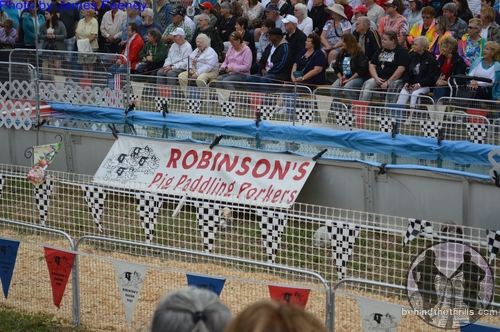 The Florida Strawberry Festival had a lot of entertainment as well. Alone, we've walked into to about two dozen events in total among the overall time we were at the festival. The one event we stopped and saw which for the time of the festival is occurring for the whole duration of the festival. The Robinson racing pigs run three times a day. The day we went, they had the band Alabama playing at 7:30pm (Hard ticket event, these tickets were $40; varies by performer) and earlier in the day Bobby Vinton (Hard ticket event; $15-$20; varies by performer).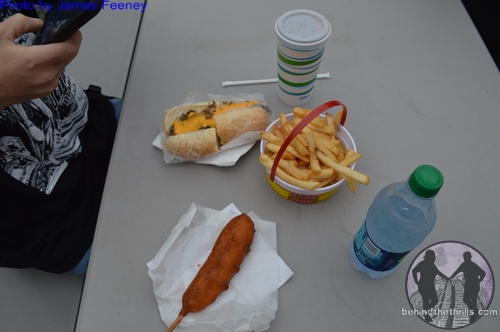 Now it's on to the Florida Strawberry Festival food venders. While we we're at the festival, we tried many different foods, most of them staples of fair and festival concessions. You have to choose from Funnel Cake, Corn dogs, Turkey legs, chocolate dipped bacon, there is ultimately a wide plethora of what you can get. Part of our mission was to review the food, and during our search of the festival's vendors we found what is in our opinion the crème de la crème, the elite per se of the festival, but we will revel that later in the article. To rate the food, I brought along a good friend of mine Dennis, whose been in the culinary field for over two decades, overall at the festival we found the top three vendors, two of them are in desserts and sweets and our top pick whom again, we both found to be the crème de la crème of Festival and Fair food staples.
Our Number Three pick is the St. Clement Catholic Church's "Make Your Own" Strawberry Shortcake. We both rated that 4 out of 5 stars. Personally for the both of us, it was just standard strawberry short cake and we didn't find it overtly sweet at all. For those whom are going to the festival however we do recommend you stop by and make your own strawberry shortcake.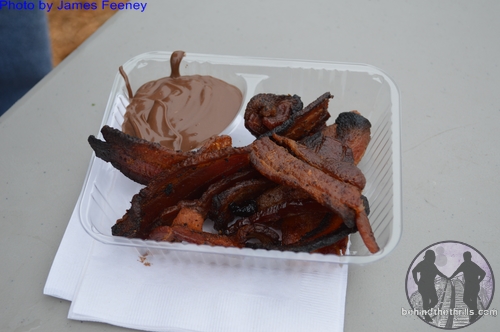 Our Number Two pick is anywhere that sells chocolate dipped bacon. We both ranked that 5 out of 5 stars. It's bacon and chocolate, what more do you need. The stand we went to, I believe they we're using melted Hersey's Chocolate but we are unsure. We fully recommend any vendor that sells chocolate and bacon!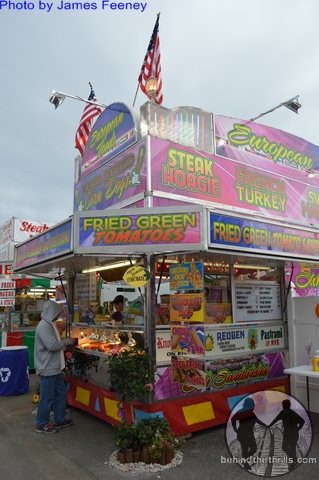 Now our Number One pick is a stand over by the Wells Farm Stage called European Foods. They are not only one of the more vivid and colorful vendors, but in both of our opinions they are the crème de la crème, the elite of the Florida Strawberry Festival and all it's food vendors. The quality of the food is of the highest quality and was extremely fresh. The quality of the food that we had rivals that of Walt Disney World quick service, and Walt Disney World in our opinion has the best quick service out of any our of the theme parks Dennis or I have visited. Now while, we didn't try their full menu, sadly we didn't have the stomach space for it either. We wish we could of tried everything they had to offer. Now when talking about the pricing à la carte we found them to be the least expensive of most the vendors we patronized, but you get more than what you pay for, great food with exceptional quality at a very reasonable price. We found European Foods to have a very friendly and courteous staff and are very family oriented. We did kindly ask the staff if there was anywhere to sit and they kindly let us use the picnic table behind their stand. We recommend with out a doubt European Foods, as they are the royalty of the food vendors at the Florida Strawberry Festival.  For those whom want to visit European Foods but can't, we were told they will be up and down the east coast at different fairs and festivals all summer long! Want to know if they will be in your neck of the woods? You can like them on Facebook and see if they might happen to just show up at your next fair or festival.
A Special offer for our readers! During the Florida Strawberry Festival if you are visiting and stop by European Foods, just tell them that Behind the Thrills sent you, and You'll be able to get a free 16oz soda or tea with a purchase of a sandwich and fries.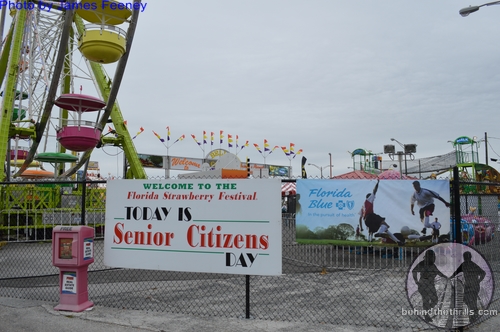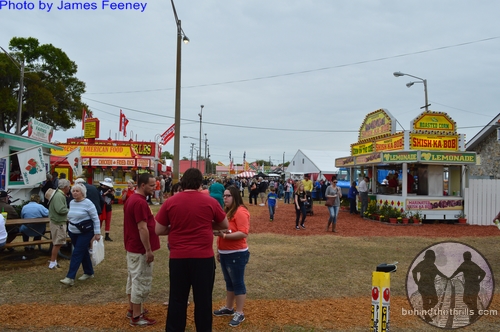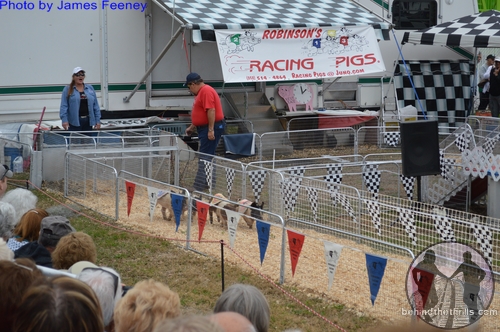 Overall, there is plethora of events at the Florida Strawberry Festival for little tykes to the old and old at heart. We really enjoyed the Florida Strawberry Festival and hope we have the time to go back next year, but for those wanting to go to the Strawberry Festival this year you still can! The Florida Strawberry Festival is currently ongoing in Plant City, Florida until March 8th and their hours of operation are 10am-10pm.
Stay tuned for the latests in Festivals and Fairs nationwide and be sure to get social with us on Facebook, and follow along with us on Twitter @BehindThrills for the latest updates!