A Celebration of Harry Potter recently wrapped up at Universal Orlando, after a huge three day celebration of all things muggle, witch and wizard. One of the highlights of the huge celebration of all things potter was the appearance of several of the cast members. Veterans to Universal included the Phelps Twins, as well as Evanna Lynch, while Dumbledore himself was at Celebration for the very first time.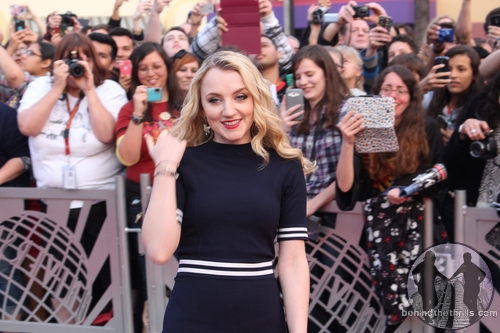 Fans waited along the red carpet as Evanna Lynch strolled down, greeting guests and signing autographs during the kick off celebration.  During the live Q&A, she told fans that she was very excited to be back, and had hoped that Gringott's would be open, as it had just opened the last time she was in Orlando and was experiencing a few technical hiccups.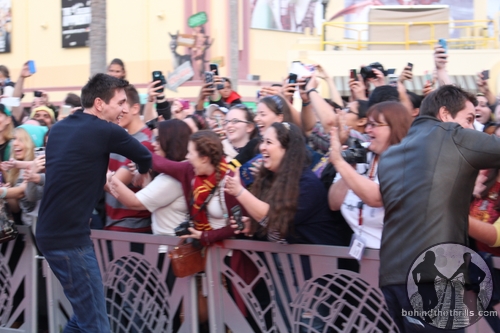 The Phelps Twins ran down the red carpet, high fiving guests as they ran past. They are immortalized in not only the Hogwarts Express, but also as part of the huge joke shop-Weasley's Wizarding Weezes. The two are regulars at Universal, and made their second appearance at Harry Potter Celebration.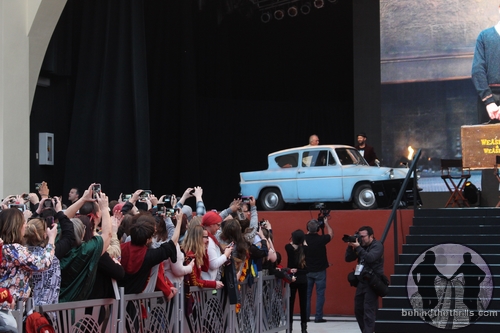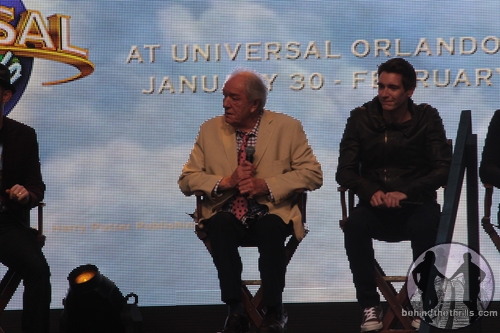 The biggest ovation came for Michael Gambon, who played professor Dumbledore. He rolled up in style in the flying car from the film. It was his first experience at Harry Potter Celebration, though he previously attended the grand opening for the Wizarding World of Harry Potter in 2010.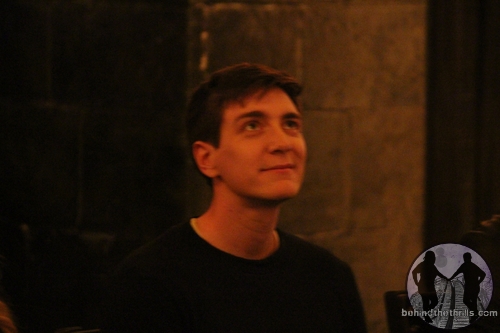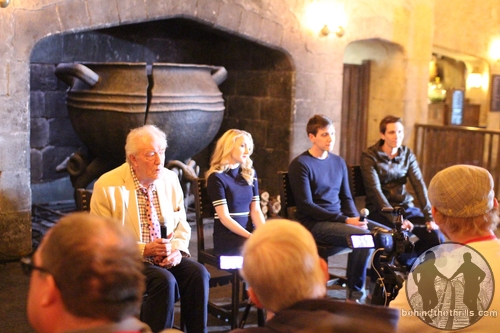 After the huge onstage Q&A, we were invited to take part in a more intimate Q&A with other members of the media. We had a little more time, and were treated to some very comical stories as well as Michael Gambon's opinion on thrill rides and roller coasters.
Video-Catch the Q&A with the cast of Harry Potter

Luna would be an animal activist in the Muggle world, while Hermione would most likely be a feminist, and Dumbledore would most likely love theme park rides…while Michael Gambon does not.
"Last time I was here, Daniel Radcliffe got me on some dragon coaster" he quipped "I almost died! I'm just too old for these things."
It's was quite the comical story from the greatest wizard that ever lived.
Slideshow-Check out even more pictures from A Celebration of Harry Potter at Universal Orlando
Want more Celebration of Harry Potter? Check out all of our coverage from this year's event by clicking here!
The Celebration might be over, but guests can take the same journey that Harry Potter did every day at Universal Orlando as they step into the Wizarding World of Harry Potter.
Stay tuned for more Harry Potter Celebration, and be sure to get social with us on Facebook, and follow along with us on Twitter @BehindThrills for the latest updates!
For more information about Harry Potter at Universal Orlando, including tickets, visit the official website by clicking here!