The Comcast quarterly earnings call painted great results for  the Universal theme parks, as the company charged into double digit profits for 2014. The company added that theme parks and movies were a huge boost for the company, with attractions like the all new Wizarding World of Harry Potter, Diagon Alley and Despicable Me:Minion Mayhem in Orlando and Hollywood.  The future looks bright for the entire company,  as well as the theme parks as spending and attendance are both up for the year. Even more encouraging is the mentions of new projects for both of the American theme parks, such as Fast and Furious in Hollywood and Kong in Orlando. Yes, we did a double take too. It's been confirmed, King Kong will return to Universal Orlando.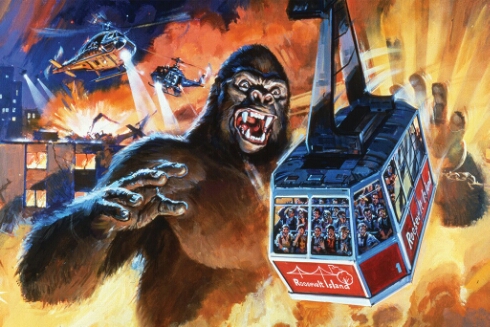 Comcast had a huge year in the theme parks with revenue increasing17.3 percent to $2.6 billion for the full year. Events like Harry Potter Celebration, Mardi Gras and Halloween Horror Nights boosted attendance year round, while new attractions gave guests reasons to make special trips.
Spending is also up in the theme parks, meaning that all the new offerings from food to merchandise Universal has released is paying off in big ways.
The expansion will continue into 2015, and even 2016 with the opening of new attractions like Fast&Furious and Springfield in Hollywood this year, and Harry Potter next year. In 2016 Universal Orlando will open the fifth hotel, Sapphire Falls, which leaves the question as to what will open in 2015.
Since late 2013, rumors have swirled that King Kong would return to the resort in an all new attraction. Today, the Comcast call confirmed it. Kong will be back at Universal Orlando.
No details were released,  no dates have been set, and we have no idea just exactly what will happen with the ride. All we know, for sure, Kong will return.
No announcements have come from the park yet, and we aren't even sure just how far along the attraction is, or even if it will be ready for 2015.
Kong was first opened at Universal Studios Florida in the early 90's. The ride closed to make room for Revenge of The Mummy. In 2010 Universal Studios Hollywood reintroduced Kong on the Studio Tour as an all new 3D experience. If the rumors are true, the new ride at Universal Orlando will be similar to the Hollywood version, with some added elements. We'll just have to wait and see when Universal plans on making the announcement for the rest of the details.
Update
Our friend Rich over at Orlando Business Journal, who was the first one to make us all do a spit take this morning shared a tweet that Universal has unofficially, officially confirmed Kong is coming. How can they not at this point?
No surprise. @UniversalORL peeps confirmed King Kong. Said "big things are coming" but that we will have to wait for more details.

— Richard Bilbao (@RichOBJ) February 24, 2015
Again, nothing official has been released, but the rumors (those same rumors who said that Kong was coming) suggest that it's a mix of what we've seen with Kong 360 in Hollywood, and different technology. Universal Studios Hollywood uses their Studio Tour trams as ride vehicles, which just makes the Kong "ride" part of the tour. Here it's going to have to be a little different, since Kong will need to be an actual ride, and not a tram…seeing that Orlando does not have a tour or a tram. So, as many are saying, we may see the ride turn into a mix of the Studio Tour, and also use animatronics, possibly Kuka Robo Arms (like Harry Potter and the Forbidden Journey) and even some 3D mapping. Let's also hope we see a giant Kong animatronic, and smell "banana breath" again. The smell effect was a huge part of the Kongfrontation experience at Universal Studios Hollywood.
So let's recap…Kong ride confirmed. Coming to Islands of Adventure at Universal Orlando. Jurassic Park area. Nothing else known. Bananas are good for you, and make for great smells.
Let's hope we get an announcement sooner rather than later.
Stay tuned for more from Universal Orlando,  and be sure to get social with us on Facebook and follow along with us on Twitter @BehindThrills for the latest updates.
For more information about Universal Orlando, including tickets, visit the official website by clicking here!