Something has awakened…And Disney is rolling it out beginning in 2016. The Disney Parks Blog has announced that Star Wars will be taking over select sailings on the Disney Fantasy for a day full of epic battles, sinister characters and of course The Force.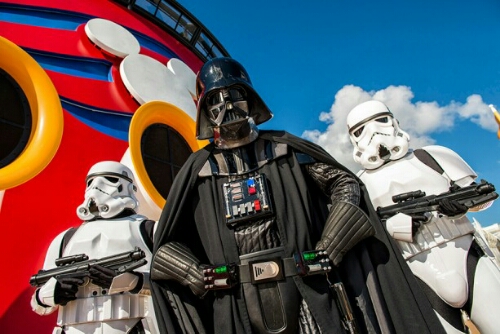 Disney Cruise Lines have announced a "Star Wars Day at Sea" which will take an entire day out of the normal Disney Fantasy itinerary and deck it out with tons of Star Wars fun.
The Star Wars days will happen on January 9, 23; February 6, 20; March 5, 19; April 2 and 16, 2016, and marks the first Star Wars activities after the premiere of the all new Star Wars: The Force Awakens.
The events will include meet and greets with characters like Vader and Stormtroopers, Star Wars-themed youth activities, unique food and beverage offerings, and special merchandise. There will also be a huge deck party, special screenings of the Star Wars films and much more. More details will be released very soon.
This is just the beginning of what Disney has in store for guests, as Star Wars is expected to make a much larger presence in the parks within the next few years. No details have emerged yet, but an entire new land and several rides are expected to be announced sometime later this year, hopefully at one of the many Star Wars gatherings happening this year.
The Disney Fantasy departs from Port Canaveral includes itineraries but take guests from Florida to Castaway Cay in the Bahamas, Mexico and more.
Update
Disney Parks Blog has released a ton of new details about the huge Star Wars Day at Sea, including celebrity appearances, and fireworks!
From Disney Parks Blog:
Darth Vader, Chewbacca, Boba Fett, Stormtroopers and other characters from across the Star Wars galaxy will be onboard for scheduled meet and greets, as well as roaming on deck and elsewhere around the ship. You're also encouraged to dress up in your own stellar costumes!
A shipboard version of the popular Jedi Training Academy experience invites young Jedi hopefuls – known as "Padawans" – to learn lightsaber moves from a Jedi Master. They can then use the Force and face off in a final test against the evil Darth Vader.
Kids and families enjoy friendly competition during Star Wars trivia games, covering fun facts from the film and television sagas.
For Younglings, Star Wars-themed arts and crafts, games and activities will be offered throughout the day in Oceaneer Club and Oceaneer Lab youth clubs.
In the evening, adults entering the night club will feel like they stepped into the Mos Eisley cantina scene. Characters and cantina music set the mood as Star Wars-themed specialty cocktails are served.
Film Screenings and Celebrities

You can watch the first six Star Wars films and follow Darth Vader, Obi Wan Kenobi, Luke and Leia along their epic journey.
Also showing will be episodes of the new Disney XD animated series, Star Wars Rebels.
On each of the special sailings, celebrities and insiders from the Star Wars galaxy will share their experiences, meet fans and sign autographs.
Star Wars Deck Party and Fireworks

There's intergalactic fun when the Star Wars deck party blasts off to an exciting evening filled with music, dancing and games.
Star Wars characters converge on the deck stage for a celebration of the Star Wars saga in a show featuring special effects and guest participation.
The deck party culminates in a spectacular display of themed pyrotechnics, lighting, sound effects, lasers and Star Wars music.
Stay tuned for more from Disney Cruise Lines, and be sure to get social with us on Facebook and follow along with us on Twitter @BehindThrills for the latest updates.
For more information about Disney cruise lines, visit the official website by clicking here!