When you're going to dream, dream big. That's the overall message from Monday's press conference and announcement from The Dreamvision Company.  Do they ever have a big dream, with an equally big price tag. The company gathered in Fort Worth, Texas on Monday to announce not only their huge studio plans, which included a look at their latest short film, and their first ever full length animated feature film, but also to announce the plans for a very ambitious 5,000 acre resort, the likes of which have never been seen.
The announcement this morning was absolutely huge, and laid out the plan for the company, which includes not only a huge theme park, but also production facilities and new studios that will produce animation, feature length films, as well as music, and even Broadway Musicals. The first animated feature length film, Nadia, is already in production and tells the true story of how the founder followed a dream to a girl that needed his family to adopt her.
The entire company is looking to rival Disney in sheer scope of projects, and ideas that come out. In fact, the company has some ex-Disney magic makers on board to help make this huge dream a reality.
DreamVision has added Dave Goodman, a longtime entertainment executive, to head up the theme park division. Goodman is a former vice president of entertainment and executive producer at Disneyland Resort and has held executive level positions at Walt Disney Special Events Group and Busch Entertainment Corporation.
"We are thrilled to have Dave take charge of the theme park division," Silanskas said. "With his expertise, DreamVision has the best team to launch these two family-oriented theme parks. Both parks will include golf courses, water parks, hotels, concert venues, retail and more."
The focus really seems to be on family themed entertainment, and even seems to have a touch of faith based appeal as well.
The company has even brought on some really big names with The Thomas Kinkade company, who was a renowned artist known for his light and dark contrasts. Apparently Kinkade began working with the company several years ago, before his death, and the company will be using his art, and bringing his art to life in many of the attractions and park areas.
The all new announced theme park will be located in the Dallas/Fort Worth Area. There is a site chosen, but it has not been announced yet. The estimated price tag will be around $3.5 billion dollars, and will be the sister park to the Alabama location which will be announced on Wednesday. The resort will boast not only a huge theme park, but also a massive entertainment complex, where music and Broadway style shows will be performed. There will also be several hotels, and a dining and entertainment district before you get to the park.
The park itself will use the massive Dreamvision Mountain, the company's logo, as the landmark of the park. That mountain will be lifelike, huge and will incorporate the world's largest indoor ski resort. The same company that brought the Ski Dubai parks to life will also be working on Dreamvision Mountain. The park will have several ski slopes, as well as lifts, and a restaurant at the top of a huge "Icecavator" that will take guests all the way to the top. The entertainment will also be a huge part of this area, with several different shows happening daily.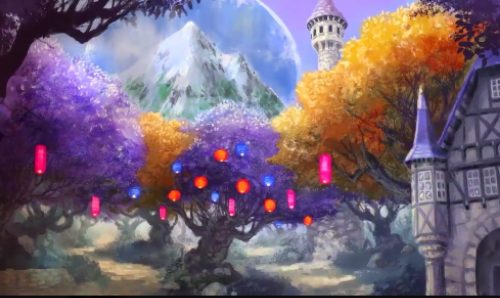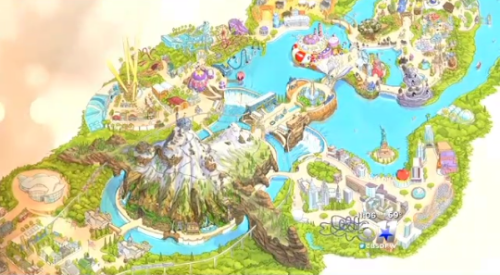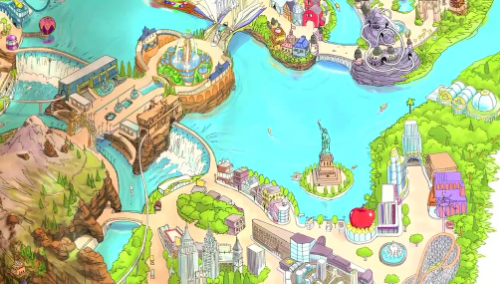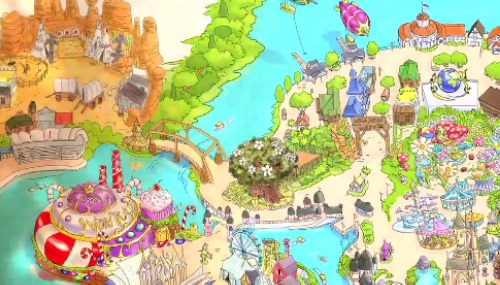 The park itself will be separated into several different lands, each one with a unique theme and attractions.  Dreamscape Tinsel Town, Nadia's Storybook Land and Dreamscape Metropolis, will surround DreamVision Mountain. The park will also include a wild west themed land, that seems directly at home in the heart of Texas.
The Metropolis area of the park will be a replica of New York City, and will include some of the most famous landmarks and attractions, of course in theme park form. One of the highlights will be the huge Empire State Building, where you'll enter and explore by taking one of the oldest operating elevators, only to be dropped. We're getting a definite "Tower of Terror" vibe, with a more historical feel.
There will be the obligatory Taxi Cab bumper cars, and a roller coaster themed to the stock market. That is actually a very cool idea, with a coaster simulating the "ups and downs" of the stock market. The only thing that we can hope is that it's very themed like Aerosmith's Rockin Roller Coaster at Disney, and is set to money themed songs.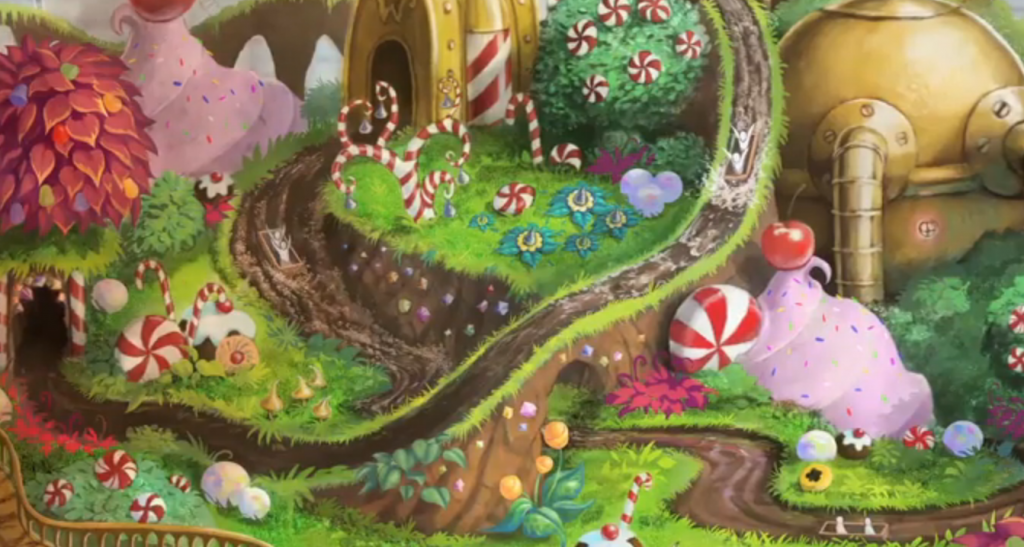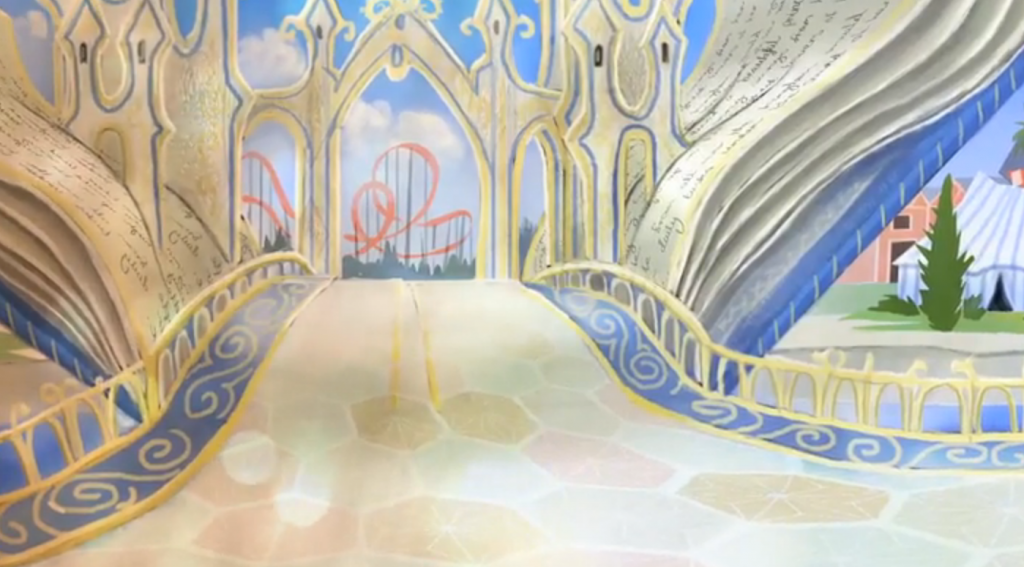 The other huge themed lands will be Nadia's Storybook land, which looks to be the answer to Fantasyland. The maps in the concept art shows a "Wonka" area, as well as some great looking chocolate log flume rides.
The other major area will be Tinseltown, an obvious nod to the Studio themed parks like Universal and Disney's Hollywood Studios. The attractions here will include an earthquake themed coaster, and something themed to Mullholland Drive.
There's no huge details on the ride or attractions list coming to the Wild West area of the park, and it's looking like there could be even more attractions that haven't been mentioned yet.
The day at the park will end with a huge nighttime show, both on and around the mountain. It appears that the mountain will come to life, and tell stories similar to Disney's castle projections.
Video-Check out the huge announcement video for Dreamscape Texas
Video removed at the request of The Dreamvision Company
Preliminary work has already begun on the park, and it looks as if work has also begun on the Alabama park as well. Let's be honest, $3.5 billion is a lot of money, and it's in an area that isn't exactly known for theme parks or huge tourism dollars. This could all go up in smoke very easily, or it could really happen. We're hoping it happens, because any park of that size and ambition would be simply amazing. Add in the fact that the resort will employee close to 20,000 people…that's a huge boon for any economy.  Still, fingers crossed.
The park is scheduled to open in 2020.
Stay tuned for more from Dreamscape Texas, and be sure to get social with us on Facebook, and follow along with us on Twitter @BehindThrills for the latest updates!
For more information about The Dreamvision Company, visit the official website by clicking here!