Police officers in Kentucky have issued an arrest warrant for one Queen Elsa, originally from Arendelle, in connection to her part in the massive winter snowstorm that is engulfing much of the country. She is considered armed and dangerous, and citizens are advised not to detain her, but simply to…LET IT GO. Oh geez.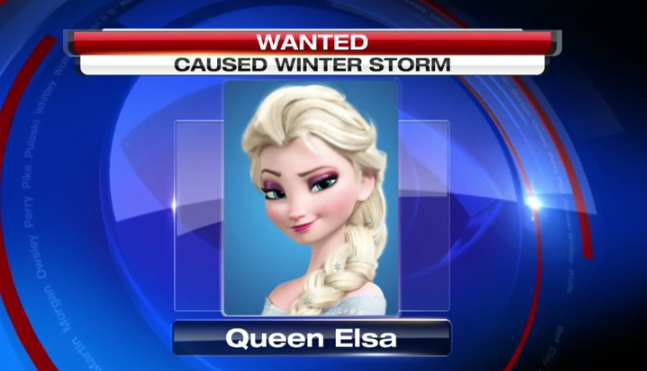 The Harlan City Police Department released an all points bulletin for the woman with ice in her veins due to the heavy amounts of snow and cold weather the city has been getting. The police describe the woman as "a blonde female last seen wearing a long blue dress and is known to burst into song "Let it Go!"
In case you were wondering…no, they aren't serious. The post on the official Facebook page was meant as not only a joke, but also a public service announcement to be careful in the icy weather. The area is reporting temperatures of 30 degrees below zero.

While residents are a little upset with Elsa, don't expect her reign to end anytime soon. Disney is set to release an all new short film in March, which will be shown in front of Cinderella. On top of that, there are tons of plans for the Disney film, as a sequel is quietly being put together, as well as a Broadway Musical, books, and yes…a theme park ride.
In 2014, Maelstrom at Disney's Norway Pavilion at Epcot was closed to make room for an all new attraction based on the popular film. In addition, plans for a huge new meet and greet area were also revealed. While we may all be sick of the cold weather, and no one wants to build a damn snowman right now, it looks like Queen Elsa is here to stay…so bundle up!
Stay tuned for more from Disney, and be sure to get social with us on Facebook, and follow along with us on Twitter @BehindThrills for the latest updates!