The Fast and Furious franchise has gone insane over the past few movies. They aren't Citizen Kane level films, but they are a hell of a lot of fun. The new spot that aired during the Super Bowl showcases just how insane the new film is going to be, and it also gets us very excited for the amazing new ride addition that Universal Studios Hollywood is adding this summer. The new attraction should be ready to deliver a huge level of crazy to the Studios Tour, and could be one great addition to Universal parks worldwide.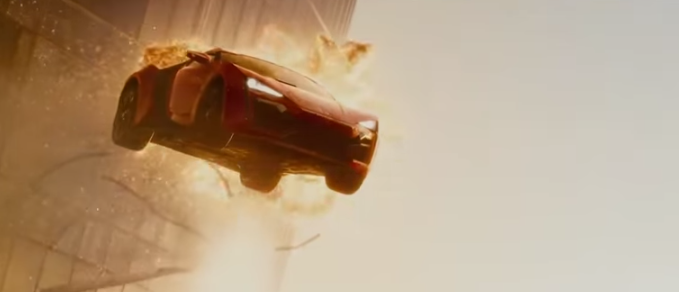 Cars jumping from buildings, going out of planes, and speeding along desert highways are just the latest images to come from the insanity that is the Fast and Furious Franchise. The new film, due out in April, will be the last film to feature Paul Walker before his untimely death, but what a wild send off it looks to be.
The new trailer comes on the heels of a first look at the all new attraction, which aired right before the Super Bowl, that will be opening this summer. It's Furious overload of stunts, fast cars and fun.

The film picks up right where Fast 6 left off, and puts the timeline of the film somewhere immediately after Fast and Furious 3:Tokyo Drift…yeah, we don't know either. All we know is that since Fast and Furious 3, the films have been getting more ridiculous, more insane and a lot more fun. How long does it take a plane to take off anyway? Still, you can't deny the box office success, and the sheer adrenaline rush that a Fast and Furious film brings.
The new attraction will be a huge new finale to the Studio Tour, and will not only feature huge screens, but it will also feature new set pieces, and special effects. There's also a rumor that the Studio tour will feature a huge aftermath scene directly after the tram exit's the show building.
Furious 7 will hit theaters April 3rd, and the all new Fast and Furious Supercharged attraction will hit Universal Studios Hollywood this summer!
Stay tuned for more from Universal, and be sure to get social with us on Facebook, and follow along with us on Twitter @BehindThrills for the latest updates!
For more information about Universal Studios Hollywood, including tickets, visit the official website by clicking here!