Laissez les bons temps rouler! Happy Mardi Gras everyone! Those who have never been to New Orleans might be surprised to know that Mardi Gras is an actual holiday! Granted, it's not really celebrated in many places, but it is a real honest to goodness holiday. In fact, it's such a big deal in places like New Orleans and much of Louisiana and Mississippi that the entire area shuts down, and everyone parties. Much of those parties rely on food. So where can you catch some authentic New Orleans flavors just in time for Mardi Gras? Of course, at the biggest party in Florida. Every year Universal Orlando holds their annual Mardi Gras celebration with tons of beads, huge floats, amazing concerts, and of course mouth watering food.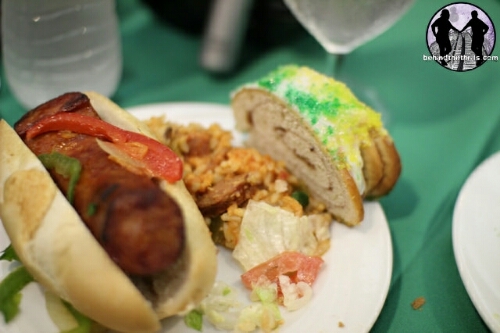 While the parade is amazing, true Mardi Gras revolves around the food, and the consumption of it like you're not going to eat for 40 days. In fact, Mardi Gras means Fat Tuesday.
The tradition goes back hundreds of years, and over to Europe where Carnival first happened. Carnival is the celebration that leads up to Mardi Gras, and it's all in preparation for Lent.
Now, this is all confusing, I'm sure, but let's break it down a bit more.
So Carnival means to "cut meat" or something similar. Lent is the period of time before Easter where Catholics fast, and do not eat meat for 40 days. So, yo keep the meat from going to waste, they would hold Carnival, again which means to "cut mean". Fat Tuesday is that last day before Ash Wednesday, or the start of Lent. So Fat Tuesday is the day when you eat as much as you want, and get nice and fat before the fasting of Lent begins.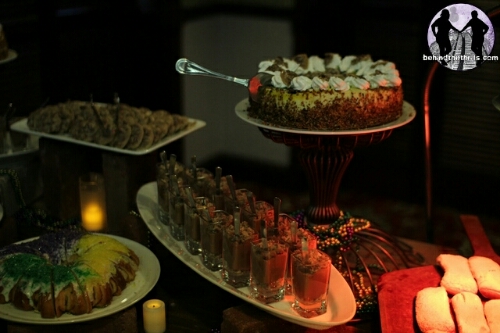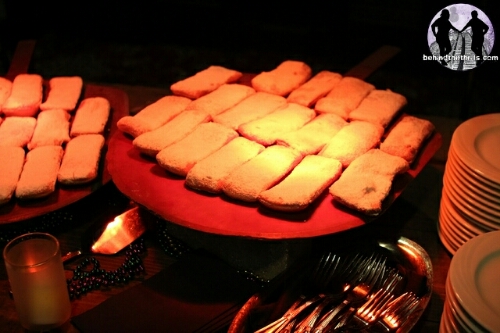 Now Universal Orlando doesn't believe in all that fasting, or getting rid of all the meat, so they focus on the party aspect of things, and celebrate Mardin Grass for several weeks.
The celebrate with tons of traditional food like gumbo, jambalaya, sausage and peppers, red beans and rice, and of course beneigts.
Beneigts are essentially fried donuts, without the holes and tons of powdered sugar.
Last year, Universal made more treats available in their French Quarter section than ever before, and even added favorites like King Cake. King Cake is a traditional dessert that consists of a flaky crust, and filling, with the traditional colors of Mardi Gras. There's usually prizes like coins and a baby inside, with the person who gets the baby the host of the next Mardi Gras party.
Since there's about a million people at Mardi Gras at Universal every year, and you really don't want to host that many people, there's no baby in the king cake at Universal.
Video-Want to see all the celebration at Universal's Mardi Gras? Check out our video highlighting this year's event!
Mardi Gras happens on select nights at Universal Studios Florida, with a huge parade massive concert and of course tons of great food.
stay tuned for more from Universal Orlando, and be sure to get social with us on Facebook and follow along with us on Twitter @BehindThrills for the latest updates!
For more information about Mardi Gras at Universal Orlando, including tickets, visit the official website by clicking here!