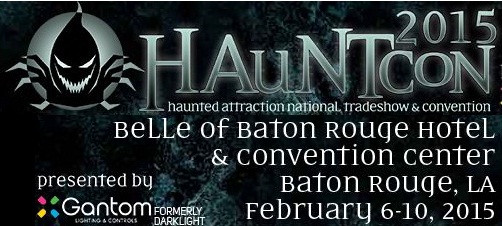 Haunted House tours in February? Tradeshow floor sales? Halloween social activities? Education from the industries top professionals? HAuNTcon presented by Gantom lighting and controls successfully combined the best of all 4 into one amazing haunt convention!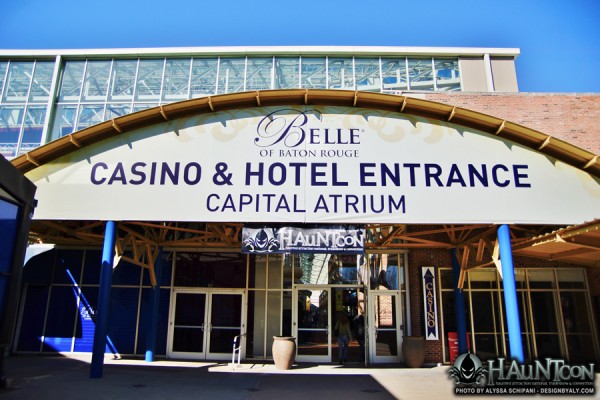 HAuNTcon 2015 featured tours at some of the best haunted houses in the world and had another great turn out! The Halloween trade-show is held annually in a different city. This year the show took place in Baton Rouge, Louisiana February 6-10th, 2015 at the Belle of Baton Rouge Hotel and Convention Center. Over 50 hours of education, haunted house tours including 13th Gate, which is known as one of the top haunted attractions in the country, trade show floor filled with exhibitors, networking, and much more were all crammed into the annual conference!
In the past, most vendors had to wait until March to debut their new products. By showing them off in January, this gives vendors much more time to move their current stock and take orders before planning for the next big show starts.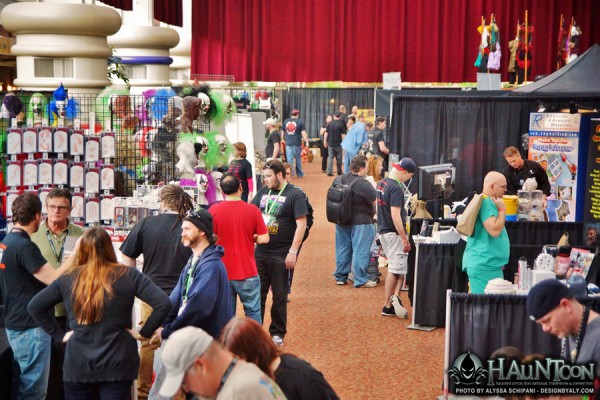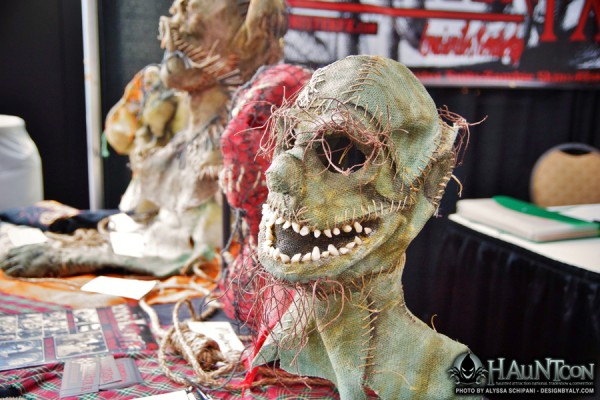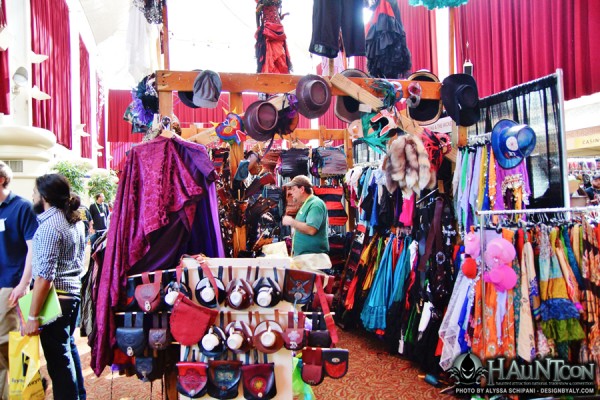 HAuNTcon is also known for hosting the best haunt tours in the industry. The 2015 tours were no exception. The tour buses made stops all over Baton Rouge and New Orleans! The pre-show inspiration tour offered transportation, meals, and lights on tours (guests were allowed to take photos and video during the tour). RISE Haunted House, which was featured in the movie "Houses October Built" even offered a look behind-the-scenes at their costume rooms, makeup station, and actor prep areas.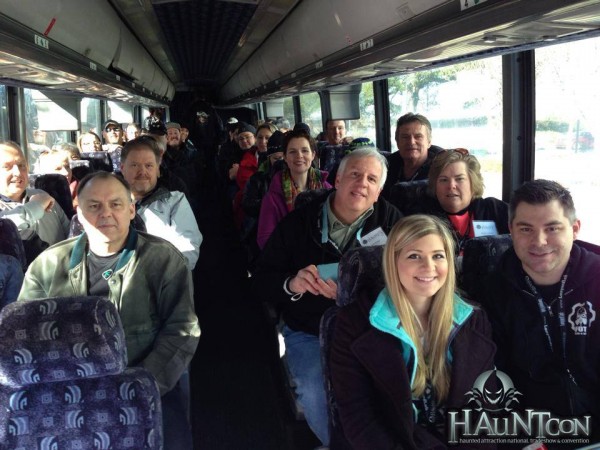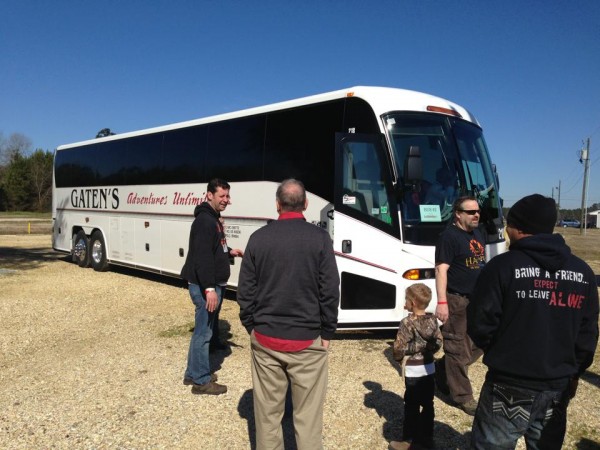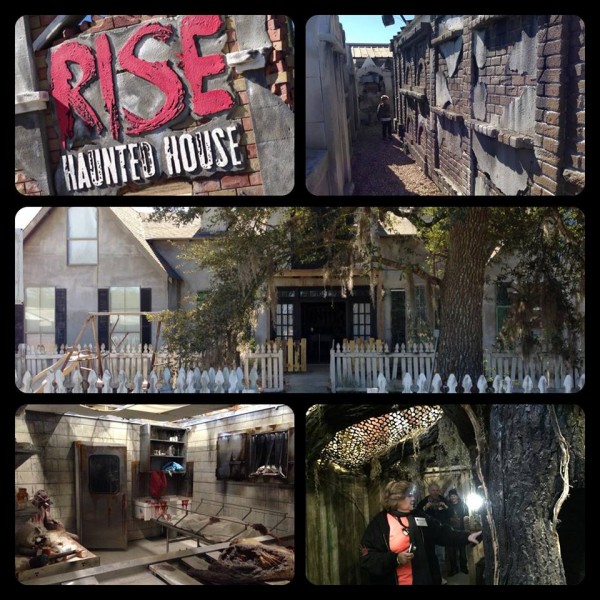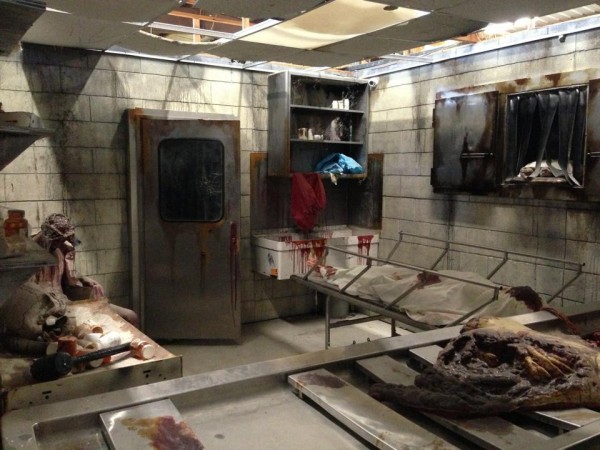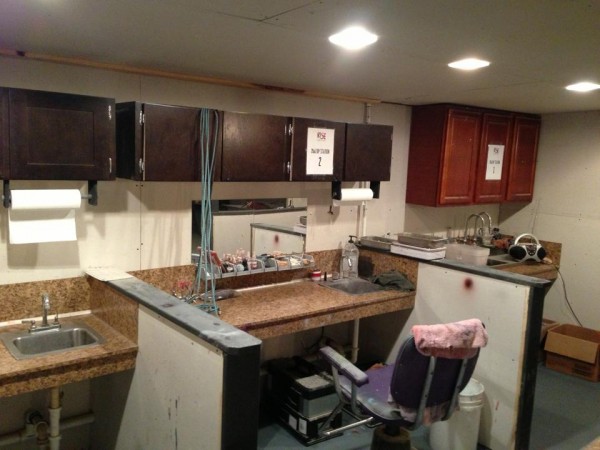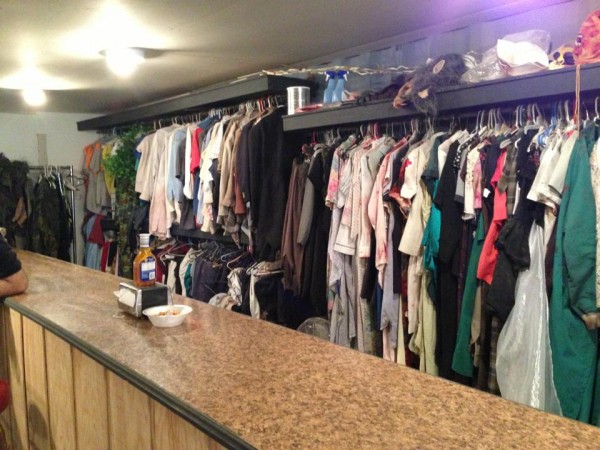 Attendees enjoyed an authentic Louisiana Cajun lunch in the RISE backstage area.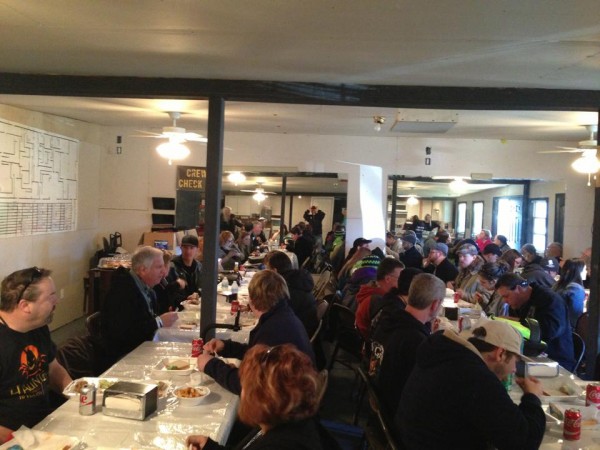 Since HAuNTcon was held so close to Mardi Gras, the tour buses made a stop on Bourbon Street where attendees had the chance to experience New Orleans during Mardi Gras! Attendees were on their own as far as where they wanted to go, but the tour did cover admission to many tours around Bourbon Street if attendees chose to go. We made stops at St Louis Cemetery #1, Marie Laveau's House of Voodoo, Mardi Gras World, and so many more!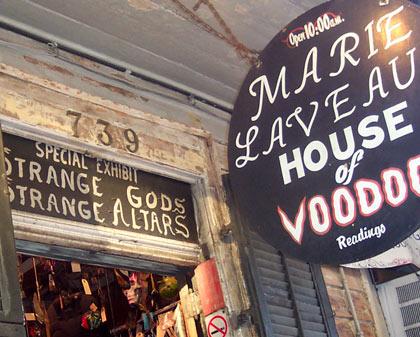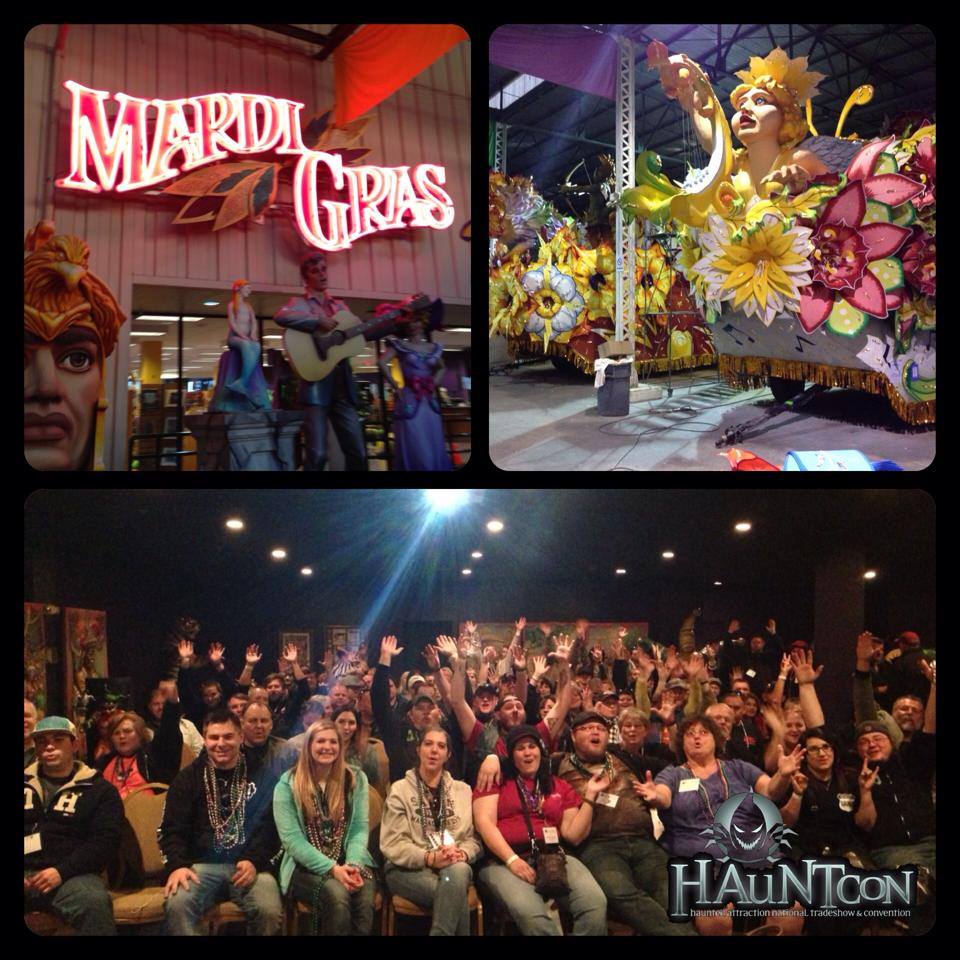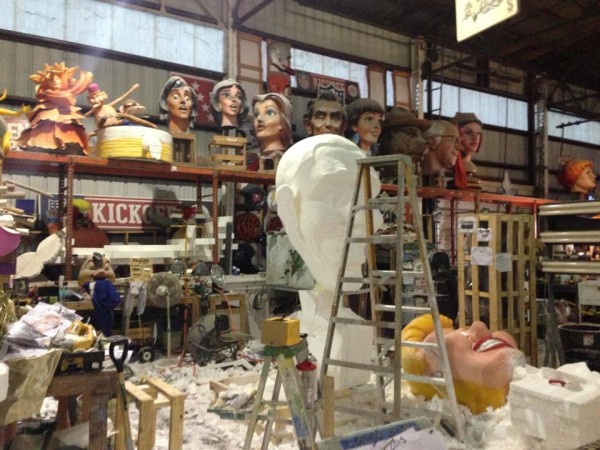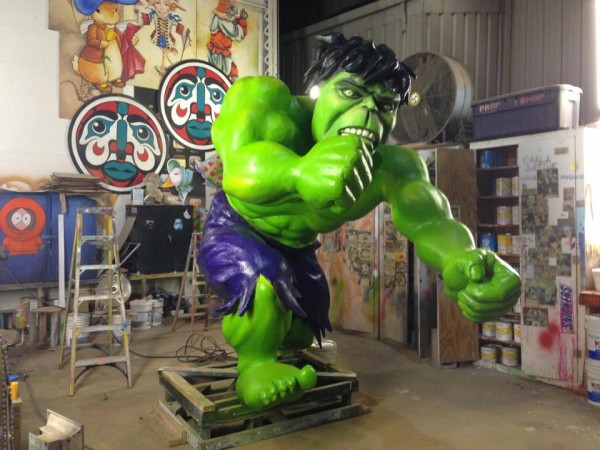 Everyone had a blast catching beads and visiting some of the famous bars such as Tropical Isle and Spirits on Bourbon St.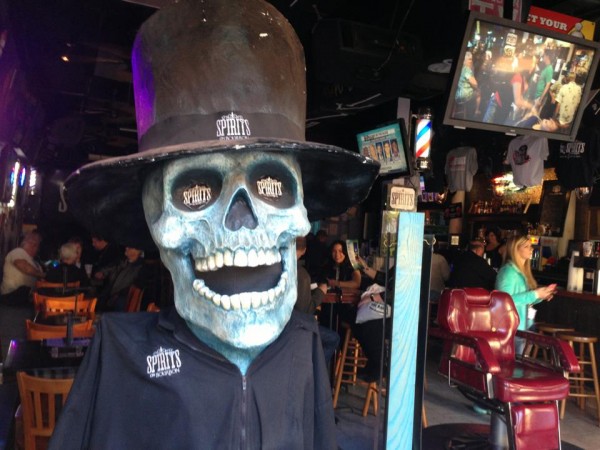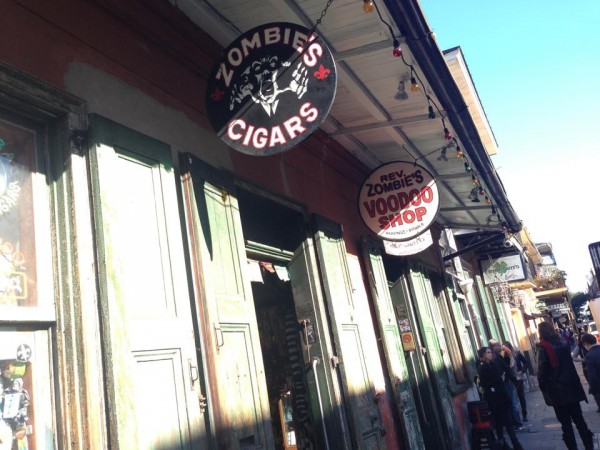 In addition to the tours offered during the pre-show tour, HAuNTcon also featured 3 evening haunt tours on Friday, Saturday, and Monday. The haunt tours are a MUST DO if you plan to attend any future HAuNTcon shows. One of the tours was a lights-on at The 13th Gate and also Necropolis 13, which many consider the best haunted house in the world. From the photos, i'm sure you can see why…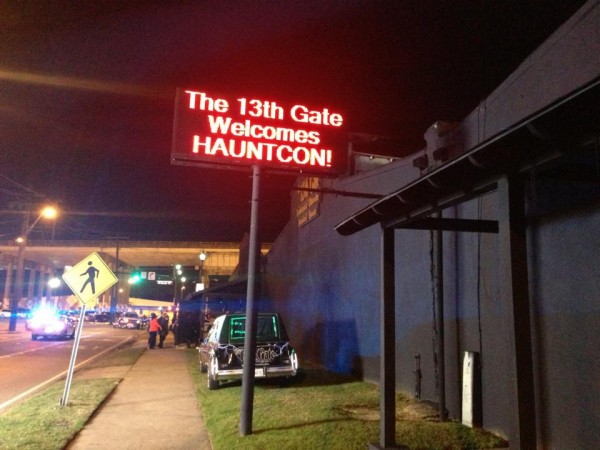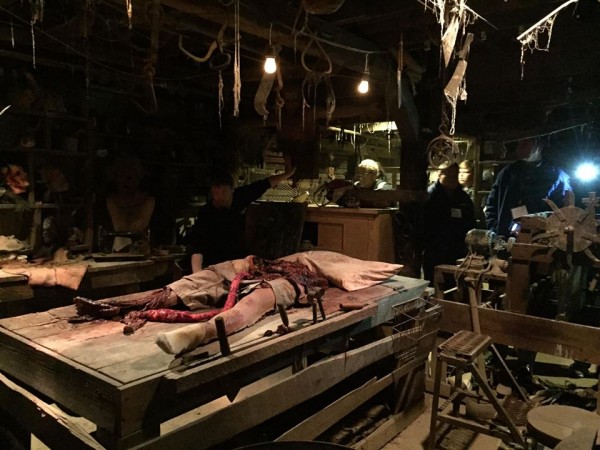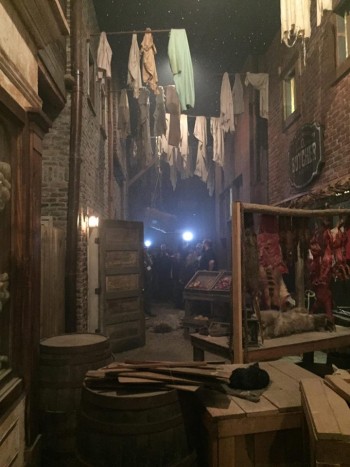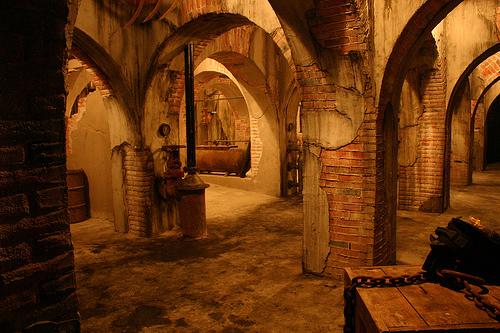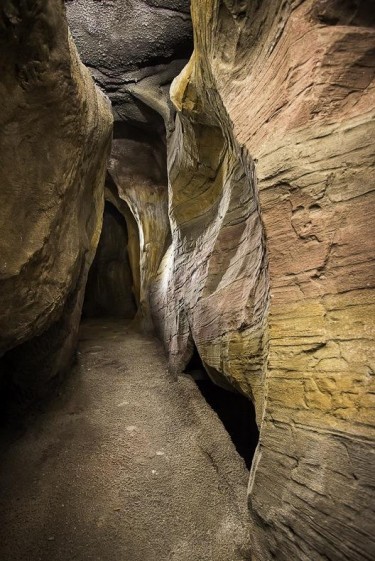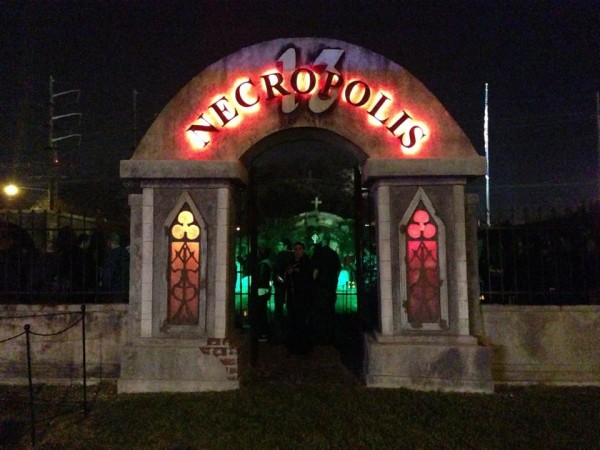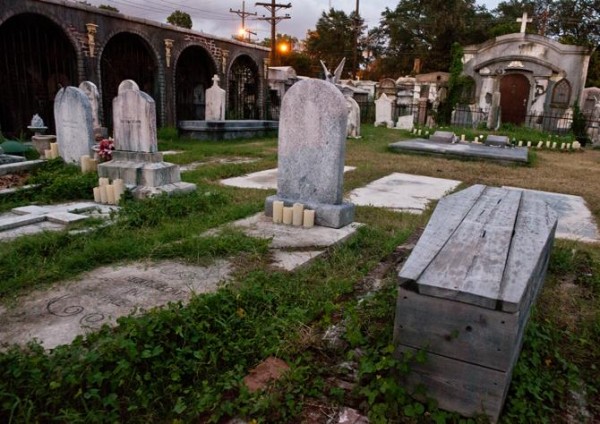 On Saturday the buses traveled back to Tickfaw, baton Rouge for a full actor tour of RISE Haunted House and Their Zombie Paintball Attraciton. This was another highly detailed haunt that gave attendees a ton of inspiration for their own attractions. the zombie paintball attraction was a hit and they even had a mechanical bull for everyone to ride!
Monday the tours traveled to The Mortuary Haunted House. This was once an old funeral home which made the location very creepy. This location also hosted the tour wrap party!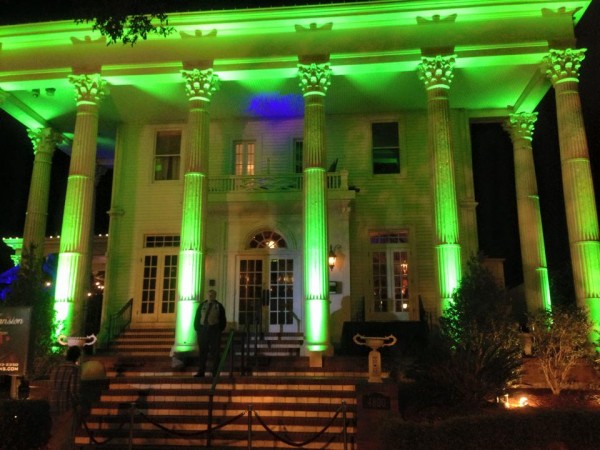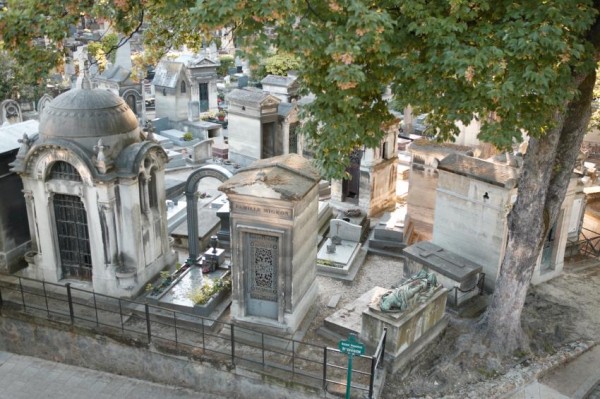 HAuNTcon tries to stay on the cutting edge of what attendees want to see in the perfect trade show for haunters. The show floor provided businesses and enthusiasts the opportunity to shop for professional quality Halloween related products and meet some industry celebrities like Robert Kurtzman while they were at it. Show officials reported that the 2015 tradeshow floor was sold out!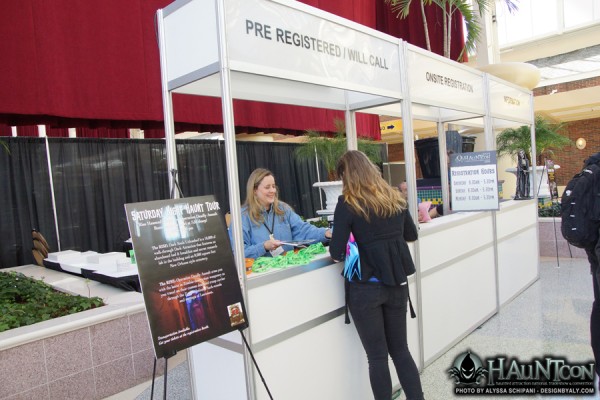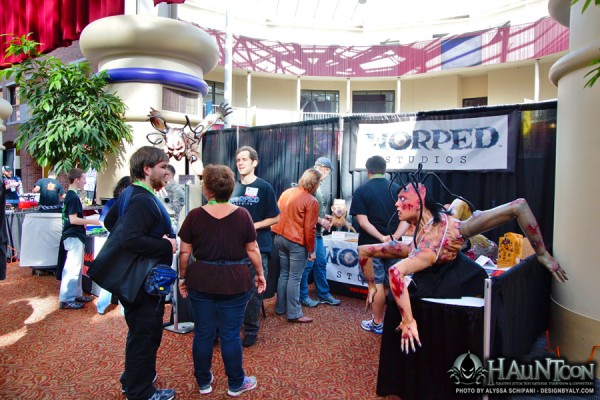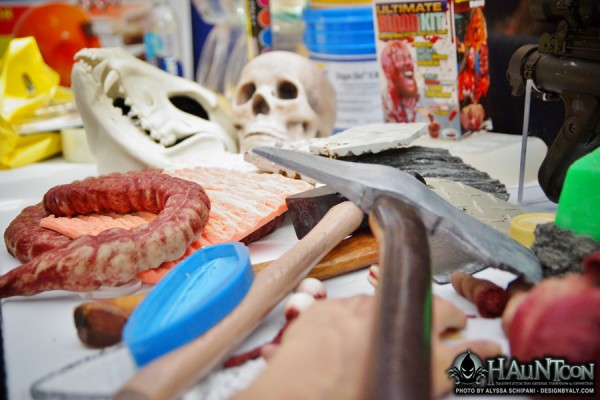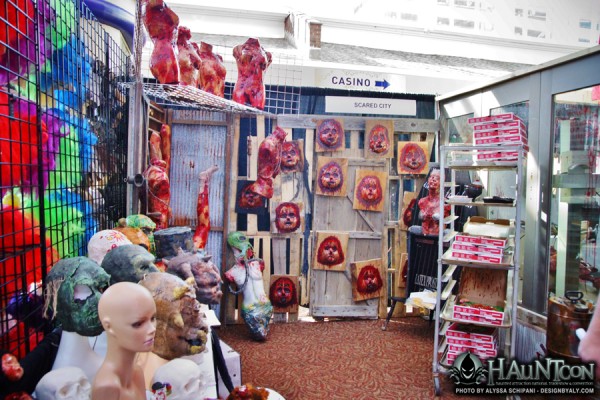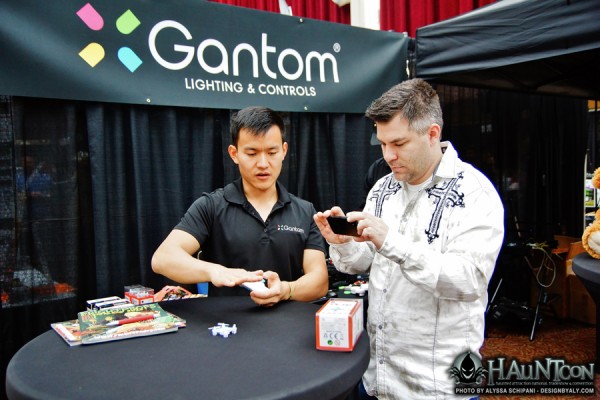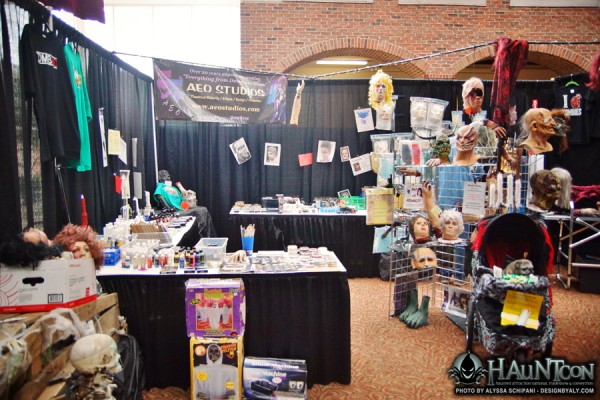 HAuNTcon Official Video Teaser
The 2015 Costume Ball sponsored by Froggys Fog was officially the largest EVER! Haunt owners, actors, makeup artists, and Halloween fanatics from around the world collaborated for one kick-ass evening of networking, dancing, drinking, eating, prizes, and haunting fun. Since the majority of haunters work every day in October, they never have the opportunity to dress up in freaky costumes for the fun of it. The costume ball gives attendees a chance to get back to what got them into haunting in the first place: Halloween! Included in the ball ticket was party favors, a t-shirt toss, prom style photo, Cajun buffet, free beer sponsored by Froggy's Fog, a cash bar, and even surprise give-aways! Haunters put on their costumes and boogie shoes, and danced the night away to some awesome music played live by DJ Brian B. The costumes were AMAZING but the costume ball is all about SOCIALIZING AND FUN! Therefore, there is never a competitive costume contest at HAuNTcon.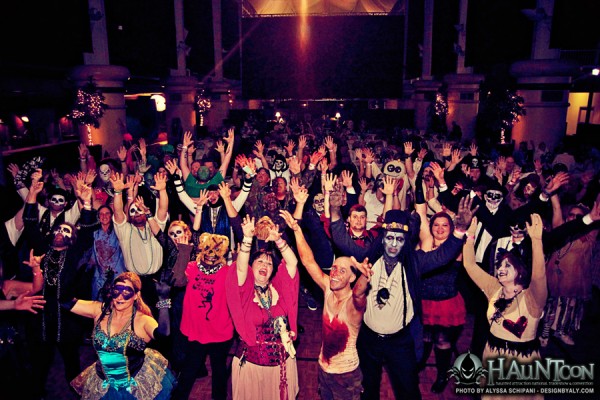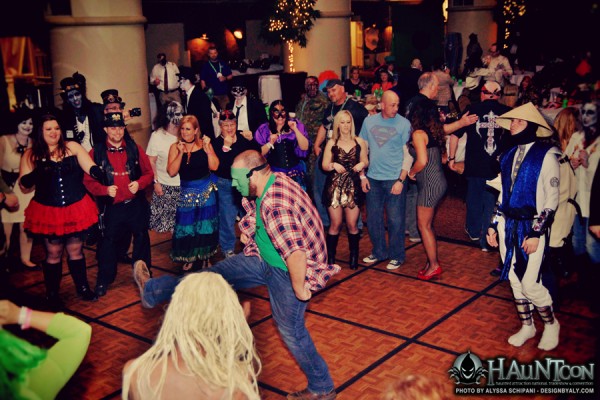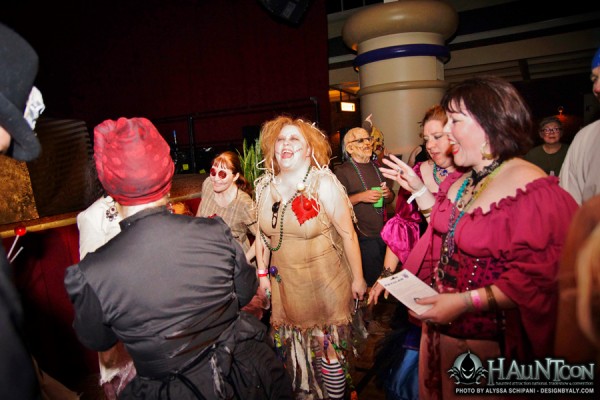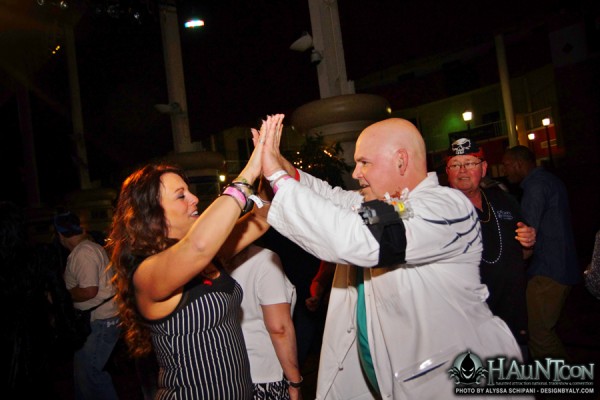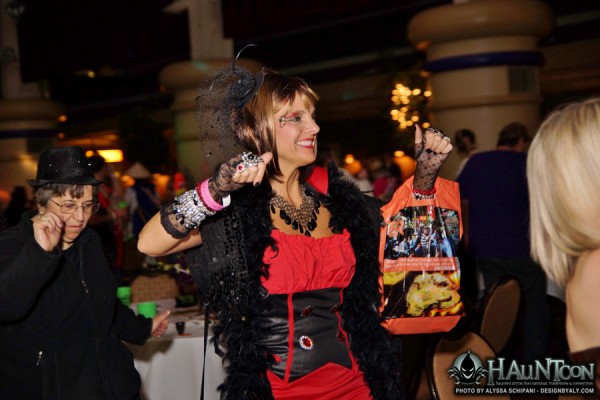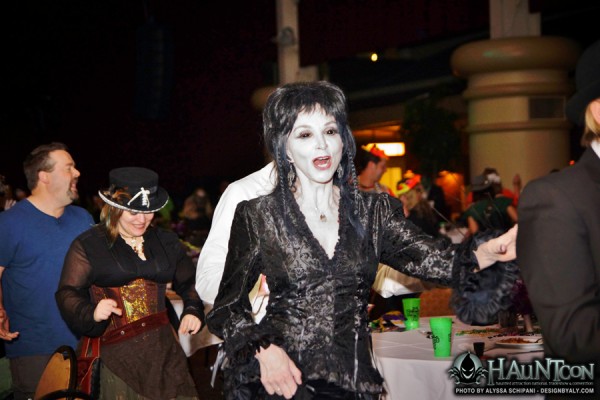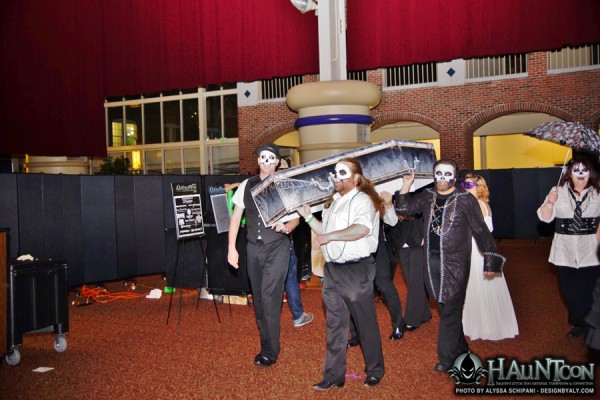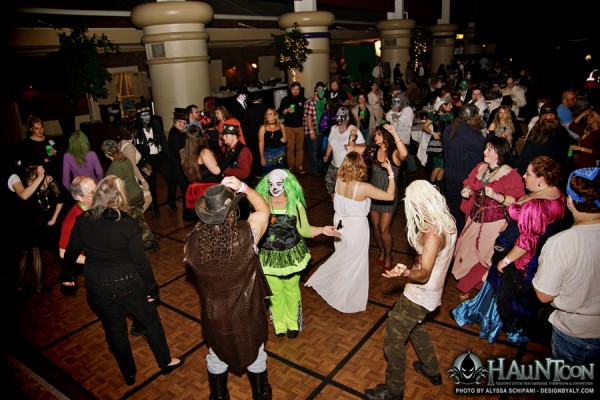 Results from a recent survey revealed that education is the number one factor why haunters attend HAuNTcon. HAuNTcon featured over 50 hours of business seminars, creative sessions, demonstrations, and hands on workshops. Unlike many tradeshows, education at HAuNTcon IS INCLUDED FREE with paid admission to the tradeshow.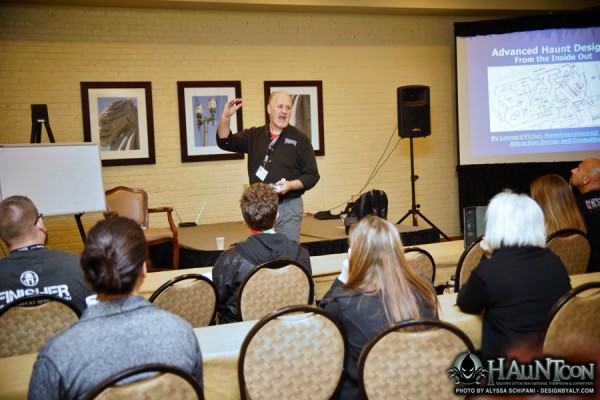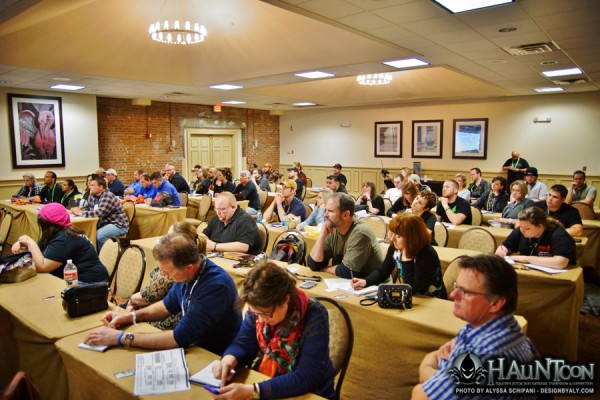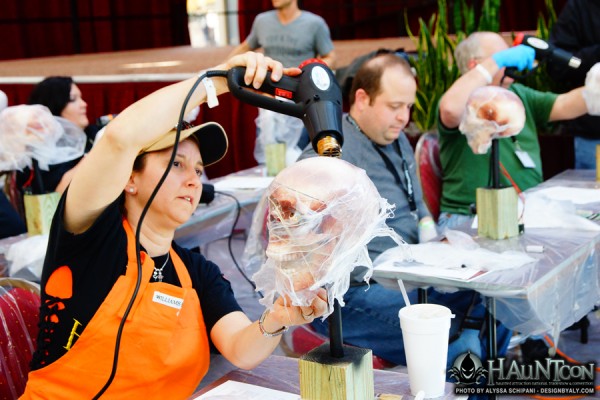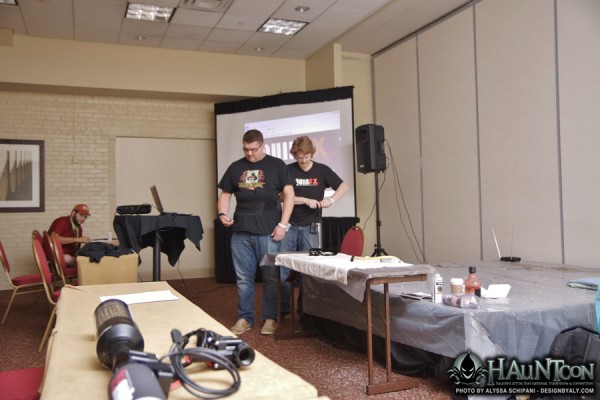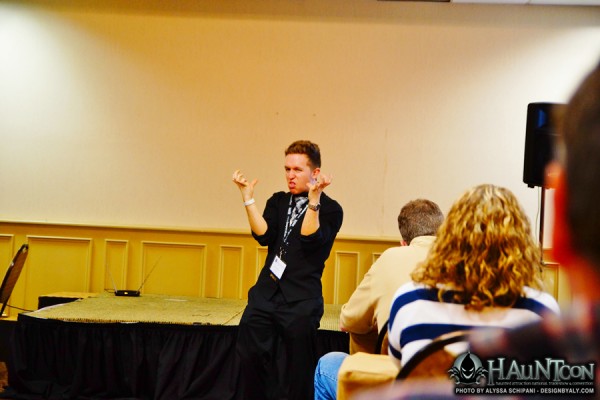 Instructors included haunt industry notables such as Robert Kurtzman of Creature Corps, Ross Karpelman and Jay Gracianette of House of Shock, D'Ann Dagen of Hangman's Haunted House, Quan Gan of Gantom Lighting and Controls, Chris and Jeff Davis of Davis Graveyard and so many more! Robert Kurtzman offered 2 multi-hour workshops over the weekend that attendees described as "life changing". As if all these speakers were not enough, on Tuesday HAuNTcon offered a set of Advanced All-day Hands-on Workshops.  Check out this amazing crypt set made by the Davis Graveyard during one of the workshops!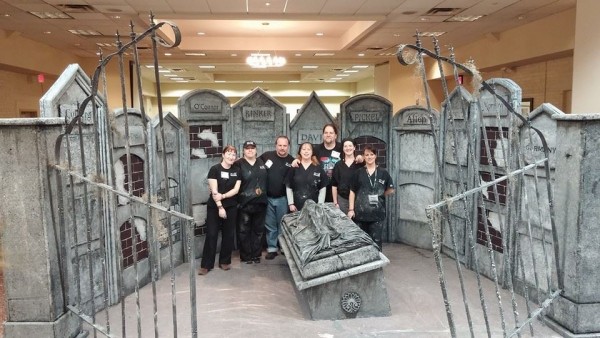 Another favorite event of HAuNTcon is the annual Haunted Garage Sale! Hundreds of props and haunt related items were sold in a flea market style fashion. Within the first hour, most of the items were sold to lucky buyers. In fact, several of sellers completely sold ALL of their items. Some of the attendees even got fantastic deals on rare items that are no longer in production.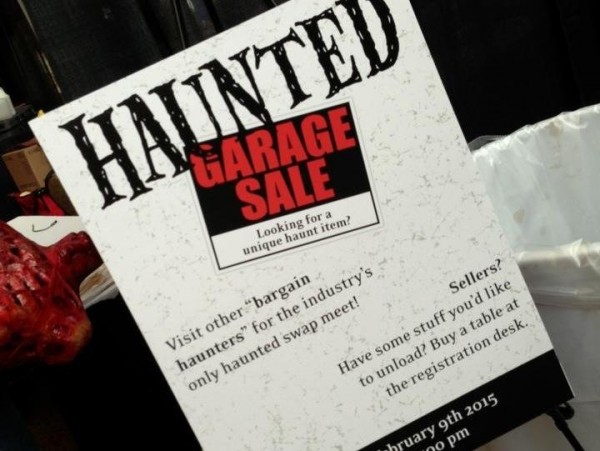 By hosting HAuNTcon in January, this has set the bar high for the rest of the year! The upcoming trade shows will have their work cut out for them to keep up with all the great tours and education HAuNTcon had to offer!
On a side note, we would like to point out HAuNTcon still has some left over 2015 event shirts available online for only $20.00 while supplies last! Once these shirts are sold out, they will be gone for good, never to be printed again! Click here to purchase yours today!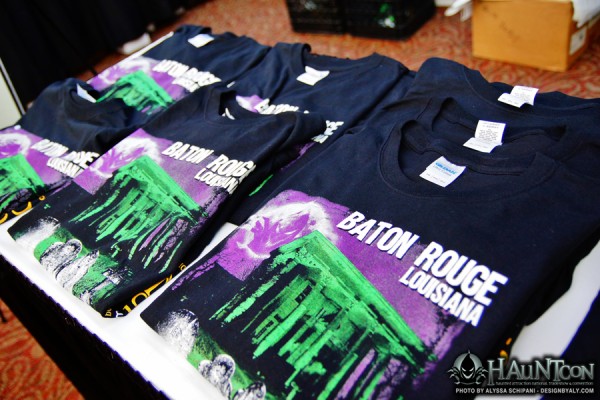 One of the best things about HAuNTcon is there was ALWAYS something to do from morning until night with transportation to and from the events. Some of the events even offered meals. At many other trade shows we attend, once the trade show floor closes for the day, your on your own the rest of the evening. HAuNTcon always makes sure there is something entertaining to do. Even late nights, they offer the famous "HAuNTcon Hospitality Suite" to kick back, relax, have some drinks, and socialize with haunters while you wind down from a long day of activities.

At the costume ball, it was announced that HAuNTcon 2016 will take place January 28 – February 1, 2016 in Birmingham Alabama. Reserve your room now before they are sold out, and YES THEY DO SELL OUT EARLY! We can't wait to see what tours will be announced!
For tickets and more about HAuNTcon, visit their official website at www.HAuNTcon.com
Follow our Socials!
facebook: facebook.com/BehindThrills
twitter: twitter.com/BehindThrills