Star Wars is relevant again. Not that it ever really disappeared, but with the ever pending approach of Star Wars:The Force Awakens, the whole world is sharing that collective excitement that hasn't been felt since Episode One. While the movie is still a whole ten months away, there are plenty of things to get excited about. The first of which is Star Wars Celebration in Anaheim. The huge expo is always full of all things Star Wars, but this year, the Expo is said to be bigger than ever….and it will include two huge names in the Star Wars Universe. Plus, there will be an all new art show, with art that was created just for the event!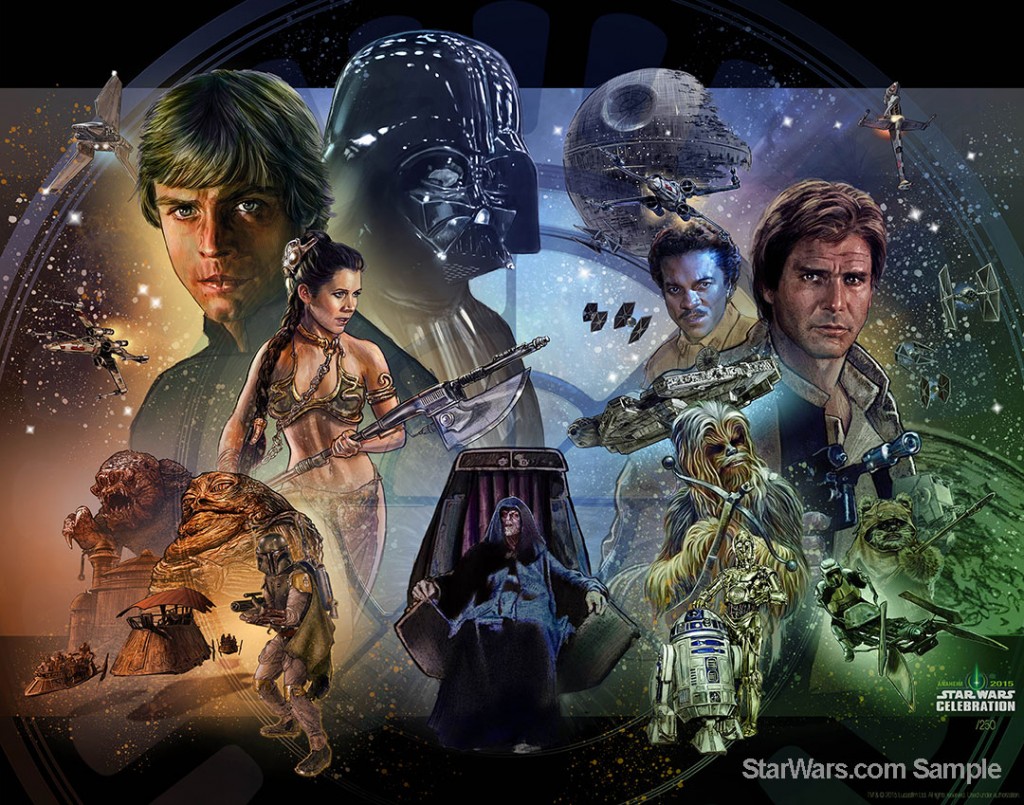 Star Wars Celebration kicks off on Thursday, April 16th, and it's doing it in a big way. Star Wars Celebration is especially important this year, as this marks the Star Wars Celebration held in the United States since Disney's takeover of Lucasfilm. The massive Celebration is the ultimate Star Wars convention, drawing in thousands of guests over the four day event.
Every Celebration there are new offerings, including a wide range of merchandise, displays and memorabilia from the film, and this year's event is no different. Star Wars Celebration will premiere all new, never before seen art from over 30 different artists, all ranging from a wide variety of styles. The art show will feature artists showcasing art inspired by all aspects of the films, and even the expanded universe. It's a huge new addition to what is already a massive event.
More news is that there will be a very exclusive screening of Star Wars Episode III:Revenge of the Sith shown in 3D. The only Star Wars film released on a wide basis in 3D was Episode 1:The Phantom Menace. Celebration will have all three films in 3D, plus the original trilogy showing all weekend as well.
The big news, however, comes from the opening day of the event. Two huge guests will be on hand to kick off the event on April 16th at 10 a.m. Kathleen Kennedy, longtime Lucasfilm President and mega producer will be there to open the event, along with someone who has all eyes on him right now. J.J. Abrams, the director behind the all new Star Wars:The Force Awakens will also be on hand. This is huge news, as Abrams is currently blasting through the final stages of getting the massive new film ready for the December 18th opening date.
This also lends a little credence to the rumors that have been circling about some major announcements about the Star Wars Universe coming out of Celebration. What could we see at Star Wars Celebration? Well, for starters, how about a look at the first full trailer for Star Wars:The Force Awakens? Many industry analysts suggest that we could see a trailer attached to Avengers:Age of Ultron, which opens a few weeks after Celebration wraps up.
On top of that, maybe we'll get a few details about new Star Wars attractions coming to Disney Parks. CEO Bob Iger said recently during a conference call that there would be an announcement "Very Soon"…well, this seems like soon enough to be called very soon! Star Wars Celebration is just two months away, and we'll have to wait and see what awakens when the Force hits Anaheim.
Tickets for Star Wars Celebration Anaheim are now on sale.
Stay tuned for more from Star Wars and Disney, and be sure to get social with us on Facebook, and follow along with us on Twitter @BehindThrills for the latest updates!
For more information about Star Wars Celebration, including tickets, visit the official website by clicking here!