It's time for the biggest party in Florida, as Universal Orlando kicks off their annual Mardi Gras celebration! If you're thinking that it's too early, you're pretty wrong on that. The REAL Mardi Gras happens on Tuesday February 17th this year, that's just around the corner! Naturally it's time to get things amped up with the best version of the Big Easy celebration this side of the Mississippi. This year Universal has a huge line up that kicked off with Olivia Newton John, plus tons of great food, bands directly from the bayou, and the signature parade. We take a look at all the big things happening, as well as the changes at this year's parade!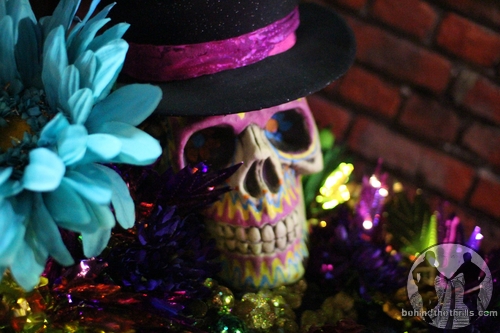 This year at Mardi Gras the celebration is back in a big way, but instead of bringing out huge new floats, Universal has stuck with the beautiful floats and costumes of last year. Traditionally, the parade premieres several new floats, as well as new costumed characters. This year, however, they have put the focus on revamping some of the older floats and making them new, and more traditional. In addition, there's tons of great new merchandise, and of course the huge concert line up.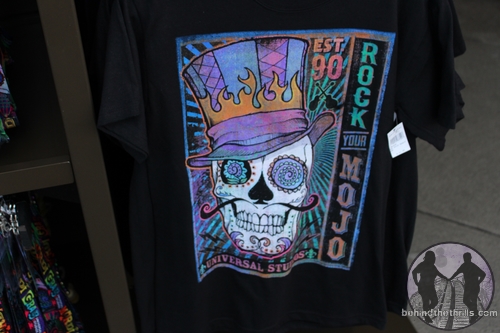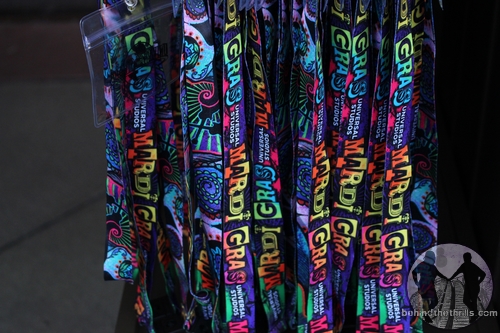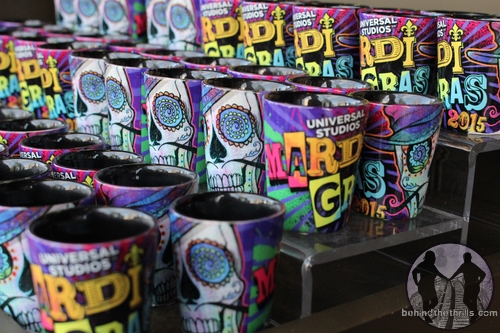 Merchandise is always a big deal with events like Mardi Gras. This year, the merchandise is very vibrant, colorful and full of mojo. The park has gone back with the voodoo skull theme that they've used before, and this time topped it off with some great imagery. There are shirts, shot glasses, as well as lanyards with the awesome new logo on it. In fact, the colors of everything at Mardi Gras are a whole lot brighter this year.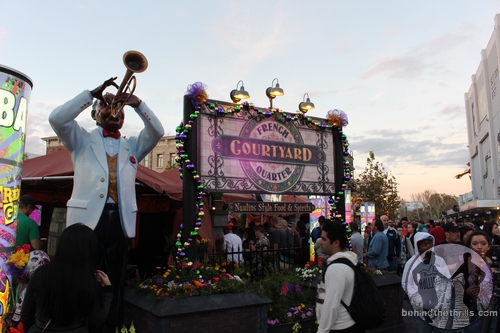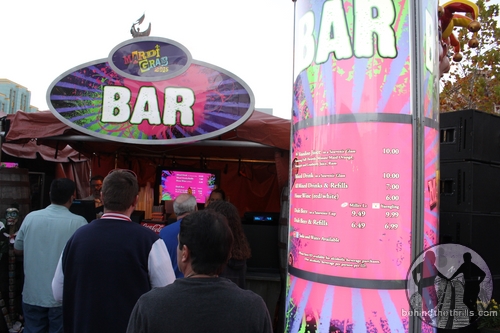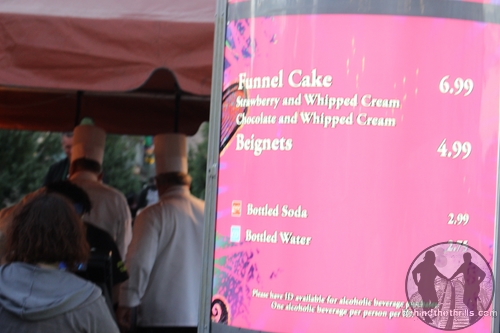 In the French Quarter are more food stands than ever before, all tucked nice and tightly in the area between Monsters Cafe and The Mummy. Old favorites like Jambalaya, Gumbo, and Beignets are back. There's also great treats like Tater sticks, wings and of course tons of beer and Voodoo Juice, the signature Mardi Gras drink at Universal Orlando. The French Quarter opens a little later in the day, but you'll need to make sure to hit them first as the lines get really long, really fast for the food.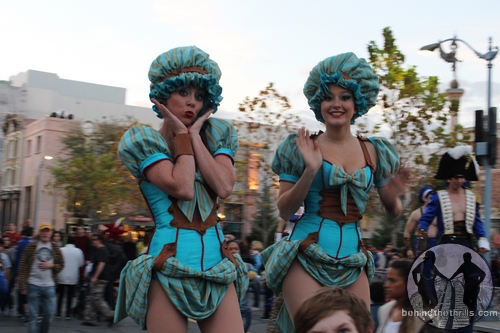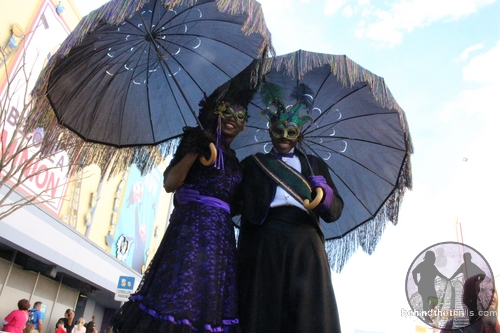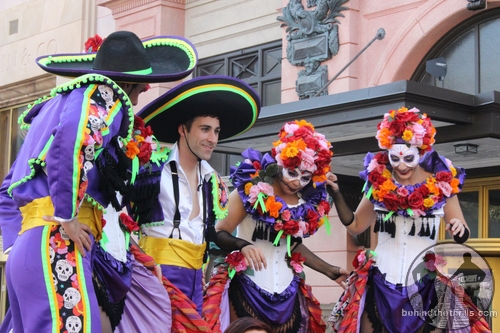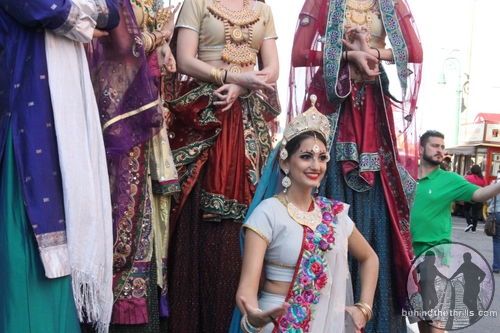 As always, characters are out and about, roaming and meeting guests. They'll stop for pictures, chat and sometimes even give you beads. This year there aren't many new characters that we spotted, but tons of favorites from the past have returned, such as the Geisha Girls from China, as well as the Mariachi from Mexico. Of course, all the standards are back such as the flamingos, the jesters and the king and queen.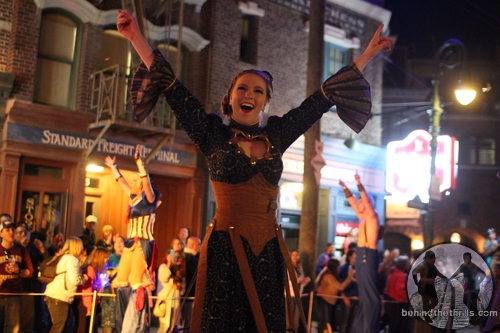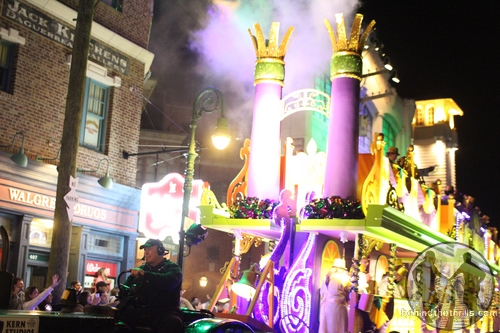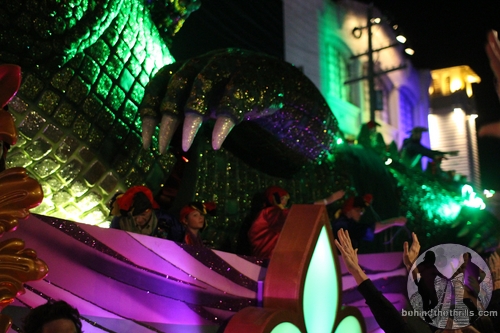 While there aren't any brand new floats this year, some old favorites have gotten serious upgrades. The beautiful floats from last year's "Around the World in 80 Days" are back, which have been fan favorites. Back in the lead this year is the Riverboat, which has gotten a major overhaul. It is more festive, more open (the better to throw beads from) and has tons of new lights that dance and change to the music. Last year, the Jesters opened the show, but the riverboat is back in the lead.
King Gator also got some love with a huge new makeover which also includes new lights. It's still a big way to end the parade.
For those looking for more changes, the parade itself is pretty different this year. Instead of keeping the pattern of "characters, corresponding float, characters", the parade is separated by sections. There are tons of traditional characters, followed by traditional floats, then the regional characters, followed by all the regional floats, and so on. It makes for a nice break up, and gives you a chance to recover beads a little better.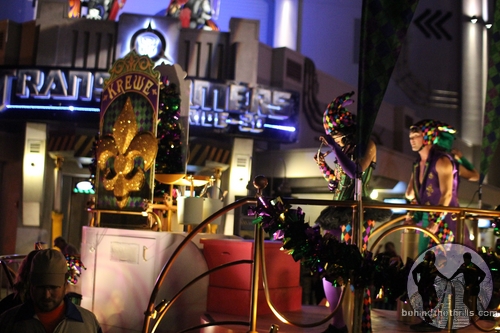 One big addition this year is the Krewe "party barge". We'll call it a party barge because it's not really a float, and they don't really throw beads. Instead, they make two scheduled stops along the route, and perform a miniature show. The stops, we were told, are in Hollywood near Terminator, and New York near The Mummy.
It's similar to what happens in the Superstar Parade, only the Krewe gets down and tosses special beads and other prizes.
While we weren't along the stops for the parade, we did get a chance to see and hear some of the new music that happens during these stops. It's a great little break, and a huge amount of fun as the performers seem to really enjoy the change up.
Video-See highlights of this year's Mardi Gras, including the new parade stop!

If you're a lover of music, then Universal has you covered as well. Olivia Newton John kicked off the annual concert series with her several hits. She is completely, and purely from the 80's with hits like Physical and Xanadu.
Concerts are all free standing shows, and included with theme park admission. If you want a close spot, all you have to do is get to the area early. Of course, if you get a close spot, you'll miss out on all the fun, as the gates usually come down around 4p.m. The concerts usually begin right after the parade ends, give or take ten minutes.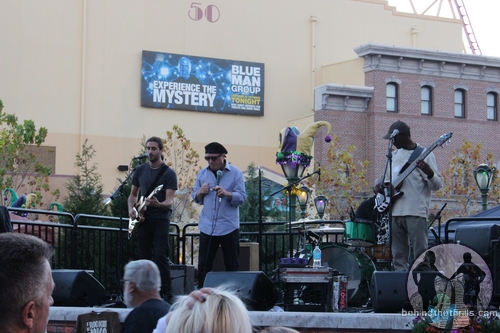 If you're looking for something a little more "authentic", then there's the French Quarter. The stage there has bands direct from the bayou, usually playing right up until the parade starts. The bands range from rock and blues, to zydeco. It's usually a great time, as the bands get very interactive.
Of course our favorite is the parade. There are several great spots to see the parade from, but this year it appears that you'll want to be in New York in front of Mummy, and Hollywood in front of Terminator in order to see the Krewe parade stops.
Video-See the entire Mardi Gras parade at Universal Orlando from start to finish


The park also sets up handicap viewing, passholder viewing, and "Little Jesters" viewing for the kids. If you're an American Express cardholder, there's even an area for you. The parade lasts about 15 minutes, and there's beads flying by the handful. If you want a great spot, however, you'll need to stake it out at least 30 minutes prior to the start time, Mardi Gras is going to be very popular this year, and tons of spots on the route will be taken if you wait too long.
Slideshow-Check out even more pictures from Mardi Gras at Universal Orlando

Mardi Gras is going to be packed with so much fun, food and beads this year. The parade, beads, and concerts are all included with theme park admission, as well as with your annual passes. The concert line up is very unique this year, as it spans many different genres. In comparison to 2014, Mardi Gras is shorter this year, but that doesn't matter…the party will last all the way until the end of April, and will have several weekends full of more than one event.
Stay tuned as we bring you even more Mardi Gras fun, and be sure to get social with us on Facebook and follow along with us on Twitter @BehindThrills for the latest updates!