The Minions are coming back this summer, and you can bet they're going to bring tons of trouble with them. USA Today has a huge look at the all new Despicable Me spinoff-Minions. Minions is a prequel of sorts to Despicable Me, showcasing how they ended up in Gru's care. The Minions gravitate towards the most evil of villains, but somehow they always end up alone. Today we get a good look at the villain from the all new film, and even some stills from the new movie. This is all leading up to a new trailer later this week. The big question…will we see even more minions at Universal in the coming months?
Sandra Bullock plays the bad…girl, the super evil villain, Scarlet Overkill. She's mean, she's clever, and she's about the biggest bad guy in the Despicable Me universe. She's voiced by Sandra Bullock, who's not exactly known for being evil, mean, or even mildly ill-tempered. She's probably about the sweetest person in the world, and while it's just a movie, it seems like an odd choice.
The movie will follow Kevin, Stuart and Bob as they go searching for a villain to follow, and find Scarlet. The movie takes place in the 60's, and will feature tons of cool bad guy tech and gadgets. Though, we have to wonder just what happens to Scarlet, and how do they find Gru? Perhaps sequels will tell those tales.
Hopefully we don't see the end of Gru in the next Despicable Me story, but we're getting ahead.
Hopefully the film will show us why the minions are just so…Miniony (is that a word?) and will give us a fun look at the banana loving gibberish speaking sidekicks.
Universal has been betting a lot on Minions in both their Universal parks in the United States. Universal Orlando was the first park to adopt the lovable minions, with Despicable Me:Minion Mayhem.
In 2014, Universal Studios Hollywood not only adopted the ride, but made an entire section based off of the film. The attraction not only features Despicable Me:Minion Mayhem, but it also features the entire neighborhood, a restaurant, and Super Silly Fun Land, a water play area based on the amusement park in the film.
Video-Go on a tour of Despicable Me at Universal Studios Hollywood

While Universal Studios Holllywood has made a big bet on the Minions in the park, Universal Orlando Resort has made a big bet on the Minions everywhere! The lovable Minions are not only in the park, but also in the hotels.
Video-Despicable Me Suites let kids sleep like a Minion
Kids can sleep like Minions at Loews Portofino Bay Hotel, located onsite at Universal Studios Florida. The rooms feature bomb shaped beds that were hand crafted for the hotel, as well as unique wallpaper and room accessories.
So, with a new villain hitting big screens this summer, could the parks make a minor upgrade and include Scarlet in the fun? It could be more likely at Universal Studios Florida, as the characters do not only daily meet and greets, but they are also stars in the daily Superstar Parade. Currently, Vector (the main villain from the first Despicable Me) is in charge, and shooting guests with his piranha gun, however Scarlet could easily make a run at the park and take Vector out.
We'll have to see when Minions hits theaters on July 10th.
Update!
An all new trailer and poster has hit for Minions, and it showcases Scarlet Overkill heavily. We also get a look at 1968 and "Villain Con".
http://www.youtube.com/watch?v=WwK91mPGRGE
Completely loving the vibe of this trailer, and love Sandra Bullock hamming it up as a big mean villain. The thing that was the most enjoyable about the original Despicable Me films was that it was full of heart, as well as some really great voice talent. You honestly couldn't tell that Steve Carrell, and Russel Brand were in the films, as well as Julie Andrews. That's kind of the same thing here with Scarlet Overkill. If you know it's Sandra Bullock, you can hear her. If you have no clue, then she completely disappears into the role.
Let's hope that the entire movie is as fun as the trailer.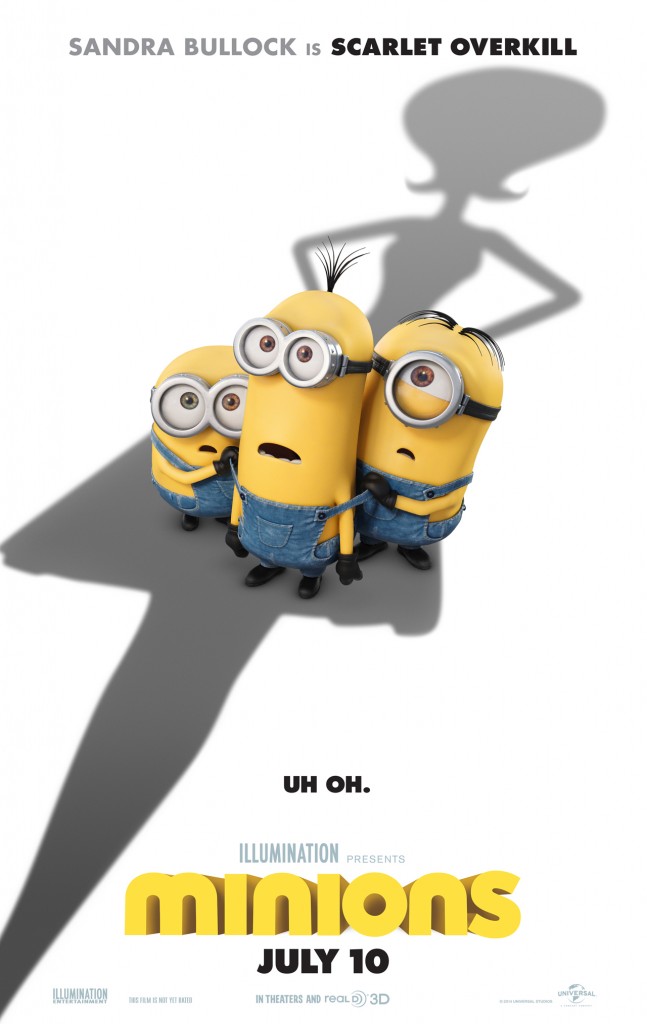 The film takes place 32 years before Gru, and from the sounds of it, we're going to get a whole series of films based on Minions before Gru, and hopefully we'll get to see a young Gru and Dr. Nefario along the way.
Stay tuned for more Despicable Me madness, and be sure to get social with us on Facebook, and follow along with us on Twitter @BehindThrills for the latest updates!
For more information about Despicable Me at Universal Orlando, visit the official website by clicking here!