Are you a Jedi, or Sith? Do you feel the Force around you, or do you use fear as your weapon? Do you like Mickey, or Goofy? All tough choices for the growing Padawan, and all choices that must be answered as this year's Star Wars Weekends at Disney's Hollywood Studios draws ever closer. The huge celebration of all things Star Wars happens Fridays, Saturdays and Sundays in May and June and will be bigger than ever as the entire galaxy prepares for an awakening.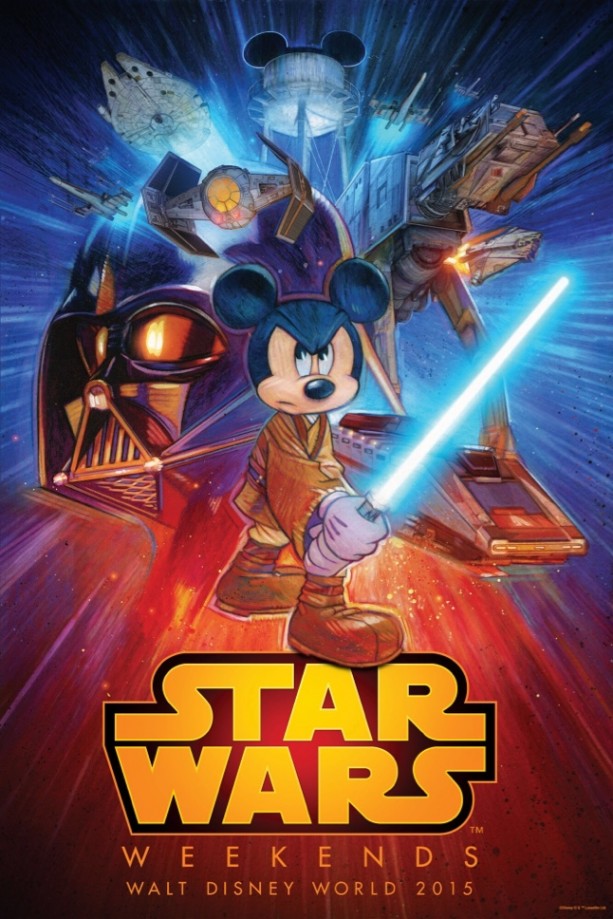 The biggest thing to note is this year's poster…it feels like a very old school Drew Struzan poster, with the "Earful Tower" taking the center. We can probably be sure that the massive tower will be the focal point of many different marketing campaigns from here on in, as the giant Sorcerers Hat is all but gone.
Star Wars Weekend kicks off May 15th, and runs all the way until June 14th, and will feature tons of huge events, activities and surprises. James Arnold Taylor known for voicing characters such as Obi-Wan Kenobi on "Star Wars: The Clone Wars," will be back once again to host the festivities such as Stars of the Saga talkshow. The show will return with the Stormtrooper pre-show and will be home in a much larger area, as it takes over Theater of the Stars on Sunset Boulevard.
Near Streets of America, an all new area for Darth's Mall will be opened, with an expanded array of merchandise that will be exclusive to the event. The festivities will end each night with  "Summon the Force" which will have all your favorite Star Wars stars on one stage, and will use social media to take a look back at all the fun throughout the day. Then get ready to blast away with the Symphony in the Stars, as Fireworks set to the iconic music of Star Wars lights up the night.
While celebrity guests haven't been announced yet, some exciting and fun features have. Guests can book Star Wars Dine at Hollywood & Vine for the chance to see some of their favorite Disney pals dressed in Star Wars gear.
Guests can dine with:
Jedi Mickey
Princess Leia Minnie
Darth Vader Goofy
Storm Trooper Donald
Ewoks Chip 'n' Dale
Jedi Mickey's Star Wars Dine at Hollywood & Vine will be available for $57.99 per adult and $34.99 per child age 3 to 9, beginning May 4th.
If you want to have breakfast with a little more…Force, then you can dine at the Sci-Fi Drive In with Star Wars characters like:
Darth Vader
Boba Fett
Greedo
Jawas
Stormtroopers
It's always fun to start your day off with a good blaster and some scum and villainy. These reservations went very fast last year, so you'll want to book early this year.
Advanced reservations are highly recommended. For booking, please check availability online, or call (407) WDW-DINE or (407) 939-3463.
Stay tuned for more from Disney, and be sure to get social with us on Facebook, and follow along with us on Twitter @BehindThrills for the latest updates!
For more information about Star Wars Weekends at Disney's Hollywood Studios, including tickets, visit the official website by clicking here!