It's a tradition that has been around since SeaWorld Orlando has opened that is now gone, and the strange part, it's a good thing! The park recently reopened the popular Dolphin Cove area after a rehab that lasted over a month, and with the small new additions came a new way to interact with the amazing animals that call the area home.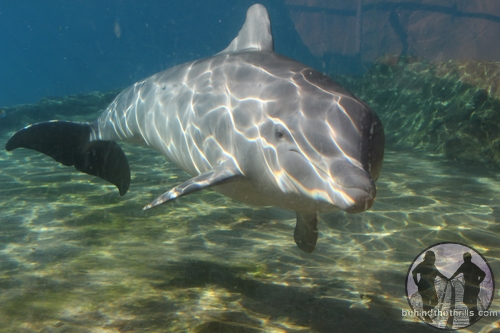 As far back as I can remember, you've always been able to feed dolphins at SeaWorld. For just a few dollars you could get some prepared fish in a little tray and get your hands all stinky as dolphins came up and opened their jaws for fish. That experience is now gone. While that sounds like it's an end of an era, it kind of is, but it's something that is going to make the experience better.
After a short closure, Dolphin Cove is once again open, and the dolphin feedings are gone. Instead of waiting for certain designated times to feed dolphins, the option has been removed. What's in place now is a photo opportunity (or there will be soon). Guests will pay around $15 dollars to have a trainer call a dolphin to the edge of the pool, where they will get to touch and see the dolphin up close and they'll also get a picture. It's estimated that the entire interaction will last about 10 minutes.
The way that it happened before, you had to wait in line to get a tray of food at a certain designated time, and then get the dolphins over to you, only to throw the fish in their mouths and hope to get a quick touch.
Now you get a little bit more personal time, which gives the chance to make a better connection than before. That's why the dolphin feedings going away isn't a bad thing at all. The only time you could get a dolphin to interact with you before was with food. If you had no food, you were flatly ignored Now, if there's no food, you have more of a chance for a dolphin to come up and not only get close enough, but the chance to make a true connection with the animals.
This is similar to what SeaWorld San Diego and San Antonio does, and the result there is amazing. Not only are the dolphins more attentive to you, you have the chance to make a true connection.
During our last trip to San Antonio, we had a great random interaction with a dolphin, which is not something we were used to seeing in Orlando.
So why the change? It's pretty much the standard practice at the other two SeaWorld parks, plus there have been a few incidents in which guests have been accidentally bitten by dolphins reaching for fish. Nothing too major, but suddenly a case of mistaken identity becomes a national story, and gets blown completely out of proportion. There's also a petition on Change.org, but there's no proof whether or not that was influential at all. Still, it does seem like a great change, and something that will benefit both animals and guests.
The Dolphin Cove area is apparently undergoing soft openings now, but will be fully opened in just a few weeks.
Stay tuned for more from SeaWorld Orlando, and be sure to get social with us on Facebook, and follow along with us on Twitter @BehindThrills for the latest updates!
For more information about SeaWorld Orlando, including tickets, visit the official website by clicking here!