Valentine's Day is well over. Chocolate hearts are half priced, flowers are pretty much dead and another blast of winter is coming in. Sure, you gave her (or him) a great Valentine's Day full of stuff that they'll likely forget in a few weeks, only to let the romance fizzle until next Valentine's Day. That's just how it is…right? Why let Valentine's Day be the most romantic day of the year? Discovery Cove in Orlando is Trip Advisor's Top Theme Park Destination, and just happens to be one of the most romantic trips that you can take. Sure, Valentine's Day is over, but that doesn't mean that the romance has to be. Whether it's for a romantic holiday, a gift, or even an anniversary getaway, romance bubbles and springs to life.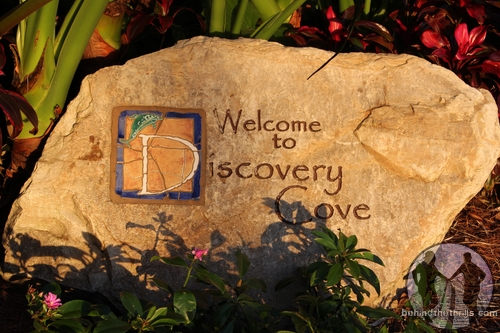 So just what is so romantic about Discovery Cove? It's a full day experience where guests lounge around in the water, interacting with several different types of animals, in a lush tropical paradise away from the rest of the world. You can swim with dolphins, snorkel and see different varieties of fish and sea life, see otters playing, and even watch marmosets hang around in the trees. You can eat several different meals, snack on ice cream, fruit and even have an alcoholic drink or two. There's hammocks to rest in, loungers to sun on and if you want to curl up in the sun and just take a nap, you can do that too. Bottom line, it's relaxing, and that's the first step in any romance, you have to be relaxed.
This week we take you on a romantic ge
Video-BTTWeekly Romances the Cove!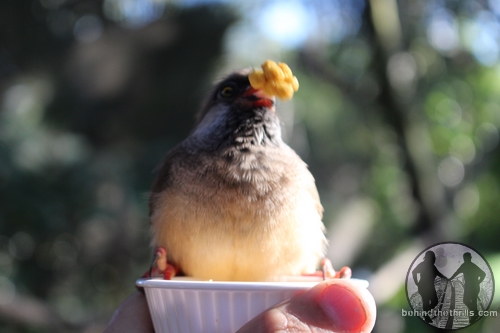 The first stop for many is the aviary. It's free flight, which means the birds are free to fly wherever they wish, and land wherever they wish. First thing in the morning the birds are very eager to see guests, and very eager to eat, which they will do from little cups that are given throughout the three different rooms.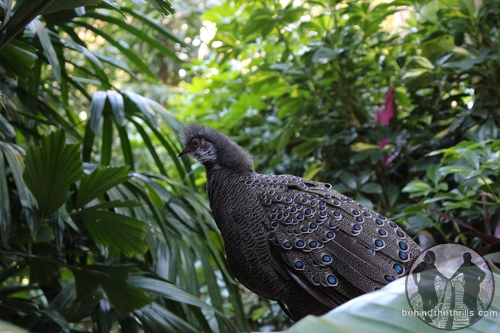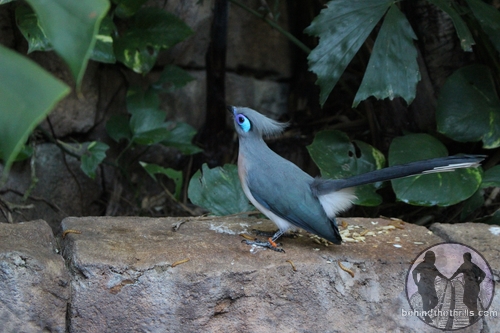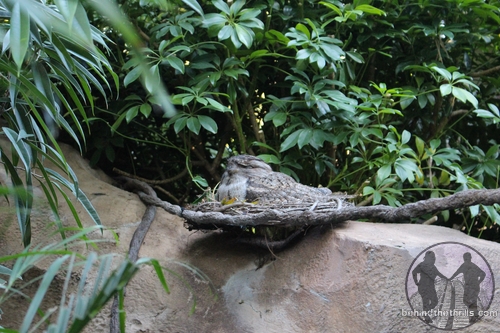 There are several different species of birds, ranging from the very small that will land on you and eat from your hand, to larger birds that will walk around and look for you to bend down and feed them. While the birds are hungry first thing in the morning, it's usually the time when most people come in and feed them. Many of the birds will eat several times a day, usually every three hours, so go back to the aviary several times a day. Some birds are also nocturnal, so they will sleep throughout most of the day, but as the day gets later they'll start to wake up. Don't be surprised if you get birds landing on your head, shoulders or hands. The majority of the birds in the aviary are all hand fed, and are not afraid of people. Plus it makes for a very cute picture when a bird lands on your loved ones' head.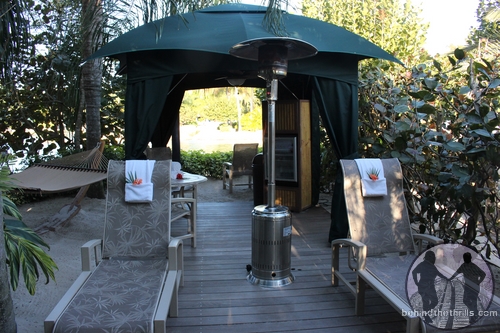 Cabana rentals are also another very romantic option at Discovery Cove. I surprised my wife, Racheal, with a trip on our last anniversary, and of the options available was a cabana with a backyard, and a view. And what a spectacular view. Cabanas are great because they have a dedicated place for you to sit, relax and even are stocked with snacks and drinks, so that you don't have to hunt down a snack bar.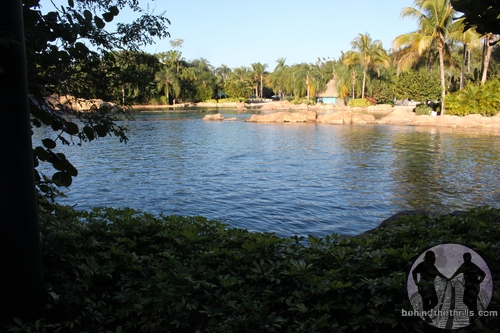 Our particular view was of the Dolphin Cove, which gave us a look into the many dolphin swim sessions that were taking place, and it also gave us a nice relaxing view of dolphins playing and swimming around. Plus, if we wanted snacks, drinks or a place to sit and unwind it was right there.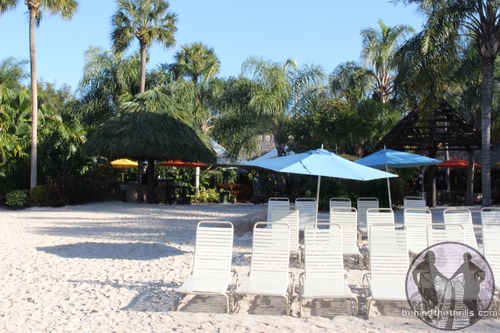 Of course, that's not the only option for lazy, romantic getaways. There are hundreds of lounge chairs, everywhere. You never have to worry about not finding the right spot, because the entire park is the right spot.
There's also chairs submerged in the water in the Freshwater Oasis. You can sit,relax and yes…have a drink!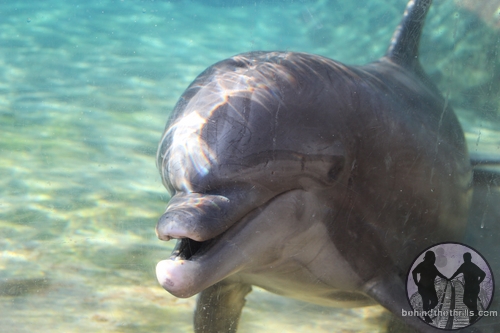 The biggest attraction of the park, however, is the dolphins. Guests can book dolphin swims, and not only learn more about dolphins, but interact with these amazing creatures. There are dolphins in Dolphin Cove that have not only been at SeaWorld since pretty much the opening, but also some movie stars.Capricorn and Cindy starred in the 1983 film JAWS 3D. It was a pretty bad movie, but it did give SeaWorld dolphins the chance to shine.
They are both alive and well, and you can not only see them, but also swim with them at Discovery Cove.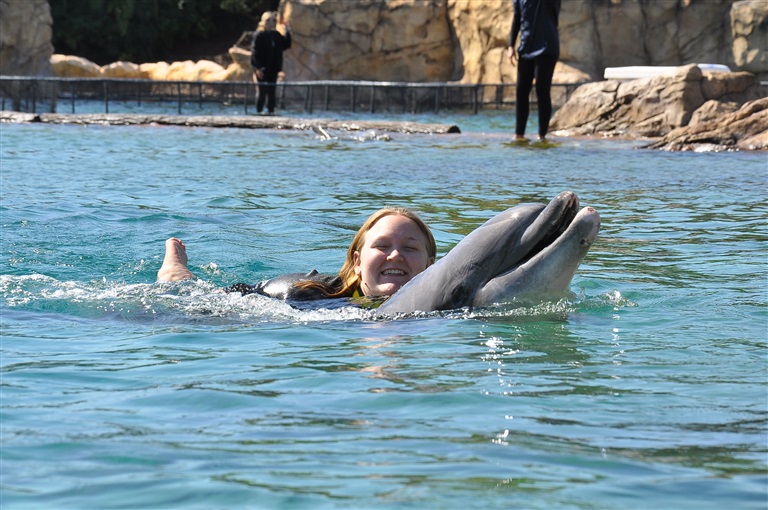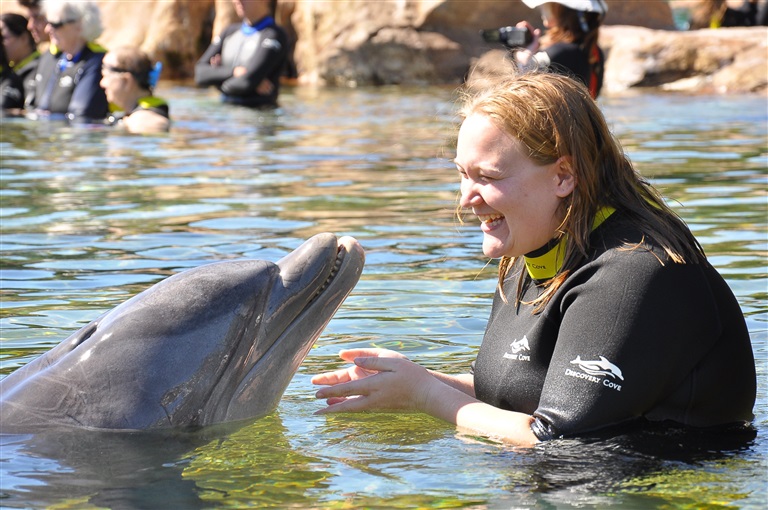 As luck would have it, that's exactly who we were able to swim with, one of the stars of JAWS 3D, Cindy the dolphin. She is in her mid 30's and she has mothered several dolphins at SeaWorld. It's one thing to see and read about her, it's quite another to actually touch and interact with her.
You can't interact with dolphins in the wild. It's simply against the law, but you can at Discovery Cove. Racheal had never gotten closer to a dolphin than at the dolphin interaction areas at SeaWorld. While you can feed and touch the dolphins, it's a completely different feeling when you're in the water with them. You're in their world, and they control what happens.
Racheal positively lit up when she swam, touched and even fed Cindy.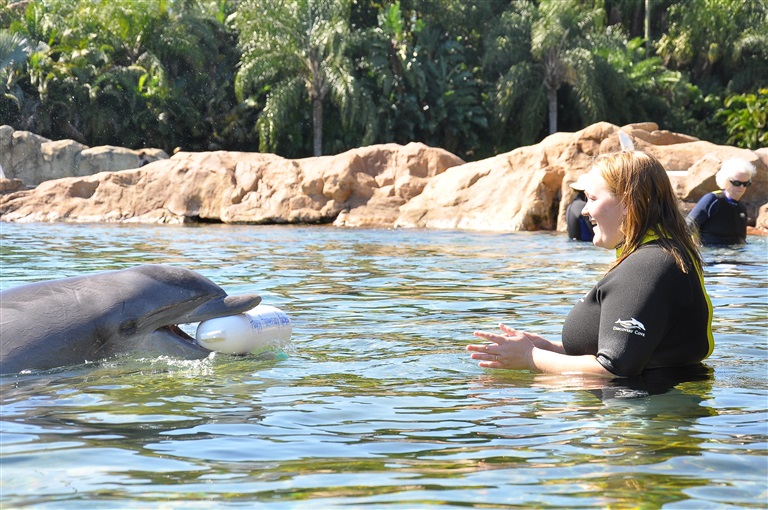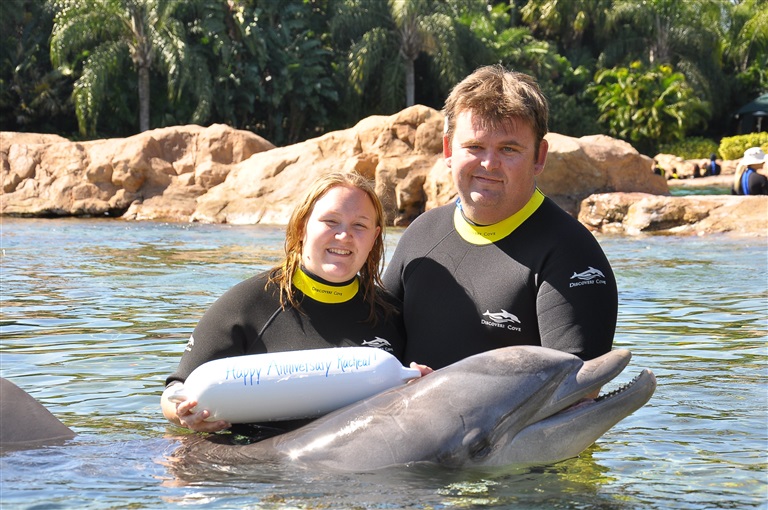 A huge surprise, that not many people know about, are the different romance packages. Guests can get a special gift for that special someone, delivered by a dolphin! It's a huge surprise that happens, and it's a memento that guests keep.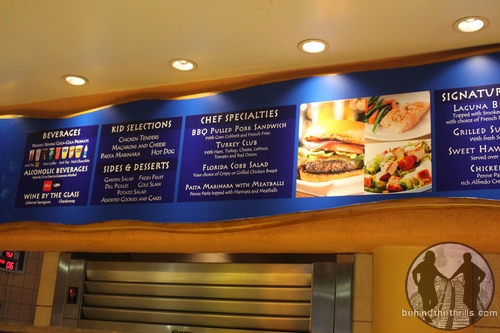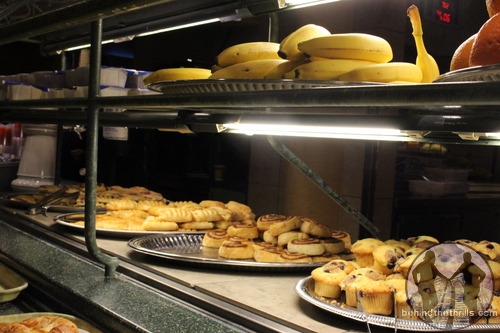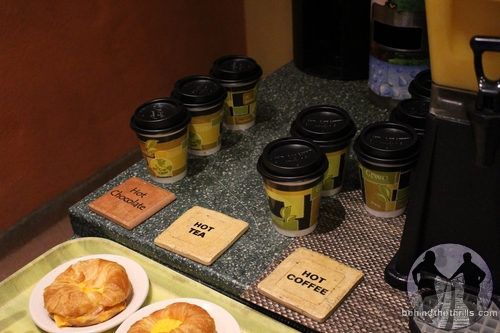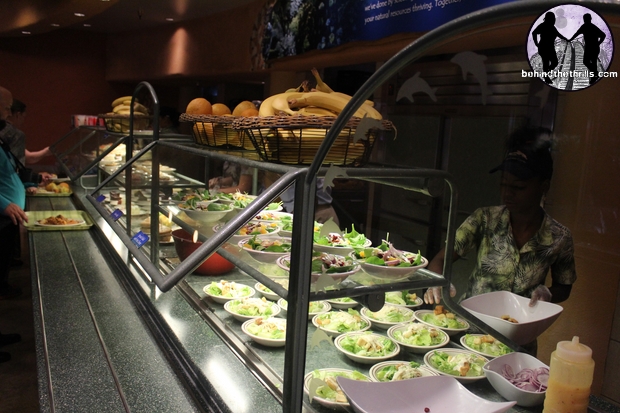 Food is also a huge part of Discovery Cove, and while it's not the most "romantic" entrees, and there is no candlelight, there is plenty to choose from. Instead of candlelight, guests can sit on the beach and listen to soothing music while they eat.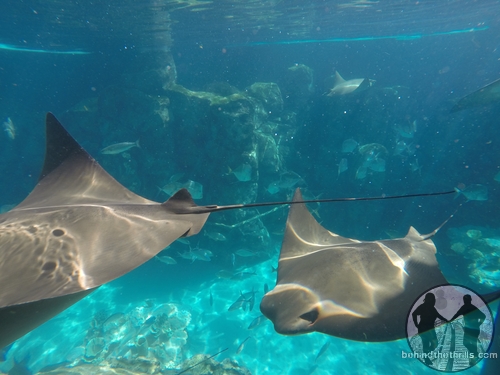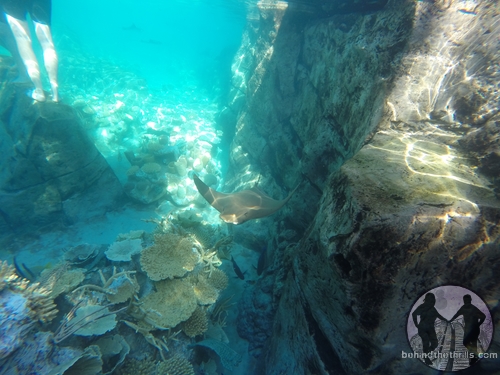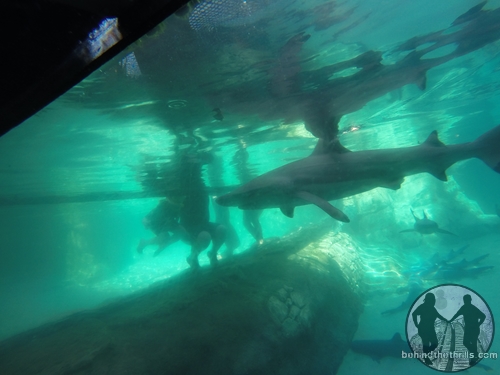 While dolphins are amazing, the dolphin swim is only a small part of the day. Besides the aviary, there are three other areas where you can see and even interact with animals.
The Grand Reef gets you up close to stingrays, hundreds of tropical fish and even sharks. There's also no telling just what you will see, as animals are rotated in and occasionally. Grand Reef is the best place in the park to snorkel leisurely.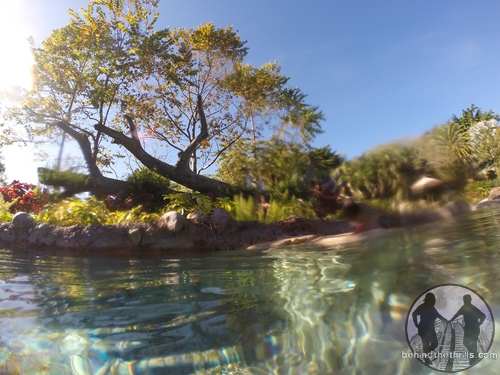 Freshwater Oasis is a bit warmer of an area, giving guests a chance to not only warm up, but see some unique animals. Guests can swim up to Marmoset Island and try to get a peak at the animals that call it home.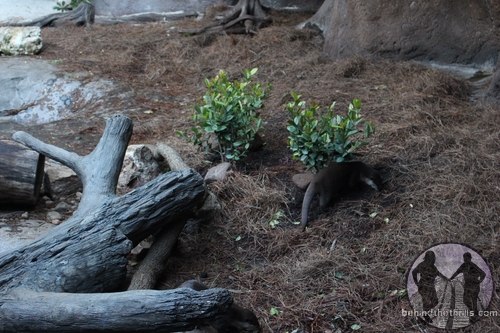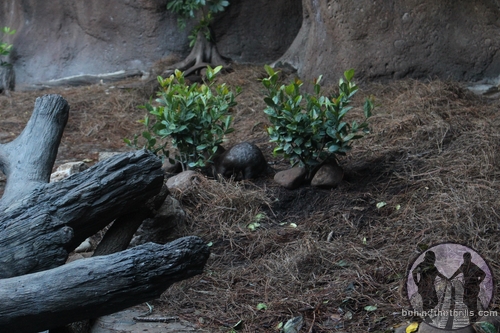 There's also an otter habitat where Asian Small-Clawed otters splash and play, as guests can swim alongside. The best time to visit is first thing in the morning, as the otters are most active. Every day the otter habitat is changed slightly, usually by adding new plants. It gives the otters something new every morning, and gives a great look at the discovery the otters see every day. It also helps that they are extremely cute.
Slideshow-Check out even more pictures from Discovery Cove

February might be the month for love, with Valentines Day smack dab in the middle, but with the limited admission every day, the tropical landscape, and all inclusive amenities, Discovery Cove is a great romantic escape all year round.
Stay tuned for more from Discovery Cove, and be sure to get social with us on Facebook and follow along with us on Twitter @BehindThrills for the latest updates!
For more information about Discovery Cove, including reservations, visit the official website by clicking here!