ScareLA is blowing up 2015 with some big changes, namely a new location. The huge Southern California horror convention is in it's third year, and it is making massive changes. This year the convention moves to a bigger location, and will more than likely add even more monsters to the line up, and bring some huge new surprises to monstrous fun. What's even better is that you can now get tickets, and save big!

The biggest news is that ScareLA is moving from it's original home to the much bigger Pasadena Convention Center. The event has grown so much that the old location was just a little too cozy. So what does this mean? More room for mayhem, madness and of course, more guests.
"We're very excited by ScareLA's rapid growth, and the Pasadena Convention Center allows us to provide room for more guests, more exhibitors, larger displays, and bigger monsters," says ScareLA Executive Producer and Co-Founder David Markland.

"ScareLA 2015 is off to a great start with our expansion into the Pasadena Convention Center," said Lora Ivanova, ScareLA Executive Producer and Co-founder. "What that means for our fans is: more spooky vendors, easier access to classes and stage content, bigger interactive haunt exhibits and hotels within walking distance for anyone coming from out of town or wishing to make this a true mid-summer Halloween staycation. Our team is busy curating our 2015 programming and cannot wait to share our scary passion with Los Angeles this August!"
The new location will give more room for bigger presentations from people like Knott's Berry Farm, Universal Studios Hollywood and more.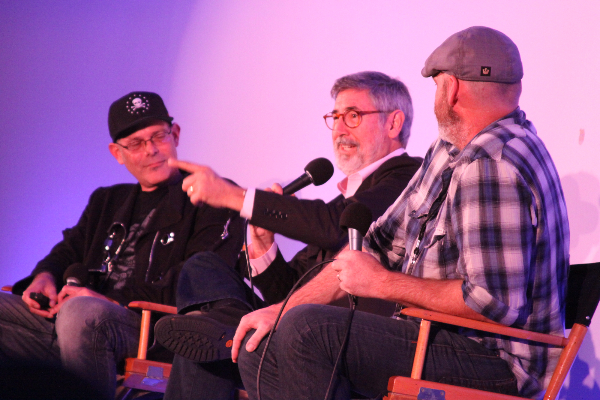 In 2014, John Landis made a surprise appearance to talk to fans about his involvement in "An American Werewolf in London" which became a huge maze at Halloween Horror Nights Hollywood. Other guests included Queen Mary's Dark Harbor, Knott's Scary Farm and several others. With the expanded room, guests can expect more presentations, demonstrations and workshops.
The event kicks off for two days on August 8th and 9th, and tickets are now on sale!
For a limited time, you can save on everything from one day tickets, to even VIP packages which will get you front of the line access to all panels, guaranteed seating and much more.
There are only a limited number of tickets available, so you'll want to snap yours up today!
Stay tuned for more from ScareLA and be sure to get social with us on Facebook, and follow along with us on Twitter @BehindThrills for the latest updates!
For more information about ScareLA, including tickets, visit the official website by clicking here!