Sea Life Orlando, one of three huge Merlin Attractions coming to I-Drive 360 on May 4th, reached a massive milestone on Tuesday as the aquarium started the first process of filling one of the many huge tanks the attraction will feature. The Atlantic Ocean tank is a massive 192,000 gallons, and will feature many of the hundreds of species of fish. The tank will also feature a huge walkthrough tunnel that will surround guests. It's all part of the massive new experience that will bring families closer than ever to the sea around us.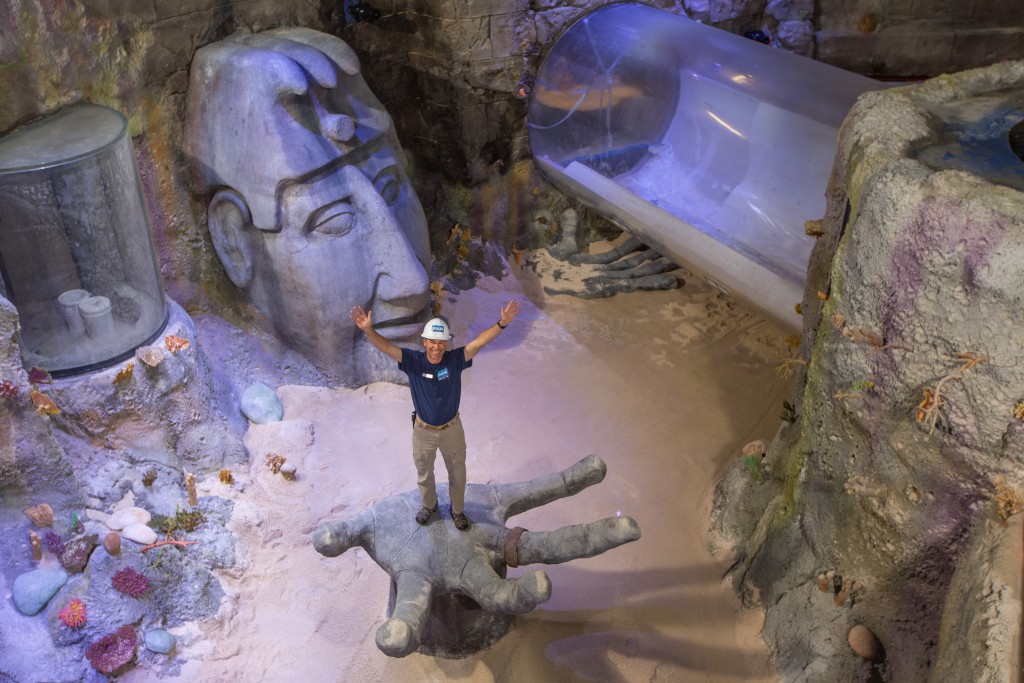 The massive tank will take about two days to fill, but the work is far from done. Once the tank is full, then it must undergo salting, balancing and all kinds of different tests to make sure it is right for the animals. Then, and only then, will the more than 250 species of animals be introduced to the 30 plus tanks.
Rowdy Gaines, a three-time Olympic gold medalist, U.S. Olympic Hall of Fame inductee, NBC swimming analyst, and Central Florida resident joined Steve Blair, Curator, Merlin Animal Welfare and Development for SEA LIFE Orlando, for this special milestone.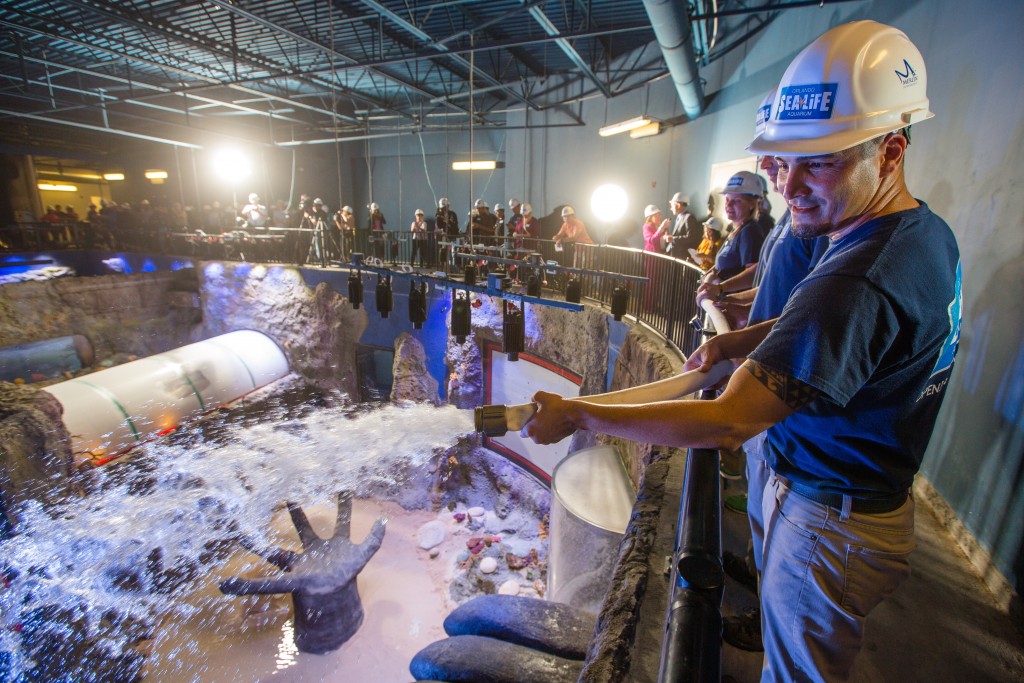 "This is a huge day for SEA LIFE, as we are one step closer to the grand opening on May 4," said Blair. "We are excited to inspire children to fall in love with the oceans of the world and the animals who call it their home."

"As someone who has spent half their life in the water, I'm so excited to be on hand for this water fill milestone," said Gaines, who serves as Vice President of Aquatics for the Central Florida YMCA. "It's great to see children appreciate and learn about the world's oceans, and how to help respect and protect the Florida Everglades which is in our backyard."
Video-Sea Life Orlando fills the first of many massive tanks!
The all new Sea Life Orlando Aquarium will be the largest, and the most diverse of all the Sea Life chain. The chain has aquariums in different parts of the world, but none will be as unique as Orlando. The aquarium will feature touch pools, an Everglades section, as well as sharks, fish and a Bowmouth Guitar fish which looks like a shark, but is more closely related to stingrays. The aquarium will also feature some amazing themeing that makes the adventure completely immersive.
The new Sea Life Orlando will feature many interactive elements, including 360 degree tunnels, 180 degree tunnels, tunnels that you can climb up into, touch tanks, education sessions and so much more. There will be divers in the tanks on occasion who will feed the fish right in front of guests. The entire attraction will take about 90 minutes to walk through and see everything, but like the sea, it will change periodically, so you never know what adventures you'll find.
Slideshow-Check out even more pictures from Sea Life Orlando
Fun facts:
45,000 pounds of sand have been placed inside the aquariums
More than 90,000 pounds of salt will be used to acclimate the water
SEA LIFE Orlando will have temperate habitats which will help create a more diverse ecosystem to house colorful and vibrant animals
The 360-degree tunnel, weighs eight tons and has a buoyancy of 60,000 pounds lifting it like a bubble
The animals that will call SEA LIFE Orlando home include: Sand Bar sharks, Pacific Black Tip sharks, Grey Reef sharks and Bowmouth Guitarfish
The aquarium's windows are approximately four inches thick
More than 40,000 gallons of water are held in an underground reservoir beneath the aquarium
Sea Life Orlando opens May 4th, along with Madame Tussauds and The Orlando Eye.
Stay tuned for more fun, and be sure to get social with us on Facebook, and follow along with us on Twitter @BehindThrills for the latest updates!
For more information about Sea Life Orlando, including tickets, visit the official website by clicking here!