The all new Praise Wave Music Festival at SeaWorld Orlando will kick off on February 14th, and bring some of the biggest names in Christian music to the park in a big way. The first artists have been announced via the official SeaWorld website (click here), and will include a Grammy Award winning artist, as well as the record holder for new record sales by a Christian act.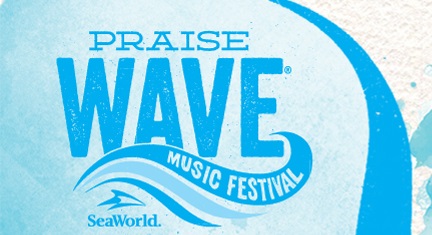 SeaWorld has done smaller Christian festivals before with Easter Sunday services. Praise Wave marks the first full fledged Christian music festival that the park has done.
The festival will span three Saturdays, and bring some of the biggest names in Christian Music.
The first weekend acts are:
FEBRUARY 14, 2015
Lecrae
Grammy-award winner Lecrae Moore made history with his seventh studio album, Anomaly, as it officially debuted at #1 on the Billboard 200 Album Chart as well as several other Billboard charts, including, Digital Album, Rap Album, Christian Album and Gospel Album.

Colton Dixon
Colton Dixon's 2013 debut, A Messenger, set the record for biggest first-week sales by a new solo Christian act, becoming the No. 1 selling album of 2013 by a new Christian artist and the No. 9 best-selling album of 2013 in the Christian genre overall.
The acts have not been announced for the other two Saturdays, but if the first weekend is any indication, you can expect them to be huge. Festivities will start around 1p.m. and include food and vendor booths around the Bayside Stadium pathway. Orlando Christian station, Z88.3 will be on hand with popular Christian Music blasting. Concerts will happen later in the day, and the event will go all the way until midnight.
Stay tuned for more from SeaWorld, and be sure to get social with us on Facebook, and follow along with us on Twitter @BehindThrills for the latest updates!
For more information about Praise Wave at SeaWorld Orlando, including tickets, visit the official website by clicking here!